The lowndescounty.com list of the Board of Equalization (BoE) also is not correct, like their incorrect list of Tax Assessors.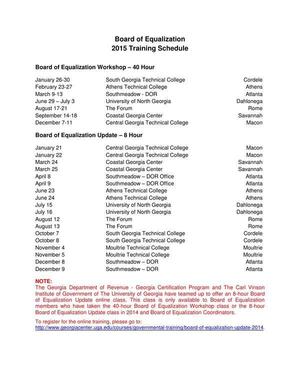 but there seems to be no other public website list of BoE members.
Members

Jimmy Griffis, Chairman
Gelana Goddard
John Avera

Alternates

Wayne Ricks
Lanelle Rogers
Joe Clark
A new BOE member was appointed in late 2014.
I called Beth C. Greene, Clerk of Superior Court, and asked her for the real list, which is:
Members

Gelana Goddard, Chairman
Jimmy Griffis
Joe Clark

Alternates

Lana Hall
Wayne Ricks
Craig Cardella
Beth Greene said reappointments will come up again with the next Grand Jury, September 2015 (they have two a year: in March and in September). She also said she would contact the County Clerk and see if the list on lowndescounty.com could be fixed.
The state has a Georgia Certification Program Board of Equalization Schedule. See also Boards of Equalization and the Appeals Process, an online, self-study course developed by the University of Georgia Carl Vinson Institute of Government and the Georgia Department of Revenue for members and alternate members of county boards of equalization pursuant to O.C.G.A. Section 48-5-311.
A commenter when candidates were being sought remarked that among the BOE's options was:
Order a re-valuation of the area in which the property is located if a matter of uniformity is in question.
That appears to be what we need for the whole county. Many rural landowners were no doubt surprised to find their valuations almost or more than doubled, but that's not the main issue.
The main issue is this rural land revaluation ignored the Comprehensive Plan and any need to conserve agricultural land.
If we wanted to live in Atlanta, we would. Not everyone wants every tree chopped down or every acre paved over in Lowndes County.
-jsq
Short Link: