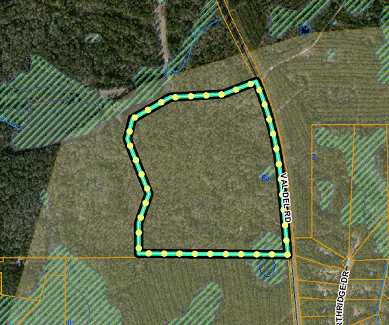 Last night I chatted briefly with Moody's Col. Ford, before he spoke at the Lake Park Chamber Annual Awards Dinner. He said he had been able to get on the site of the proposed Moody Family Housing about a year ago. I mentioned the Nelson Hill Wells and he said they had spent a lot of time already investigating water issues, and now the Air Force has received the environmental assessment. Perhaps it includes the missing piece this time, and maybe there's a way for the public and local professors to provide input.
Colonel Edward Ford is commander of the 23d Mission Support Group at Moody AFB, Ga. He leads a group of more than 1,450 military and civilian members providing support and services to a population of 28,000 active duty, retired military and family members. His group maintains an installation with more than 830 buildings and more than 17,500 acres, including an adjacent bombing or strafing range. He is responsible for ensuring the readiness of support forces to mobilize and deploy to build, secure, and sustain air base operations at austere bare base locations anywhere in the world.

The 23d Mission Support Group also retains responsibility for civil engineering, environmental compliance, disaster preparedness response, fire protection, security forces, airfield navigational systems, communications-computer systems, contracting, transportation, supply, food service, housing, recreation, family and community support programs, personnel, manpower, education and training.
According to Col. Ford, General Green at Langley received the environmental assessment a day or so ago. Col. Ford clarified that Gen. Green is next up the chain of command in ACC.
Brig. Gen. Timothy S. Green is the Director of Installations and Mission Support, Headquarters Air Combat Command, Joint Base Langley-Eustis, Va. He leads ACC's base and expeditionary combat support activities for civil engineering, security forces and contracting personnel. General Green also provides oversight and guidance to expeditionary and garrison mission support groups.
More about ACC:
Air Combat Command, with headquarters at Joint Base Langley-Eustis, Va., is a major command. It was created June 1, 1992, by combining Strategic Air Command and Tactical Air Command . ACC is the primary provider of air combat forces to America's warfighting commanders….

23d Wing,
Moody AFB,
Ga.

Ninth Air Force, with headquarters at Shaw Air Force Base, S.C., is dedicated to organizing, training, and equipping Air Combat Command fighter forces based throughout the Southeastern United States. Ninth Air Force comprises eight active-duty wings and two direct reporting units with more than 480 aircraft and 28,000 active-duty and civilian personnel. Ninth Air Force is also responsible for the operational readiness of 14 Air Reserve Component wings.

Ninth Air Force units include:
1st Fighter Wing, Joint Base Langley-Eustis, Va.
4th Fighter Wing, Seymour Johnson AFB, N.C.
20th Fighter Wing, Shaw AFB, S.C.
23d Wing, Moody AFB, Ga.
93d Air-Ground Operations Wing, Moody AFB, Ga.
325th Fighter Wing, Tyndall AFB, Fla.
461st Air Control Wing, Robins AFB, Ga.
633d Air Base Wing, Joint Base Langley-Eustis, Va.
823rd Red Horse Squadron, Hurlburt Field, Fla.
819th Red Horse Squadron, Malmstom AFB, Mont.

…

Air Combat Command – Welcome
www.acc.af.mil
Air Combat Command Public Affairs
115 Thompson St., Ste. 211
Langley AFB, VA 23665-1987

Commercial: 757-764-5014
DSN: 574-5014
I'm looking forward to seeing this environmental assessment. Presumably it's different from the
draft of last summer. This time it should include the geotechnical analysis that the public has not yet seen. And one hopes the Air Force has built into their process a way for the public and local experts to review and comment. We don't want here what happened in Florida last fall, with buildings sinking into sinkholes.
-jsq
Short Link: