Gretchen made an Open Records request Monday morning and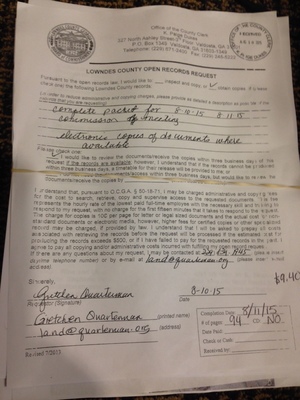 it was available Tuesday 4:37 PM: mostly on paper and less than an hour before the Commission voted.
The rezoning material from the Planning office was sent by electronic mail. The rest cost $9.40 to retrieve on paper. Nevermind in the email earlier Tuesday of the old ordinance from 1992 the county staff demonstrated they can put a paper document on their copier and produce a PDF. They could have done that with the rest of the board packet. Why didn't they?
The Work Session was Monday morning at 8:30 AM 10 Aug 2015. Gretchen was notified by telephone about 4:30 PM Tuesday 11 Aug 2015. The County Palace closes at 5PM. The Commission met at 5:30 PM Tuesday to vote. So none Continue reading →