A local landowner said that with no open access in Georgia, Sabal Trail Transmission should have no standing to use Georgia eminent domain law. And Sabal Trail must comply with local, state, and federal laws and ordinances, including ones that could be passed by the Lowndes County Commission, she said at their 10 December 2013 Regular Session.
For example, a depth ordinance, or an ordinance requiring a minimum distance from homes or schools. Or a tax on the pipeline easement. She recommended PipelineSafetyInfo.com. She asked for the Commissioners to use their voice.
As WCTV quoted her in their coverage, she said,
I don't want to have to fear for my children as they sleep at night.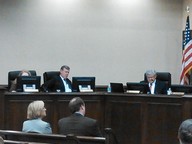 County Manager Joe Pritchard shuffled papers and alleged County Attorney Walter G. Elliott yawned during these citizen presentations.
Mindy Bland noted Commissioner Powell had asked for Continue reading →