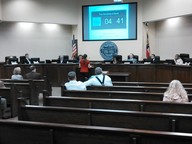 The Commission didn't let citizens speak after Spectra's sales pitch for the Sabal Trail Pipeline Monday, but some citizens spoke up in Citizens to Be Heard Tuesday and WCTV covered that.
Winnie Anne Wright wrote for WCTV yesterday, Citizens Address Lowndes County Commission About Sabal Trail Pipeline,
Residents covered topics such as the lack of economic impact on Lowndes County, the legality of the pipeline, and also the safety.

"As a mother of three, I don't want to have to fear for my children as they sleep at night. And you hear a lot of people say that natural gas line explosions don't happen, and for those that feel that they don't, I really encourage them to go on the internet and google gas line explosions and then tell me that they don't happen. As a mother, I feel like I have to step up and do what I can to protect my children", says Mindy Bland, an impacted homeowner.
Continue reading