Julia Shewchuk updated January 19 2018: "The regular meeting of the DSSWA has been rescheduled from January 17, 2018 to Wednesday, February 7, 2018." The agenda is the same before rescheduling, as below.
Thanks to Larry Hanson, new member to replace him, officers, and audit are on the agenda for next Wednesday for the Deep South Solid Waste Management Authority.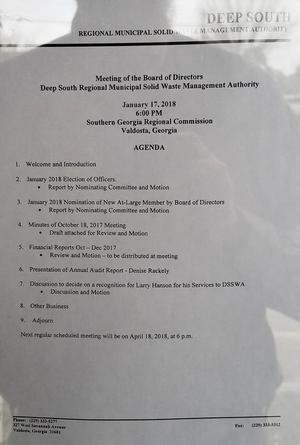 Still nothing about coal ash from Georgia, Florida, or elsewhere.
See previous post for who's on this Authority and who gets its grants.
DEEP SOUTH
REGIONAL MUNICIPAL SOLID WASTE MANAGEMENT AUTHORITY

Meeting of the Board of Directors
Deep South Regional Municipal Solid Waste Management Authority
January 17, 2018
February 7, 2018
6:00 PM
Southern Georgia Regional Commission
Valdosta, Georgia
AGENDA

Welcome and Introduction
January 2018 Election of Officers

Report by Nominating Committee and Motion:w

January 2018 Nomination of New At-Large Member by Board of Directors

Report by Nominating Committee and Motion

Minutes of October 18, 2017 Meeting

Draft attached for Review and Motion

Financial Reports Oct — Dec 2017

Review and Motion — to be distributed at meeting

Presentation of Annual Audit Report —Denise Rackely
Discussion to decide on a recognition for Larry Hanson for his Services to DSSWA
Other Business
Adjourn

Next regular scheduled meeting will be on April 18, 2017, at 6 p.m.

---

Fax: (229) 333-5312

Phone: (229) 333-5277
327 West Savannah Avenue
Valdosta, Georgia 31601
-jsq
Investigative reporting costs money, for open records requests, copying, web hosting, gasoline, and cameras, and with sufficient funds we can pay students to do further research. You can donate to LAKE today!