Grants to participating local governments are mostly what's on the agenda for next Wednesday for the Deep South Solid Waste Management Authority, sent today by Julia Shewchuck of SGRC (PDF).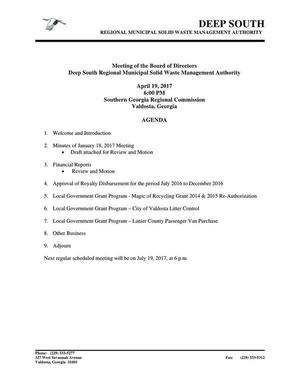 On the telephone yesterday she clarified that the grants from this Authority mentioned in the Lowndes County Commission Goals meetinng are exclusively available to the seven local governments participating in this Authority. They are: Berrien County, Lanier County, Lowndes County, City of Nashville, City of Lakeland, City of Valdosta, and Echols County CG. She also noted that Echols County was one of the original participants in the authority, even though it had dropped off for a while, and had been added back in a recent year (2014).
DEEP SOUTH
REGIONAL MUNICIPAL SOLID WASTE MANAGEMENT AUTHORITY

Meeting of the Board of Directors
Deep South Regional Municipal Solid Waste Management Authority
April 19, 2017
6:00 PM
Southern Georgia Regional Commission
Valdosta, Georgia
AGENDA

Welcome and Introduction
Minutes of January 18, 2017 Meeting

Draft attached for Review and Motion

Financial Reports
Approval of Royalty Disbursement for the period July 2016 to December 2016
Local Government Grant Program – Magic of Recycling Grant 2014 & 2015 Re-Authorization
Local Government Grant Program — City of Valdosta Litter Control
Local Government Grant Program — Lanier County Passenger Van Purchase
Other Business
Adjourn

Next regular scheduled meeting will be on July 19, 2017, at 6 p.m.

Phone: (229) 333-5277
327 West Savannah Avenue
Valdosta, Georgia 31601

Fax: (229) 333-5312
-jsq
Investigative reporting costs money, for open records requests, copying, web hosting, gasoline, and cameras, and with sufficient funds we can pay students to do further research. You can donate to LAKE today!
Short Link: