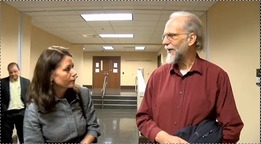 Both of Spectra's principal representatives to the Lowndes County Commission and the Dougherty County Commission claim not to be familiar with Spectra's well-known public record of safety violations, and some of what they say contradicts the public record, so how can we believe any of their safety assertions about Spectra's proposed Sabal Trail Transmission pipeline?
Update 3PM: more evidence from Pennsylvania and elsewhere.
As I've mentioned before, Spectra's Andrea Grover told us that everyone in Pennsylvania was happy now, after I asked her about the Steckman Ridge compressor station leak in front of reporter Matthew Woody, at the 16 October 2013 Spectra meeting at Wiregrass Tech in Valdosta. There's more beyond the article about pipeline fines and incidents Woody wrote 24 November 2013 for the Valdosta Daily Times (VDT), the local newspaper of record.
Her excuse for the compressor leak, if I recall correctly, was that Continue reading →