Two weeks ago the Lowndes County Commission appointed Brenda Mims to the Board of Health, Victoria Copeland and Marion Ramsey to ZBOA, and Jane Peeples to the Library Board, all unanimously.
Everything else (except one item) also passed unanimously, including 8.b. Amend 2015 Solid Waste Ordinance raising waste collection fees and reducing collection center hours, as requested by the haulers.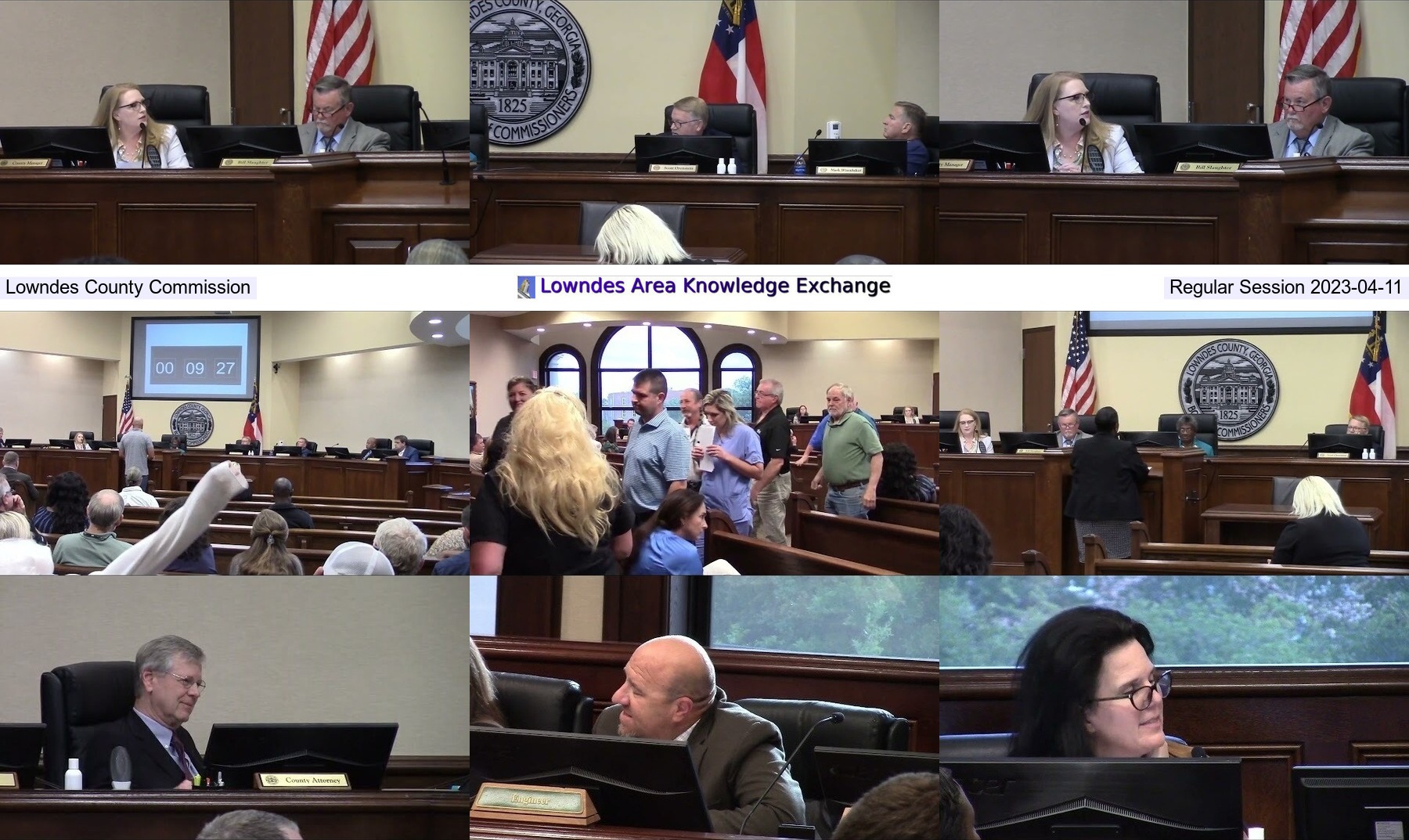 Collage @ LCC Regular 2023-04-11
It became even more obvious why they tabled it a month before: All the Lowndes County Commissioners apparently already knew how they were going to vote on the Howell Road halfway house rezoning before they held the Public Hearing.
The vote was the same as the previous vote last June that they had to invalidate in September because they had not given proper notice according to state law. Except this time the Chairman did not have to determine a split vote, because all five voting Commissioners were present.
Commissioner Clay Griner moved to approve the rezoning and Commissioner Mark Wisenbaker seconded. Commissioners Joyce Evans and Demarcus Marshall voted against rezoning. Commissioners Scottie Orenstein, Mark Wisenbaker, and Clay Griner voted for.
So the result of this eight-month kabuki theater is the same as it ever was.
Below are links to each LAKE video of each agenda item, with a few comments by Gretchen Quarterman, followed by a LAKE video playlist.
See also the the LAKE videos of the previous morning's Work Session, the agenda and board packet, and other backgrounds linked from there.
Here's a LAKE video playlist:

Videos: Howell Road Halfway House approved in split vote @ LCC Regular 2023-04-11
Regular Session, Lowndes County Commission, Valdosta, Lowndes County, Georgia, Tuesday, April 11, 2023.
Videos by Gretchen Quarterman for Lowndes Area Knowledge Exchange (LAKE).
-jsq
Investigative reporting costs money, for open records requests, copying, web hosting, gasoline, and cameras, and with sufficient funds we can pay students to do further research. You can donate to LAKE today!
http://www.l-a-k-e.org/blog/donate
Short Link: