It's back: the Howell Road halfway house rezoning, after being tabled last time, waiting for a full Commission. The Lowndes County Commission will vote on it tomorrow evening at 5:30 PM.
All the same opposition letters and petition signatures are included in the board packet. Staff still recommends approval, although the Planning Commission recommended denial by 7:3.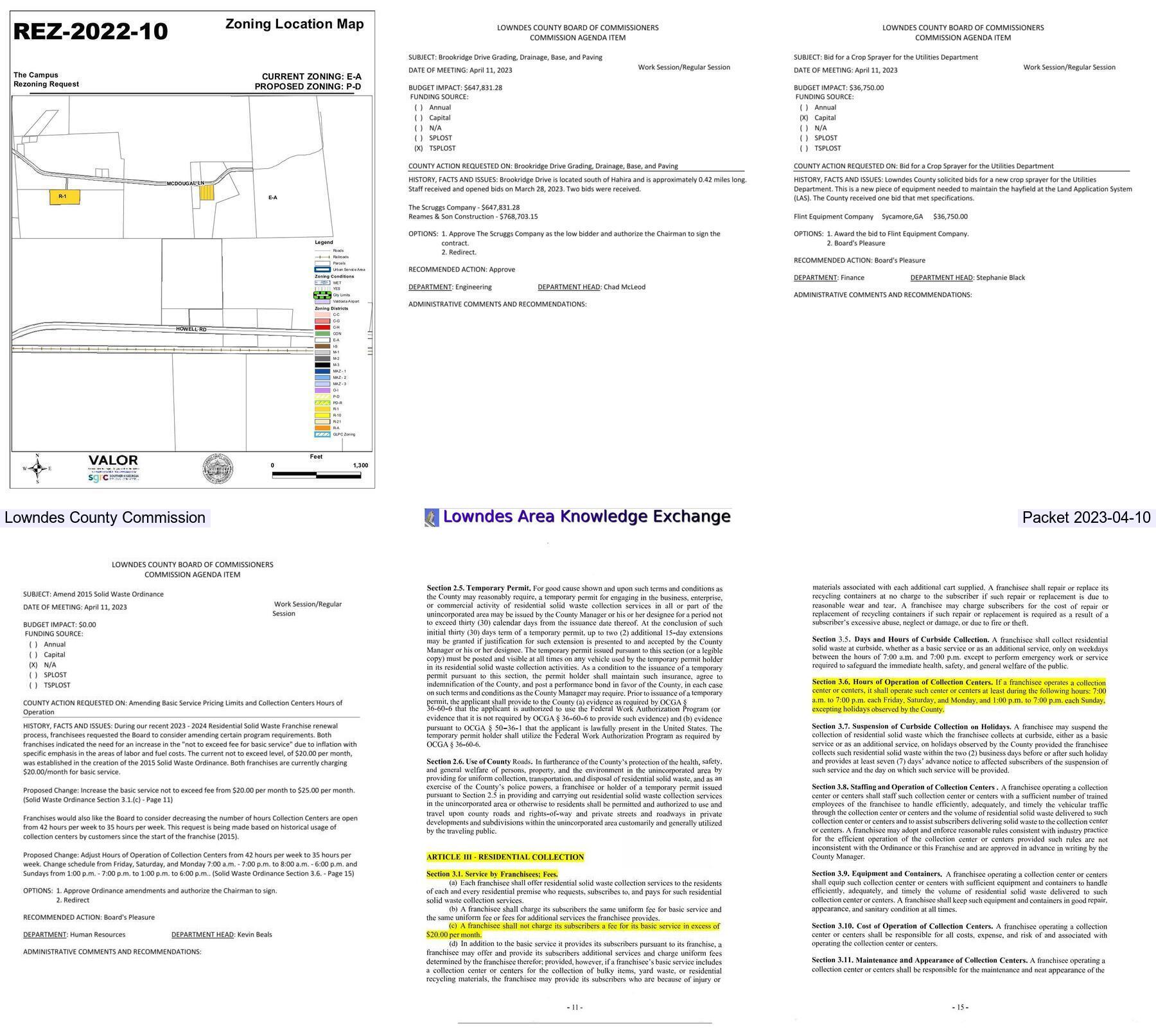 Collage, LCC Packet 2023-04-10
The Letter of Intent from Redeemed Living includes this: "Redeemed Residents are required to maintain full time employment, attend weekly recovery meetings, and become an active member at a Church of their choosing." Is that establishment of religion?
The highest-dollar item is for paving one road near Hahira.
The other item with a "BUDGET IMPACT" is Bid for a Crop Sprayer for the Utilities Department, to maintain the hayfield at the Land Application System (LAS).
Last meeting they renewed the waste collection franchises by Deep South Sanitation (DSS) and Waste Management (WM). This time they're raising the rates for residential waste collection, from $20 to $25, and reducing collection site hours, as the two franchisees requested.
Proposed Change: Increase the basic service not to exceed fee from $20.00 per month to $25.00 per month. (Solid Waste Ordinance Section 3.1.(c) – Page 11)

Franchises would also like the Board to consider decreasing the number of hours Collection Centers are open from 42 hours per week to 35 hours per week. This request is being made based on historical usage of collection centers by customers since the start of the franchise (2015).

Proposed Change: Adjust Hours of Operation of Collection Centers from 42 hours per week to 35 hours per week. Change schedule from Friday, Saturday, and Monday 7:00 a.m. – 7:00 p.m. to 8:00 a.m. – 6:00 p.m. and Sundays from 1:00 p.m. – 7:00 p.m. to 1:00 p.m. to 6:00 p.m.. (Solid Waste Ordinance Section 3.6. – Page 15)
Let's see, Deep South Sanitation has 6,900 customers and Advanced Disposal Services has 9,000. At $5 increase each, that's $79,500 more subscribers will be paying.
Let me quote former County Commissioner Richard Lee, back on April 14, 2015, when he opposed a previous rate increase, after rates had already increased 40%: "You've messed up, guys and gals."
He also mentioned recycling as a benefit of curbside waste collection. That benefit has also fallen by the way, as Richard Lee mentioned eight years ago.
As I pointed out in that same 2015-04-14 LCC meeting, the $200/year ADS and DSS were charging then was more than twice what we previously paid for use of the collection centers. And that the excuse for changing to curbside collection was that the collection centers had a 50% cash shortfall. So going back to the collection centers and charging 50% more would cost only $150 a year, less than the then-current curbside collection rates. Which are going up again.
Here is the agenda.
The board packet is on the LAKE website, received in response to a LAKE open records request.
For the rezoning, see also Videos: Howell Road Halfway House tabled @ LCC Regular 2023-03-28, and follow links from there backwards.
LOWNDES COUNTY BOARD OF COMMISSIONERS
PROPOSED AGENDA
WORK SESSION, MONDAY, APRIL 10, 2023, 8:30 a.m.
REGULAR SESSION, TUESDAY, APRIL 11, 2023, 5:30 p.m.
327 N. Ashley Street – 2nd Floor
-jsq
Investigative reporting costs money, for open records requests, copying, web hosting, gasoline, and cameras, and with sufficient funds we can pay students to do further research. You can donate to LAKE today!
http://www.l-a-k-e.org/blog/donate
Short Link: