Update 2022-06-02
:
Videos: Two Valdosta items, Walkers Crossing Roundabout, Reports @ LCC 2022-05-23
.
Update 2022-05-23: 9:00 AM Budget Work Session.
They propose to approve $1.6 million for resurfacing some roads, it's not clear which ones, at the Lowndes County Commission Work Session Monday morning and voting Regular Session Tuesday evening.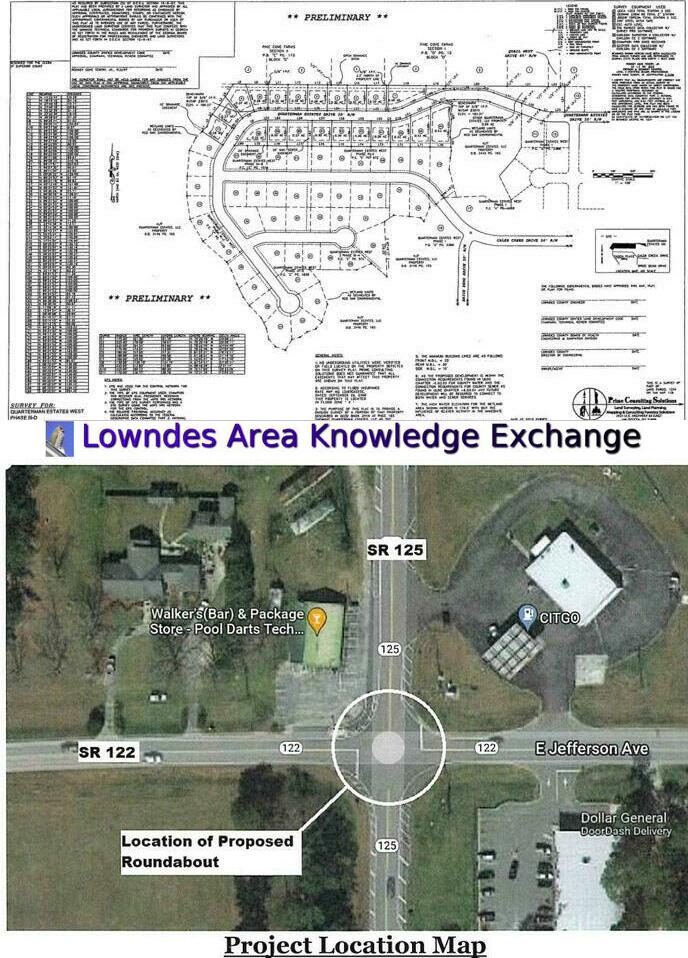 Quarterman Estates, Walkers Crossing Roundabout
They will also pretend that this will not cost the county money down the road for street maintenance: Adopt Resolution Accepting Infrastructure for Quarterman Estates West, Phase III-D. And in case you are wondering, that subdivision is no relation to the Quarterman family.
Similarly, this has no dollar figure attached: State Route 122 (Highway 122) @ State Route 125 (Bemiss Road – Walkers Crossing) Roundabout Lighting Agreement with the Georgia Department of Transportation.
And this one may actually cost Valdosta, not Lowndes County: Valdosta Extraterritorial Extension of Water and Sewer Services along Lake Laurie Drive and North Oak Street Extension.

Per nomination from Valdosta, they are to appoint to the Valdosta – Lowndes County Development Authority (Joint Appointment – City's Rotation) John D. Crawford, VSU President of University Advancement, to replace Aneesha Johnson, who retired.
And to the Valdosta-Lowndes County Land Bank Authority they will reappoint Jack Oliver.
Somebody interpret this $1,676,443.10 2022 LMIG Resurfacing for me. Do they propose to resurface just 3.3 miles of McMillan Road, or 5.89 miles of Jumping Gulley Road and 1.4 miles of Peterson Road, or all three?
HISTORY, FACTS AND ISSUES: The 2022 Resurfacing bids presented include resurfacing 5.89 miles of Jumping Gulley Road and 1.40 miles of Peterson Road. The original bids also included 3.30 miles of McMillan Road. Bids were opened on May 10, 2022.

The Scruggs Company—$2,544,677.69
Reames and Son Construction—$2,544,677.69

The budget for resurfacing is typically $1,600,000.00-$1,700,000.00. Lowndes County received $1,211,881.49 from the State LMIG Program and the remainder is paid for out of SPLOST VIII. Staff worked with the low bidder to get the project in budget. Staff re-evaluated all three roads and the best road of the three is McMillan Road. The bid is in Unit Cost form, so staff and The Scruggs Company used the same Unit Cost numbers from the original bid and reduced the quantities. The new bid is $1,676,443.10.

OPTIONS: 1. Approve The Scruggs Company as the low bidder at $1,676,443.10 and authorize the chairman to sign the contract.
2. Redirect.
Here is the agenda. The board packet, received in response to a LAKE open records request, is on the LAKE website.
LOWNDES COUNTY BOARD OF COMMISSIONERS
PROPOSED AGENDA
WORK SESSION, MONDAY, MAY 23, 2022, 8:30 a.m.
REGULAR SESSION, TUESDAY, MAY 24, 2022, 5:30 p.m.
327 N. Ashley Street – 2nd Floor
-jsq
Investigative reporting costs money, for open records requests, copying, web hosting, gasoline, and cameras, and with sufficient funds we can pay students to do further research. You can donate to LAKE today!
Short Link: