Update 2021-11-08: Videos: Comprehensive Plan Update Public Hearing 2 @ LCC 2021-10-26.
Here is the almost-completed Lowndes County Character Area Map for tomorrow's Public Hearing to Review and Transmit the 2021 Comprehensive Plan Update. It does not look like the Character Areas have changed much.
Still, if you care, be there.
When: 5:30 PM, Tuesday, October 26, 2021
Where: 327 N. Ashley Street, 2nd Floor Commission Chamber, Valdosta, GA 31601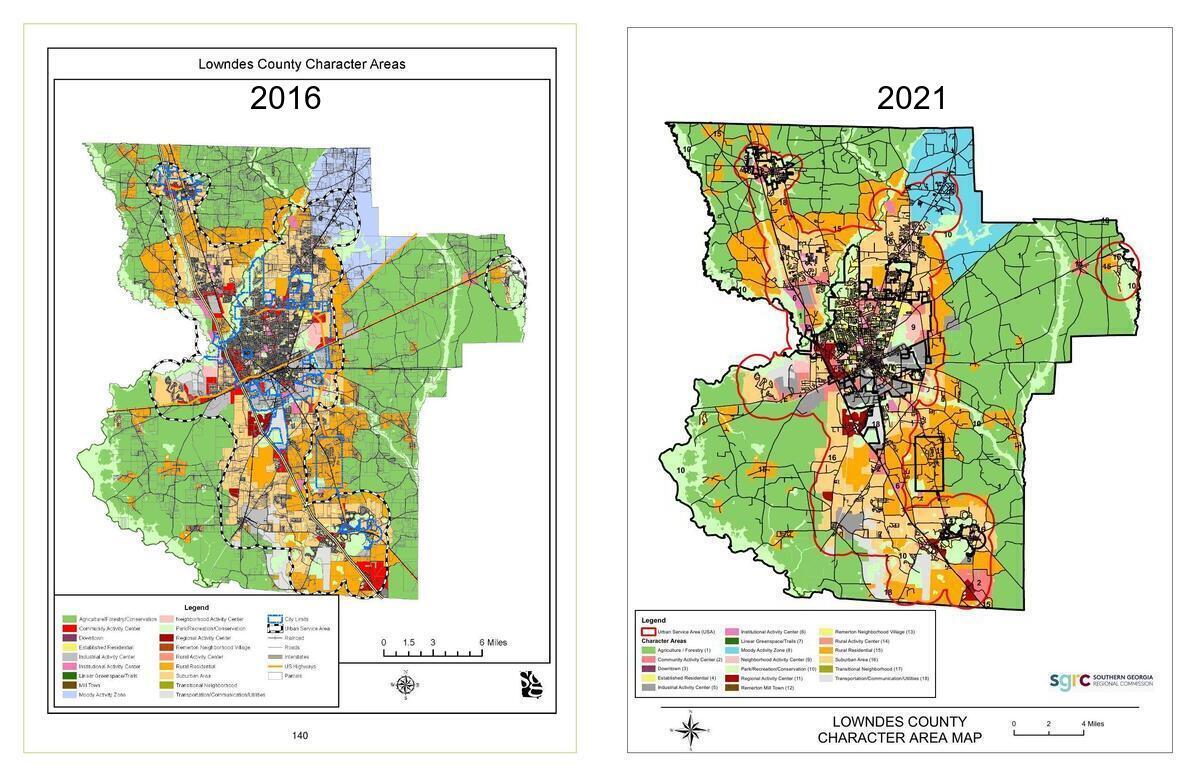 2016 and 2021 Lowndes County Character Area Maps
Thanks to Elizabeth Backe of SGRC, who wrote this morning:
The most recent version of the comp plan update is located on our website here, however there is one additional update that our web team has not yet uploaded. This item is for each of the work programs and it is the completion of an electric vehicle report. I anticipate them uploading this today. The Character Area map is located in the Appendix of the plan.
More specifically, this is the draft I picked up from that SGRC web page.
That entire plan is now on the LAKE website, with images of each page:
http://www.l-a-k-e.org/govt/loco/2021-10-26–public-hearing-comprehensive-plan
This is the map from page 128: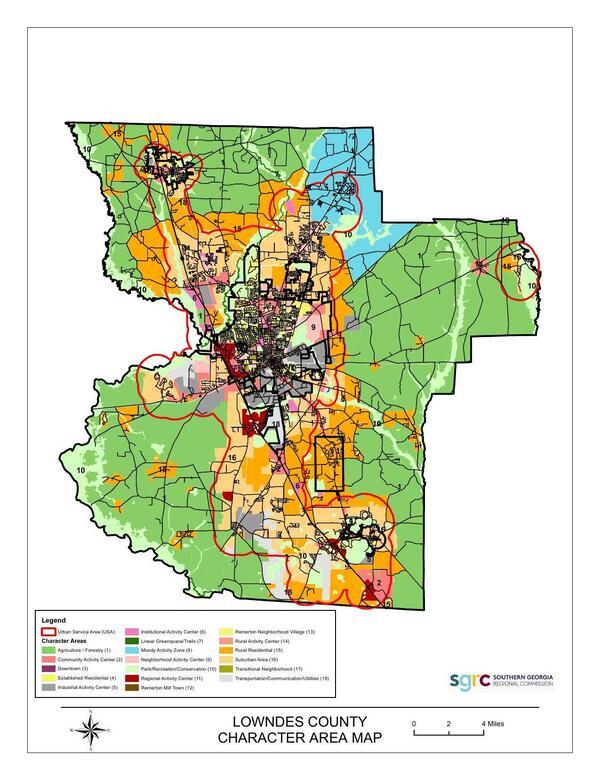 LOWNDES COUNTY CHARACTER AREA MAP
PDF
It does look quite similar to the 2016 map: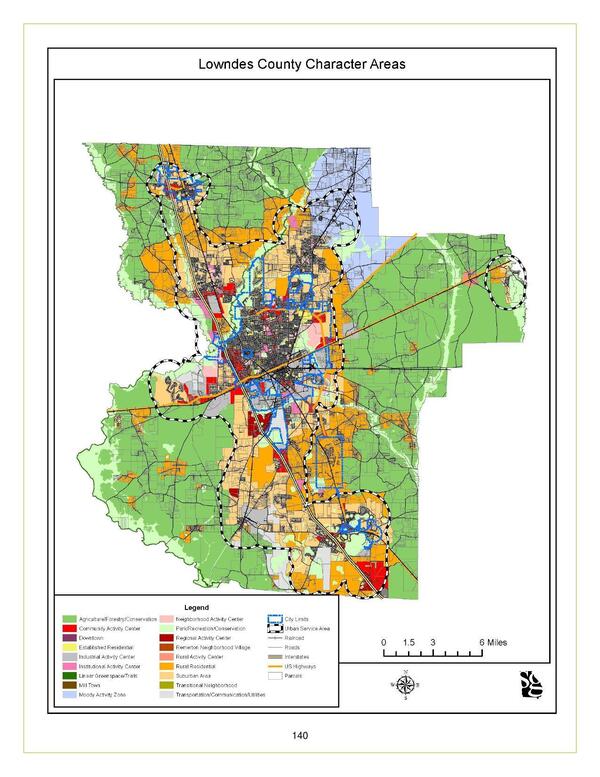 Lowndes County Character Area Map 2016
PDF
In particular, the Suburban Character Area does not appear to have been moved northwards.
Both maps are missing the road and utilities overlays from the map in the September 28th presentation slides.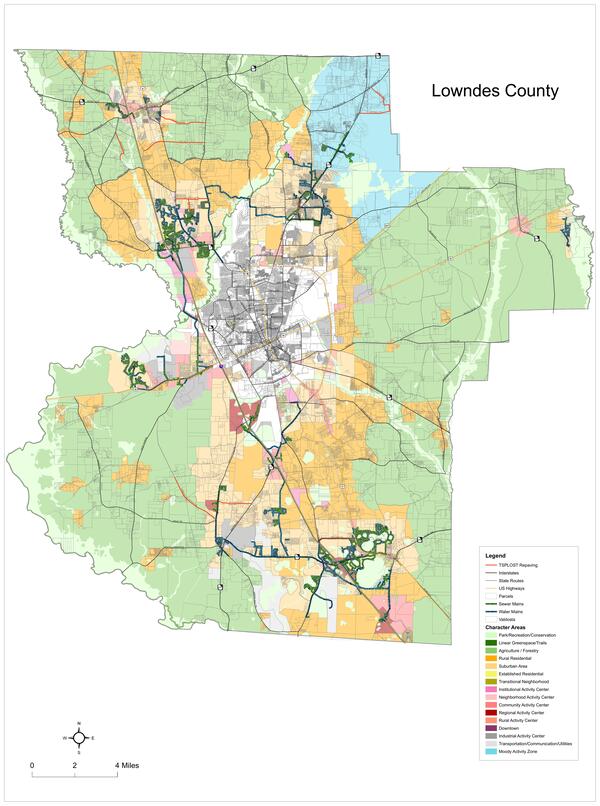 Unfinished Lowndes County Character Area Map, courtesy Lowndes County Planner JD Dillard
PDF
Thanks to Lowndes County Planner JD Dillard for the above map, which I got from him after the September 28 Public Hearing. It has road paving and water and sewer lines overlaid on the map that is on the county's website.
Notice that those water mains depicted do not include the one the Commissioners approved on October 21 to run down McMillan Road and across the Withlacoochee River.
Still missing is an updated table of acreages over time for each Character Area, such as was in the 2016 Update.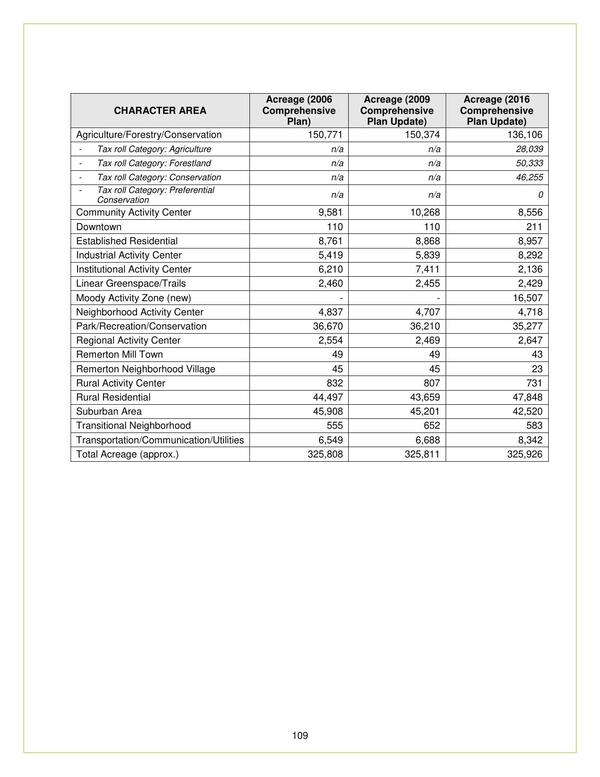 Character Area acreages: 2006, 2009, 2016, 2021?
PDF
Elizabeth Backe wrote about that:
The table is not required to be included – unless there is a strong desire to include it, we were planning to only place the items required by DCA in the plan.
Well, that table sure would be useful as an indicator of how much did the county change the Character Areas.
-jsq
Investigative reporting costs money, for open records requests, copying, web hosting, gasoline, and cameras, and with sufficient funds we can pay students to do further research. You can donate to LAKE today!
Short Link: