Update 2021-11-08: Videos: Comprehensive Plan Update Public Hearing 2 @ LCC 2021-10-26.
Update 2021-10-25: Maps: Comprehensive Plan Final Public Hearing @ LCC 2021-10-26.
We'll find out at 5:30 PM this Tuesday whether the Character Area Map for Lowndes County will change. Two sources tell me that it won't for this update of the Lowndes County Comprehensive Plan, except for some tinkery fixes not in the northwest part of the county.
But many of us thought the County Commission might listen to the thousand people who signed a petition against subdivisions farther northwest of Valdosta towards Hahira and GA 122, but two weeks ago the Commissioners approved a subdivision way up Val Del Road almost to GA 122, in the middle of an agricultural and forest area, far out of any appropriate Character Area. So if you care, be there.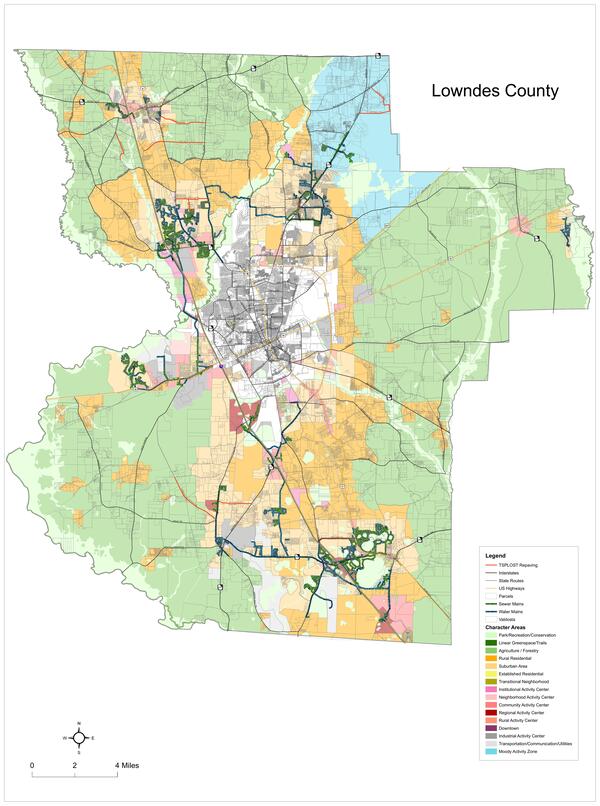 Unfinished Lowndes County Character Area Map, courtesy Lowndes County Planner JD Dillard
PDF
This is all the calendar on lowndescounty.com says:
Public Hearing to Review and Transmit the 2021 Comprehensive Plan Update,
Tuesday, October 26, 2021

Date: October 26, 2021

Time: 5:30 PM

Address: 327 N. Ashley Street, 2nd Floor Commission Chamber
Valdosta, GA 31601
No agenda, no updated maps. I can find nothing more recent than September on the Lowndes County website for this Comprehensive Plan.
Thanks to Lowndes County Planner JD Dillard for the above map, which I got from him after the September 28 Public Hearing. It has road paving and water and sewer lines overlaid on the map that is on the county's website.
Notice that those water mains depicted to not include the one the Commissioners approved on October 21 to run down McMillan Road and across the Withlacoochee River.
Also missing from the Draft Comprehensive Plan on the county's website is an updated table of acreages over time for each Character Area, such as was in the 2016 Update.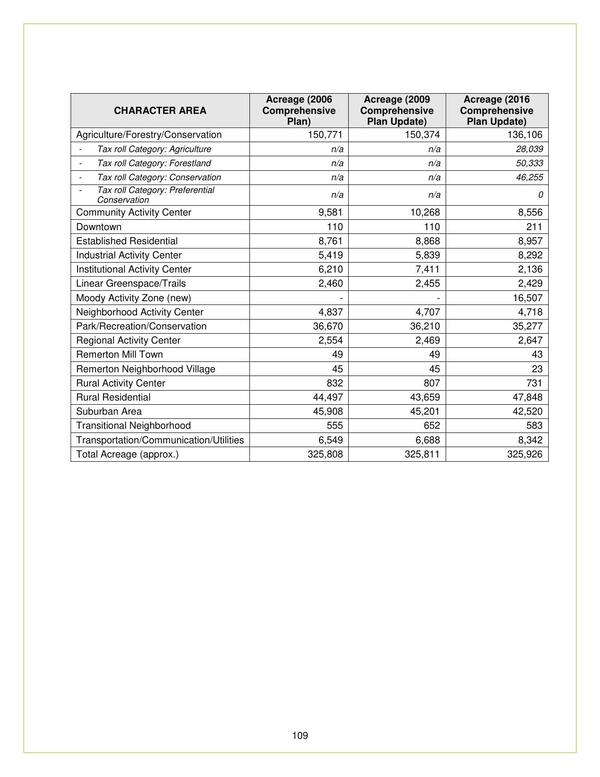 Character Area acreages: 2006, 2009, 2016, 2021?
PDF
I have asked Planner Dillard for a further updated Character Area Map, for an update to that acreage table, and for any other changes. If I get them in time, I will post them.
-jsq
Investigative reporting costs money, for open records requests, copying, web hosting, gasoline, and cameras, and with sufficient funds we can pay students to do further research. You can donate to LAKE today!
Short Link: