The big item on the Lowndes County Commission agenda for Monday to vote on Tuesday evening is the Adoption of Fiscal Year 2021 Budget totaling $59,443,920, with $22,774,781 or 38% to Public safety, i.e., the Sheriff's department, including the jail.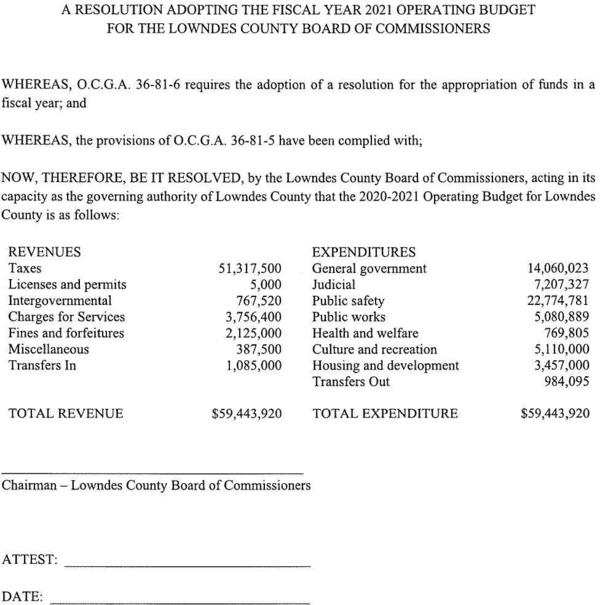 A RESOLUTION ADOPTING THE FISCAL YEAR 2021 OPERATING BUDGET
PDF
The board packet is on the LAKE website after we obtained it through an open records request.
Although I hear the hotel/motel tax is down 80% due to virus pandemic, the Hotel/Motel Tax FY 2021 County Budget Budgeted Proceeds are $400,000.00. They are budget to go to:
$171,429.00 Transfer to Lowndes County's Special Services Fund from which the County funds (i) services the County provides primarily for the benefit of the unincorporated area and
(ii) the County's share of funding of services the County and one or more municipalities jointly fund
$171,429.00 Transfer to Valdosta-Lowndes County Conference Center and Tourism Authority
to promote tourism, convention, and trade shows in accordance with the FY 2021 Budget Plan of said Authority for same which is made a part of this Budget Plan
$57,142.00 Transfer to Valdosta-Lowndes County Parks and Recreation Authority
for capital costs and operating expenses of parks and recreational facilities owned and operated by said Authority
A rare no-match federal grant: Acceptance of FY20 Coronavirus Emergency Supplemental Funding brings the total expected expenditures from this Tuesday's Regular Session down to less than a quarter million dollars:
I commend Lowndes County Utilities for moving ahead to fix the recent manhole collapse at the Bevel Creek Lift Station on GA 376 near Loch Laurel Road. See also Sewer line repair between manholes, Bevel Creek Lift Station @ LCC 2020-06-22.

Photo: Terry Richards, The Valdosta Daily Times, Heavy rains cause problems in Lowndes 2020-06-08.
It's a busy agenda for appointments, to Valdosta-Lowndes County Zoning Board of Appeals (Mr. Marion Ramsey is interested in being appointed to the board)
South Georgia Regional Library Board (Reappointments: Gary Wisenbaker, Gene Toffolo; New: Dr. Beverley Richardson-Blake and Dr. George Gaumond),
Valdosta-Lowndes County Parks and Recreation Authority (Reappoint: Suzan Prince and Cisco Diaz), and
Valdosta-Lowndes County Construction Board of Adjustments and Appeals (Reappoint: Tripp Howell; New: Keith Scarborough or Thomas Ley).
Here is the agenda.
LOWNDES COUNTY BOARD OF COMMISSIONERS
PROPOSED AGENDA
WORK SESSION, MONDAY, JUNE 22, 2020, 8:30 a.m.
REGULAR SESSION, TUESDAY, JUNE 23, 2020, 5:30 p.m.
327 N. Ashley Street – 2nd Floor
-jsq
Investigative reporting costs money, for open records requests, copying, web hosting, gasoline, and cameras, and with sufficient funds we can pay students to do further research. You can donate to LAKE today!
Short Link: