The Lowndes County Commission did not pass a new budget, and nobody seems to know or at least be willing to say why, even though that was on the agenda for that Tuesday meeting.
Instead, they've scheduled a "Special Called Meeting on Friday, June 26, 200, at 9:00 a.m., to consider a resolution to temporarily continue the operation of the 2020 Fiscal Year budget."
We don't have the new draft budget, but here's the general fund expenditure chart from the old budget they're extending: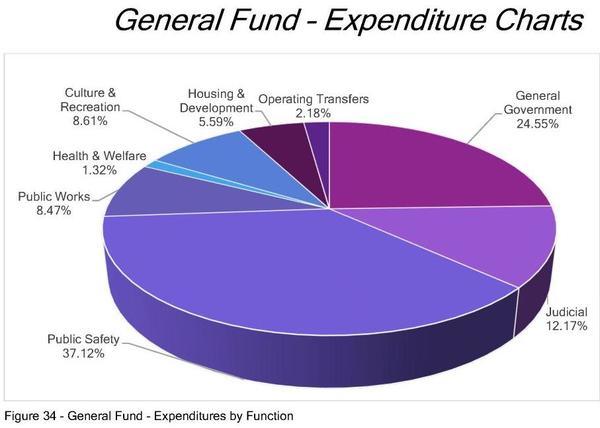 General Fund Expenditures
37.12% + 12.17% = 49.29%
I wonder if this delay has anything to do with sales tax revenues being way down due to the pandemic, and nobody really knowing when they might recover?
There's no video of the meeting, but fortunately the VDT was on the job. Chris Herbert, Valdosta Daily Times, 24 June 2020, Lowndes County Commission tables 2021 budget,
VALDOSTA — Lowndes County Commission tabled the proposed Fiscal Year 2021 budget Tuesday evening.

County commissioners have until next week, June 30, to pass the budget that will take effect July 1.

County commissioners did not give a reason for tabling the budget.

Lowndes County Commission Chairman Bill Slaughter asked for a motion.

Instead of the normally prompt response by one of the five Lowndes County commissioners, five seconds of silence passed.

"I'll take a motion to adopt the FY2021 budget as presented," he repeated.

Two more seconds passed before Commissioner Demarcus Marshall offered a motion to approve, which was seconded by Commissioner Joyce Evans.

With no discussion, Slaughter asked the five commissioners to verbally vote on the budget proposal and two voices responded "aye."

The chairman then solicited for a hand vote. Marshall and Evans voted in favor. Commissioners Mark Wisenbaker, Clay Griner and Scottie Orenstein raised their hands in opposition.

The motion failed.

Slaughter requested another motion.

Marshall made a motion to table the budget proposal "prior to the deadline required by the state which is June 30." It received a swift second and the move was unanimously approved.

The failure to approve puts the Lowndes County Board of Commissioners on a shot clock with less than a week to finalize their budget proposal. Municipalities must pass a FY2021 budget by June 30 and in the intervening time, are required by law to have a special called meeting to discuss the budget proposal.

Due to Georgia law requiring seven days to advertise before a special called meeting and June 30 less than seven days away, the county commission will have to file a resolution for an extension to approve its FY2021 budget, according to Lowndes County Clerk and Public Information Officer Paige Dukes.

The commission will hold the vote to pass that extension resolution at 9 a.m. Friday morning, Dukes said. The date for the special called meeting to discuss the budget is still undetermined, according to Dukes.
More later in the VDT story:
"There's two items we need to discuss further to get ironed out," Wisenbaker told The Valdosta Daily Times after the meeting.

"It shouldn't be a big concern," he continued. "We just wanted to make sure what we got is real and good for everybody concerned."

Griner repeated the line that some things "needed to be ironed out" but said he preferred to discuss it during the special called meeting.

Orenstein declined to comment.

"I was just as surprised as you were," Slaughter said, stating he did not know why the three voted to not approve the budget proposal.
There's still no meeting on the county's online calendar for approving a new budget.
The VDT says the Commission approved everything else Tuesday; see the LAKE blog post on last Tuesday's agenda.
Here are the appointments they made Tuesday:
Commissioners made a series of appointments: Marion Ramsey to Valdosta-Lowndes County Zoning Board of Appeals, Beverly Richardson-Blake, George Gaumond, Gary Wisenbaker and Gene Toffolo to the South Georgia Regional Library Board, Suzan Prince and Cisco Diaz to the Valdosta-Lowndes County Parks and Recreation Authority and Tripp Howell and Chuck Smith to the Valdosta-Lowndes County Construction Board of Adjustments and Appeals.
Here's the agenda for tomorrow morning:
LOWNDES COUNTY BOARD OF COMMISSIONERS Special Called Meeting
Friday, June 26, 2020, 9:00 a.m.
327 N. Ashley Street — 2nd Floor

To comply with the guidelines of the Center for Disease Control (CDC) in regard to the Coronavirus (COVID19) pandemic and social distancing,
face coverings (masks) are required for all meeting participants.

Call to Order
For Consideration

Resolution Temporarily Continuing the Operation of the 2020 Fiscal Year Budget,

Adjournment
-jsq
Investigative reporting costs money, for open records requests, copying, web hosting, gasoline, and cameras, and with sufficient funds we can pay students to do further research. You can donate to LAKE today!
Short Link: