These documents answer some questions about what Lowndes County's contractor is supposed to do for that $45,120.00 in Professional Services for Sampling, Monitoring and Reporting of Impaired Streams. They raise a few more questions, such as what part of this plan required somebody so specialized that only Lovell Engineering Associates had such a person?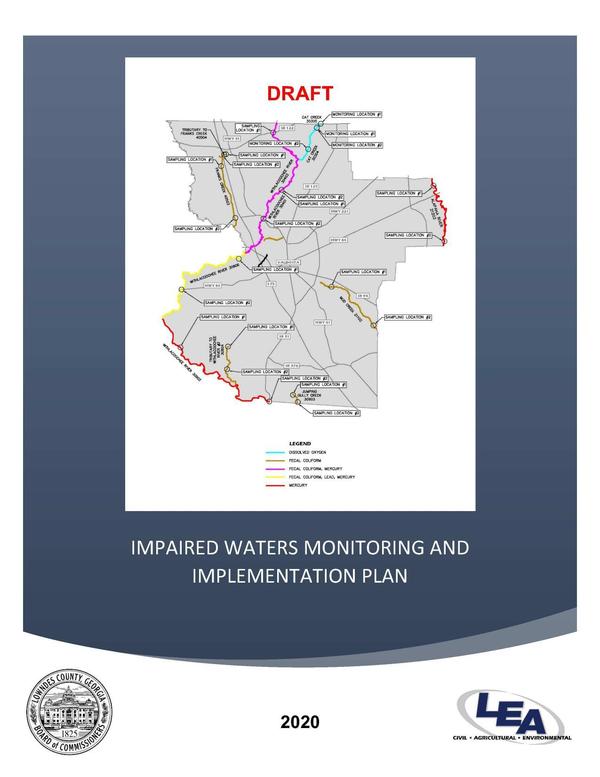 IMPAIRED WATERS MONITORING AND IMPLEMENTATION PLAN
For the weekly Fecal coliform samples, they're going to use Flowers Lab of Madison, Florida, the same that many other organizations use.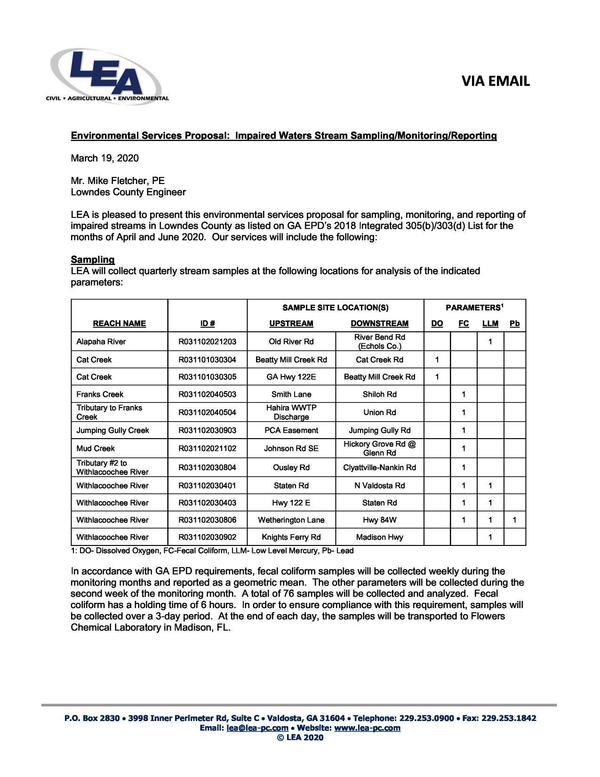 Sample Site Locations & weekly Fecal coliform via Flowers Lab
They're only sampling Dissolved Oxygen (DO) monthly. This does not require a special lab; it's part of the regular Georgia Adopt-A-Stream training.
I thought in the Regular Session teleconference somebody said when Commissioner Orenstein asked why three months would cost so much, it was because the firm needs to buy instream dissolved oxygen monitoring equipment. But the contract in the board packet says they will only sample DO monthly.
Why does this sampling cost so much?
What else are they sampling?
1: DO- Dissolved Oxygen, FC-Fecal Coliform, LLM- Low Level Mercury, Pb- Lead
Maybe mercury or lead require some sort of special expertise. I would guess they're sending those samples off to a lab as well, though.
Also in the Regular Session teleconference somebody said the annual cost would be about $68,000. That number does not seem to be in the contract, nor in any of the other documents we have obtained.
This is in the board packet: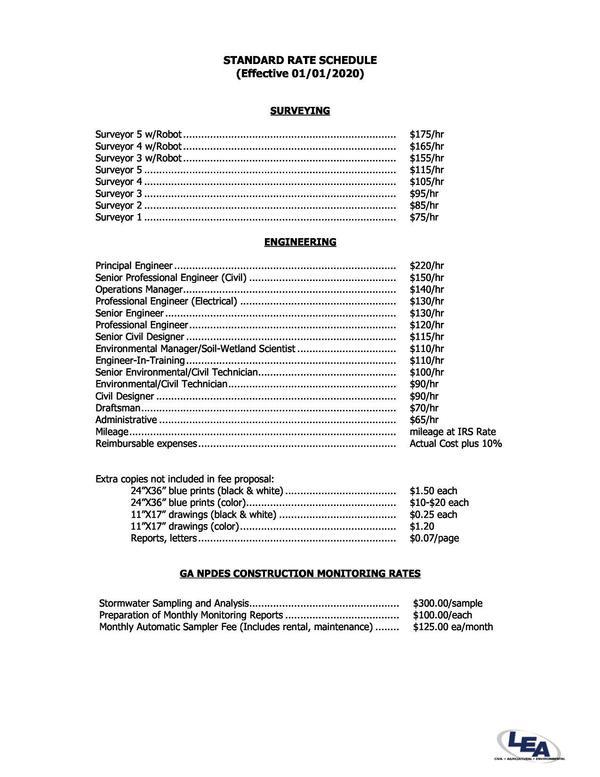 Standard Rate Schedule & Monitoring Rates
Well, $300 a sample does cost a bit for many samples.
LAKE got the board packet through a second Georgia Open Records Act (GORA) request. Through a second request we got three related documents.
Logistical (but not financial) details are in the IMPAIRED WATERS MONITORING AND IMPLEMENTATION PLAN in file 2020-LC-IW-Monitoring-and-Implementation-Plan-Complete-Package-Final.pdf.
There is no overview, but each of the dozen stream segment writeups starts with this first one:
Introduction

As part of General NPDES Stormwater Permit No GAG610000, Lowndes County is required to identify any impaired waters located within its permitted area, using the latest approved 305(b)/303(d) List of Waters which contain MS4 outfalls or are within one (1) linear mile downstream of MS4 outfalls. For those impaired waters, the permittee is required to propose a Monitoring and Implementation Plan for addressing each cause/pollutant(s) of concern (POC).

As of March 2020, the most recent approved 305(b)/303(d) (2018) included a stream segment of the Alapaha River as not supporting its designated use within the County's jurisdiction. See Table 1: Impaired Stream Segments.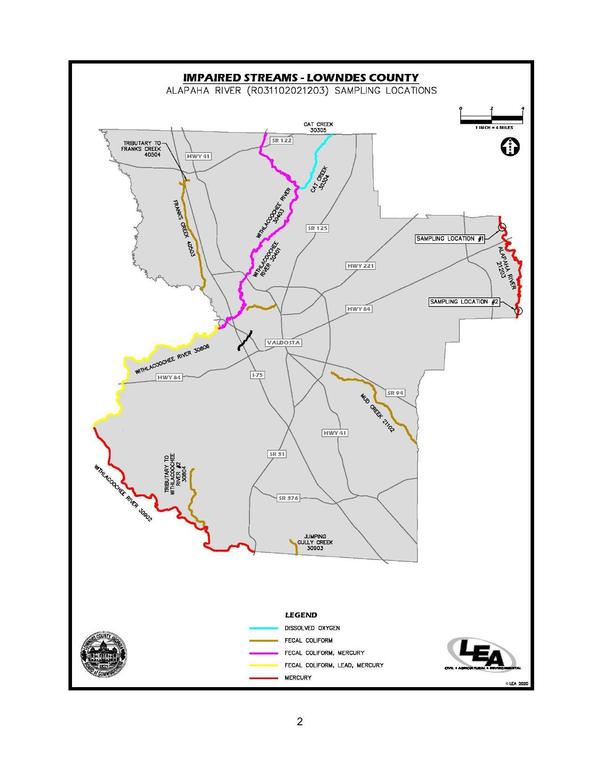 Map: ALAPAHA RIVER (R031102021203) SAMPLING LOCATIONS
Permit No. GAG610000 is in this file: Phase-II-2017-final-permit.pdf.
Also obtained from Lowndes County via GORA is Existing Phase II MS4 Storm Water Management Program Template, in this file: 2017-Phase_II_SWMP.pdf.
By "the most recent approved 305(b)/303(d) (2018)" presumably they mean the 2018 version of GA-EPD Listing of Waterbodies, Clean Water Act Section 303(d), which EPD is updating now, with an online public meeting May 20 and an emailed comment deadline of June 4, 2020.
On the one hand, it's great that Lowndes County is doing (or having done) all this sampling.
On the other hand, how will be public see the results? And when?
All this data could be a very useful complement to sampling already going on by Valdosta, Lowndes County, WWALS, and several Florida agencies. Useful for determining when the streams are clean and when they are not, and useful for finding sources of contamination so something can be done.
But this new data will only be useful if it is published in a timely manner, best within a day of when the results are processed.
When I last talked to County Engineer Mike Fletcher, I told him I would get back to him after I perused these documents. So I will ask him these and some other questions.
-jsq
Investigative reporting costs money, for open records requests, copying, web hosting, gasoline, and cameras, and with sufficient funds we can pay students to do further research. You can donate to LAKE today!
Previous documents:
Documents obtained by LAKE through a Georgia Open Records Act (GORA) request specific to this topic:
LAKE blog posts:
Short Link: