Lowndes County, GA, Stream Monitoring and Stormwater Permit 2020-04-28 [Up]
LAKE blog posts:
Previous documents: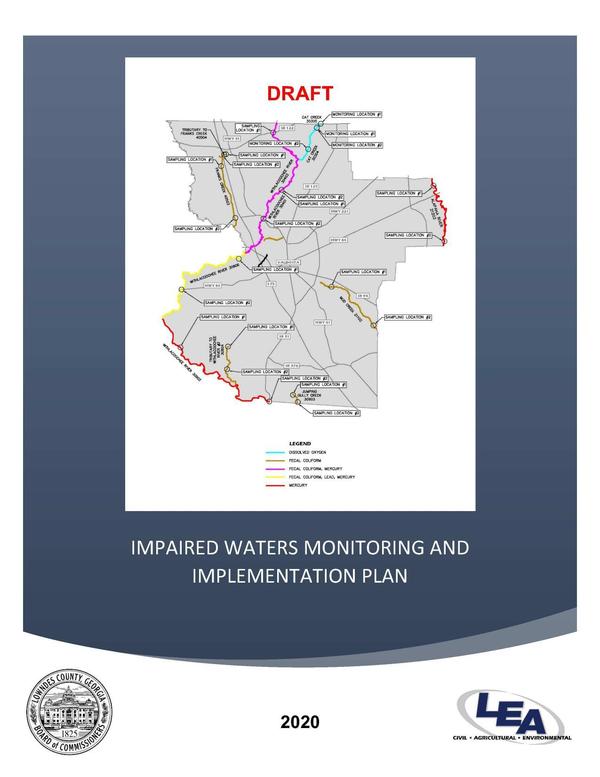 IMPAIRED WATERS MONITORING AND IMPLEMENTATION PLAN
Documents obtained by LAKE through a Georgia Open Records Act (GORA) request specific to this topic:
Below are images of each page.
-jsq
Investigative reporting costs money, for open records requests, copying, web hosting, gasoline, and cameras, and with sufficient funds we can pay students to do further research. You can donate to LAKE today!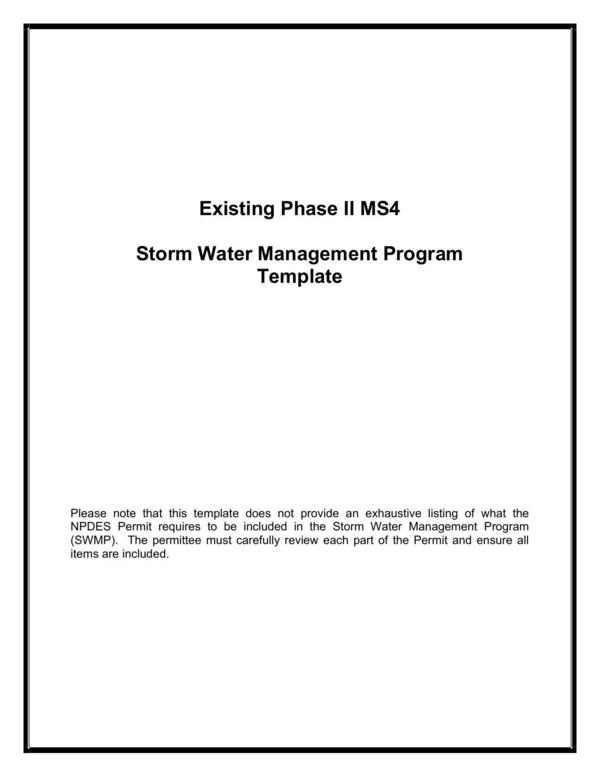 Existing Phase II MS4 Storm Water Management Program Template
PDF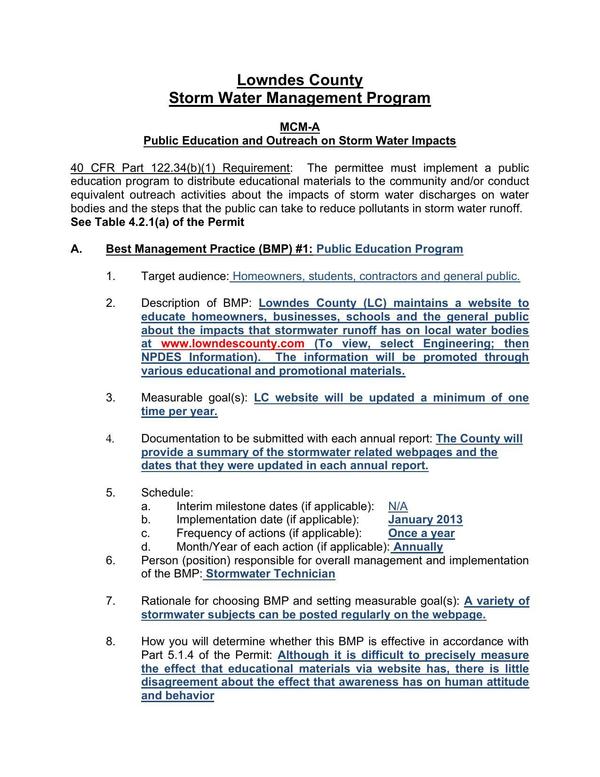 A. Best Management Practice (BMP) #1: Public Education Program
PDF

BMP #1: Outfall Map and Inventory
PDF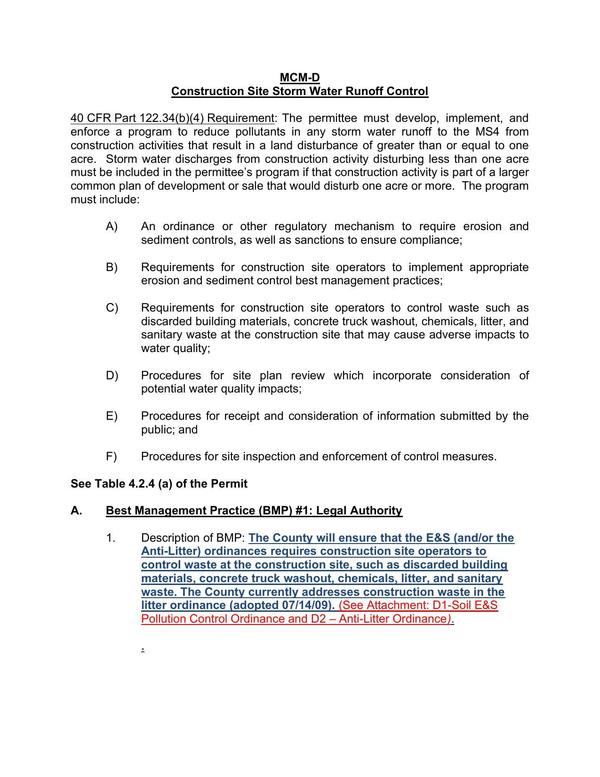 A. Best Management Practice (BMP) #1: Legal Authority
PDF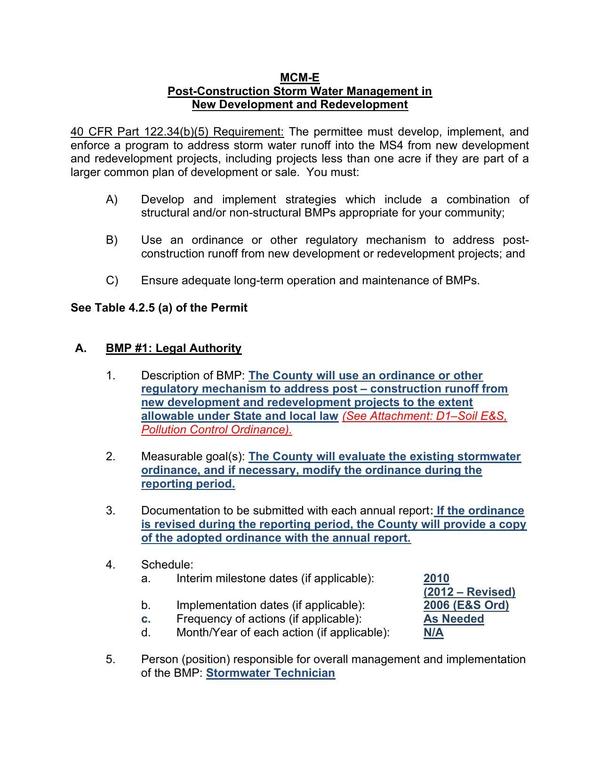 A. BMP #1: Legal Authority
PDF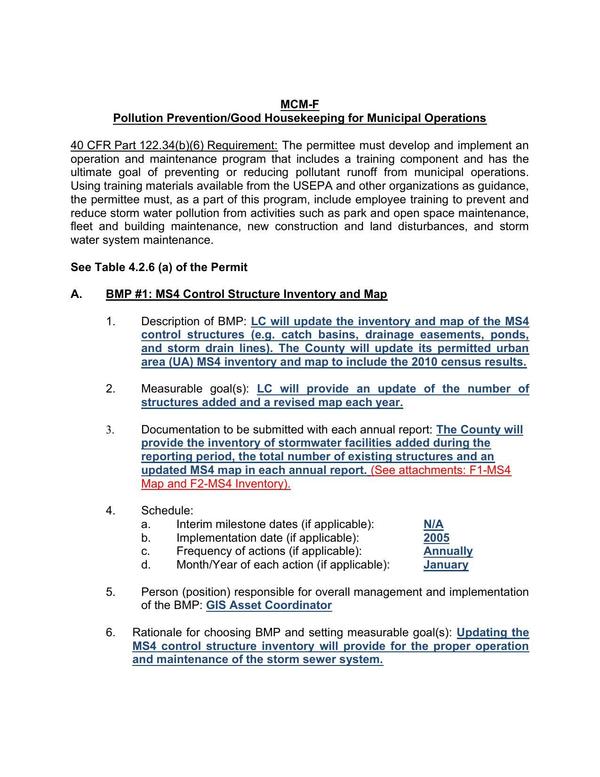 A. BMP #1: MS4 Control Structure Inventory and Map
PDF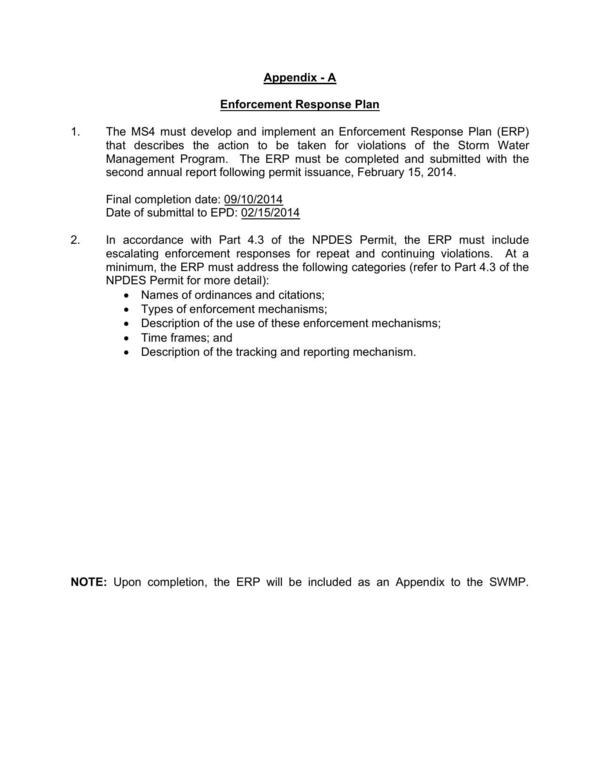 NOTE: Upon completion, the ERP will be included as an Appendix to the SWMP.
PDF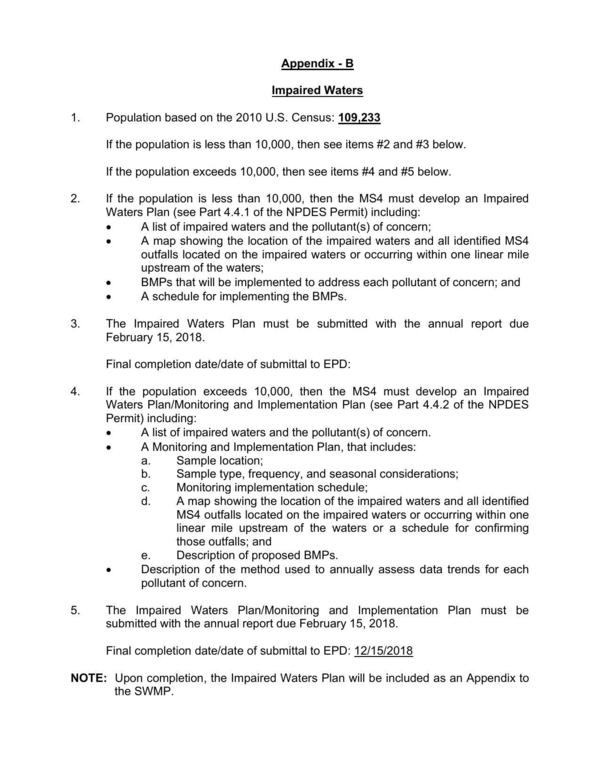 4. ...the MS4 must develop an Impaired Waters Plan/Monitoring and Implementation Plan (see Part 4.4.2 of the NPDES Permit) including:
PDF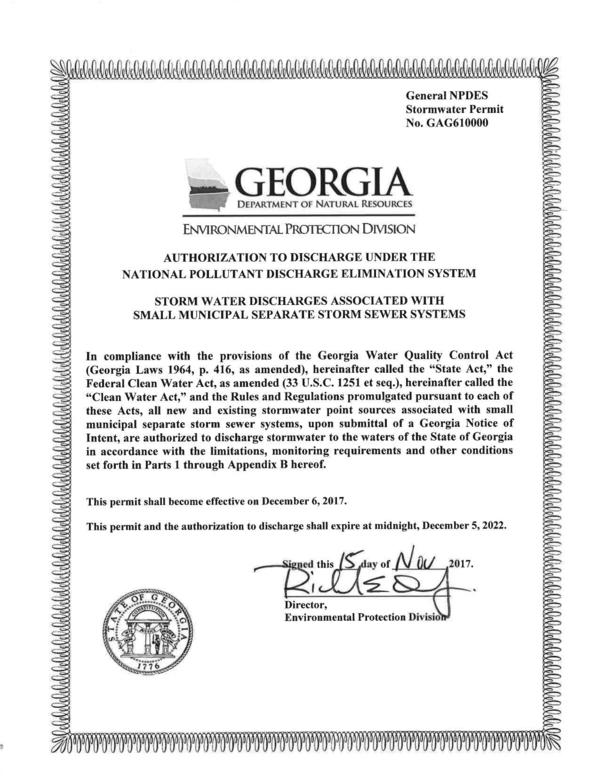 General NPDES Stormwater Permit No. GAG610000
PDF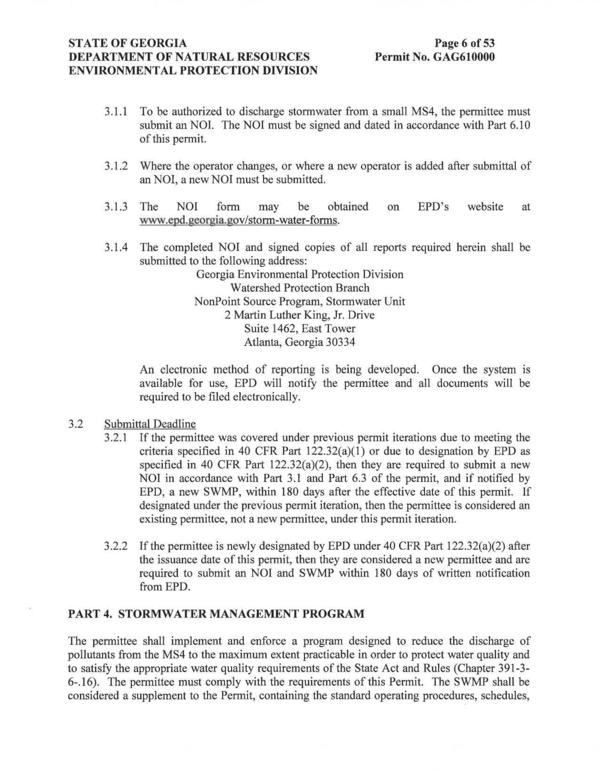 to satisfy the appropriate water quality requirements of the State Act and Rules (Chapter 391-3-
PDF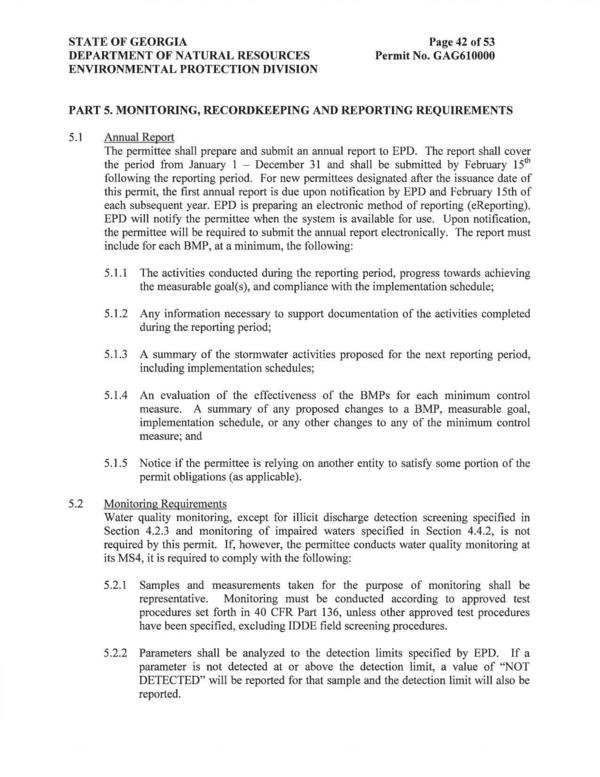 5.1 Annual Report; 5.2 Monitoring Requirements
PDF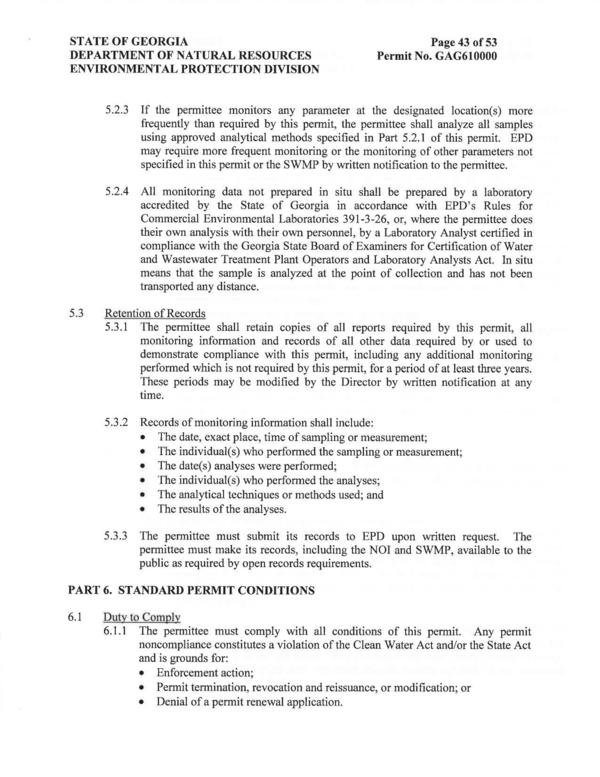 demonstrate compliance with this permit, including any additional monitoring
PDF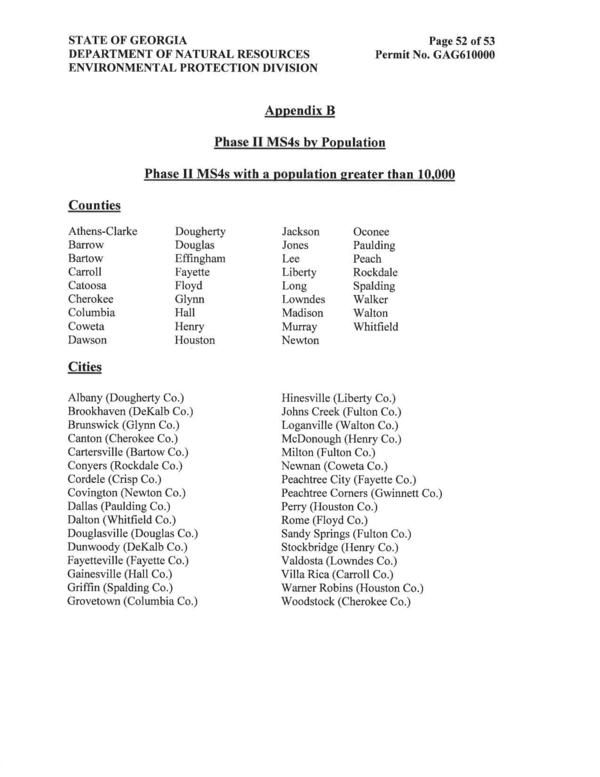 Phase II MS4s with a population greater than 10,000
PDF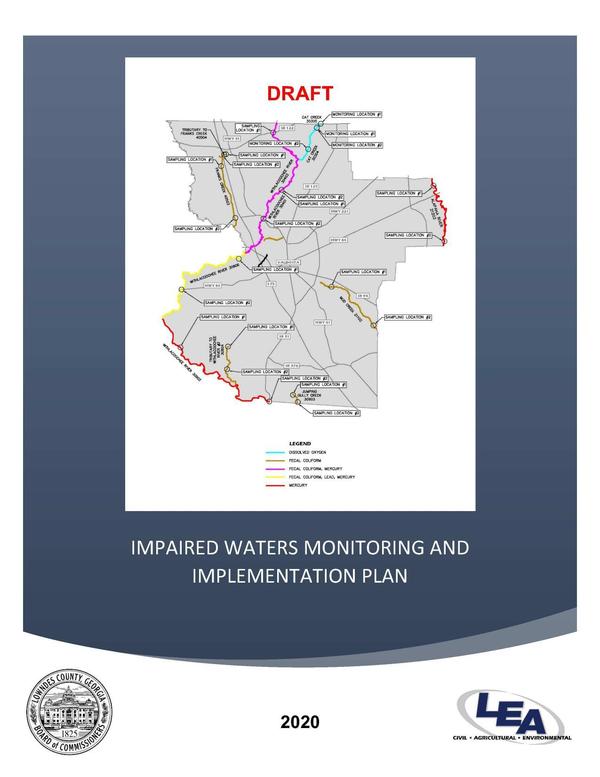 IMPAIRED WATERS MONITORING AND IMPLEMENTATION PLAN
PDF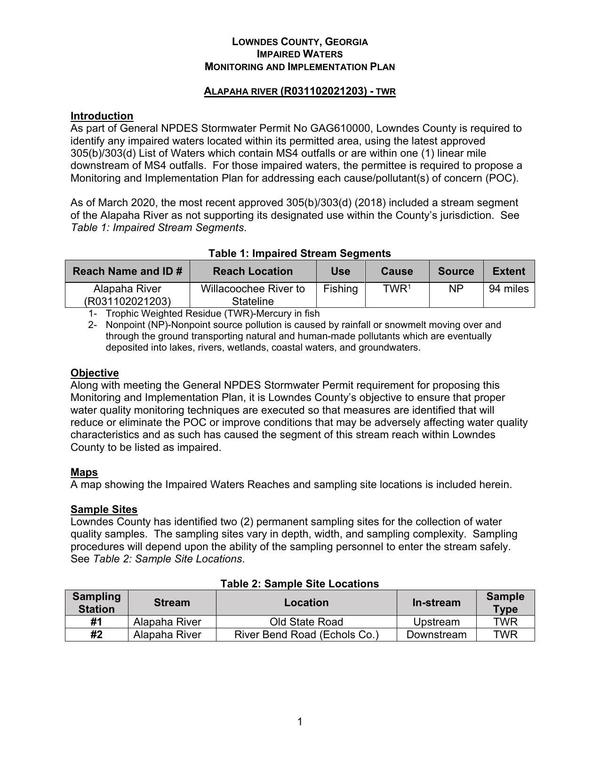 Alapaha River (R031102021203) Willacoochee River 94 miles to Stateline
PDF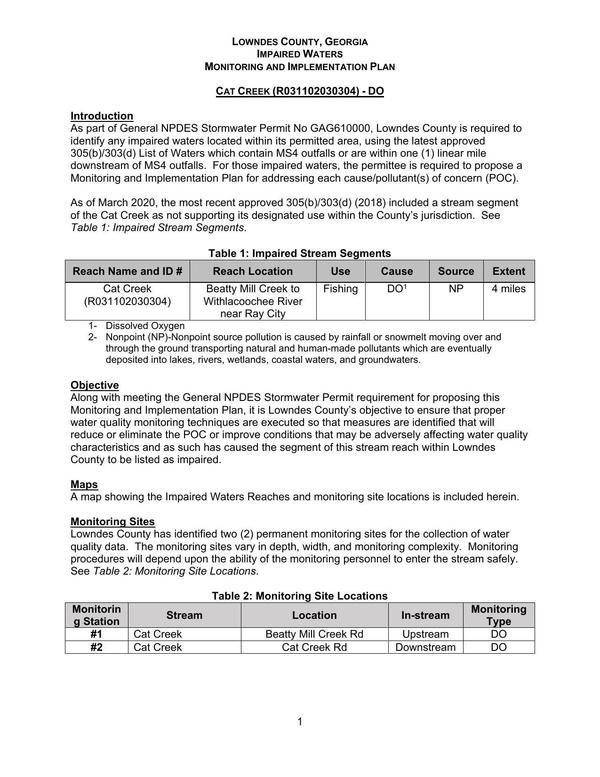 1- Dissolved Oxygen: Cat Creek (R031102030304) Beatty Mill Creek near Ray City 4 miles to Withlacoochee River
PDF

[
PDF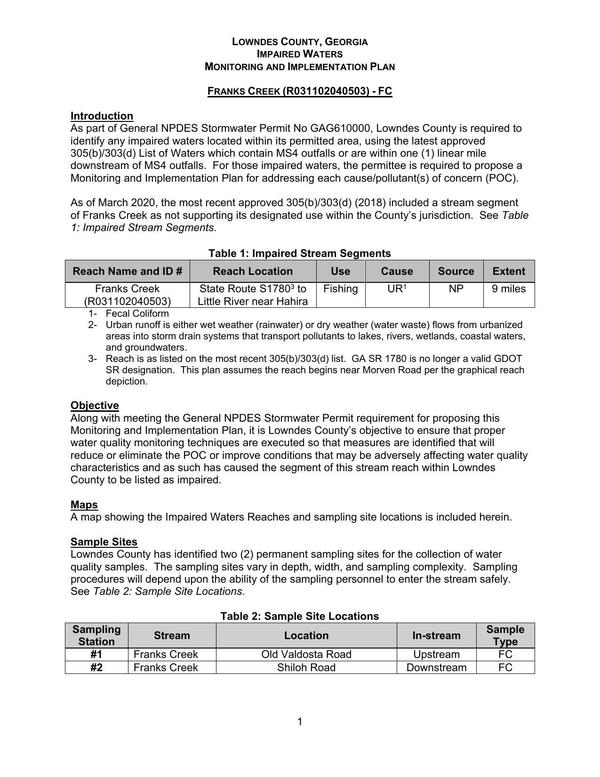 Franks Creek (R031102040503) State Route S1780 9 miles to Little River near Hahira
PDF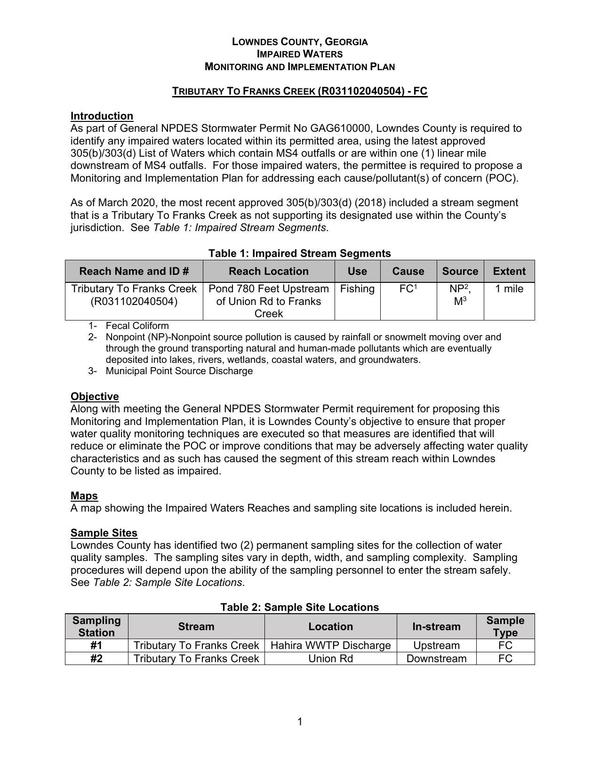 Tributary To Franks Creek (R031102040504) Pond 780 Feet Upstream of Union Rd 1 mile to Franks Creek
PDF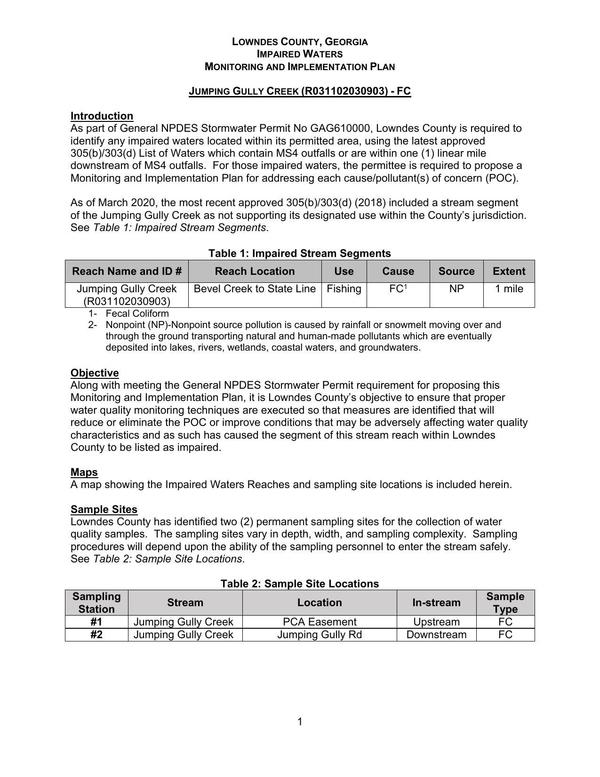 Jumping Gully Creek (R031102030903) Bevel Creek 1 mile to State Line
PDF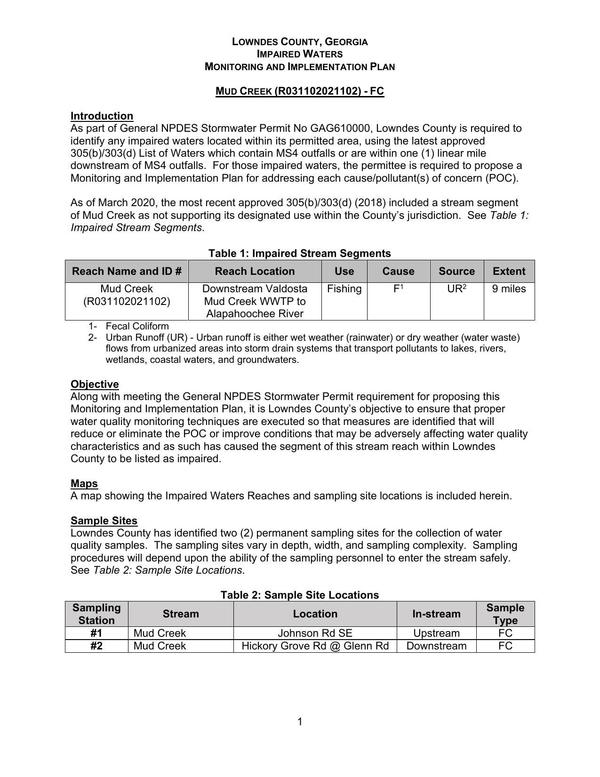 Mud Creek (R031102021102) Downstream Valdosta Mud Creek WWTP 9 miles to Alapahoochee River
PDF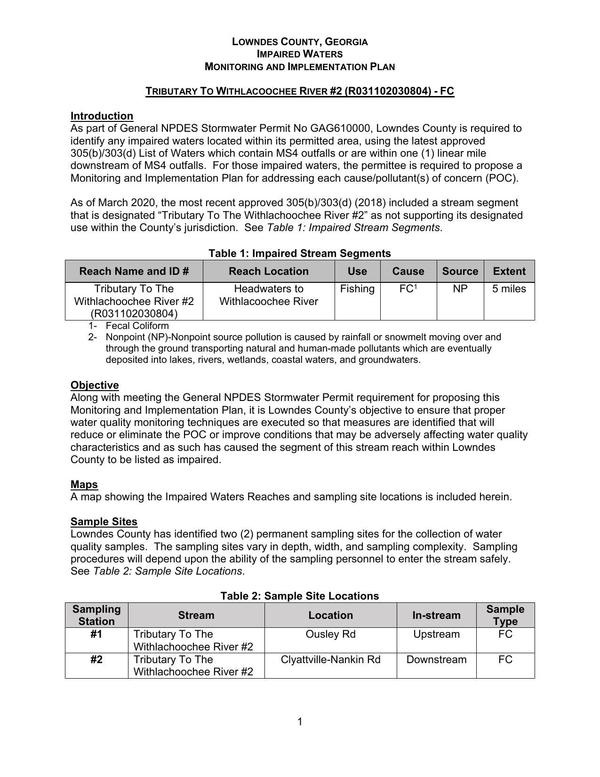 Tributary To Withlachoochee River #2 (R031102030804) Headwaters 9 miles to Withlacoochee River
PDF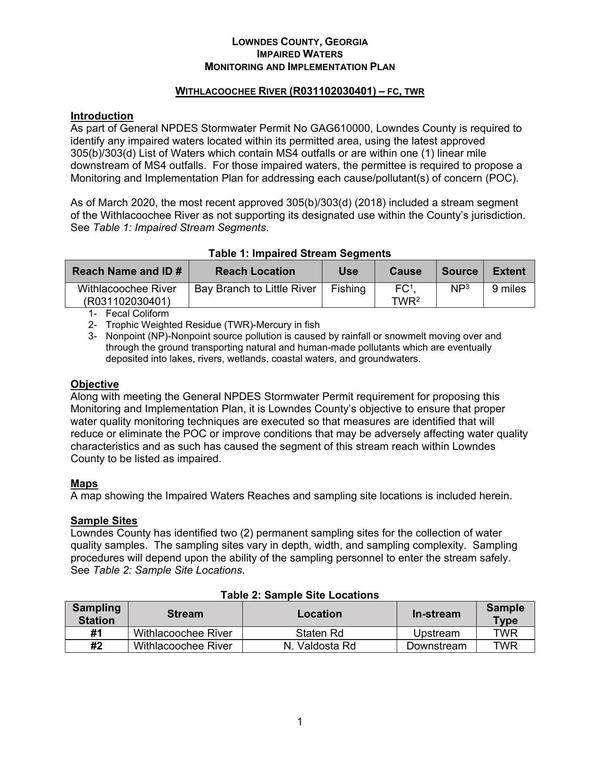 Withlacoochee River (R031102030401) Bay Branch 9 miles to Little River
PDF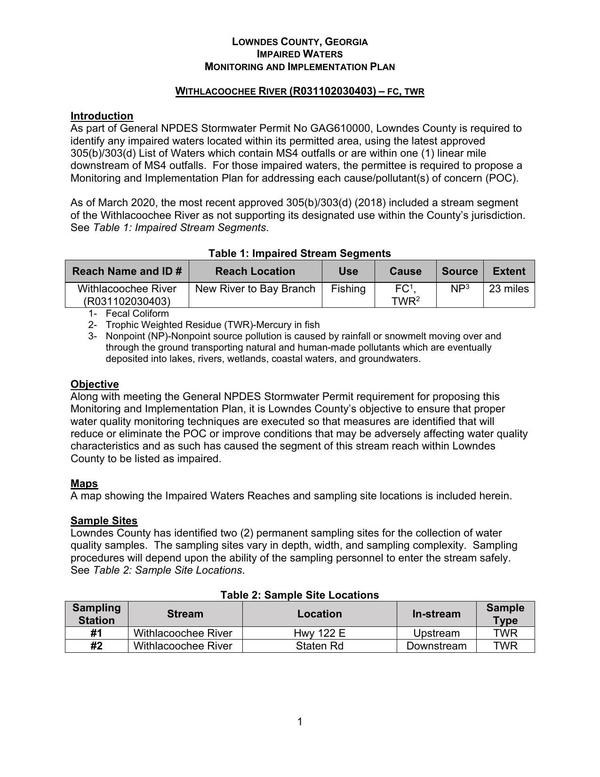 Withlacoochee River (R031102030403) New River 23 miles to Bay Branch
PDF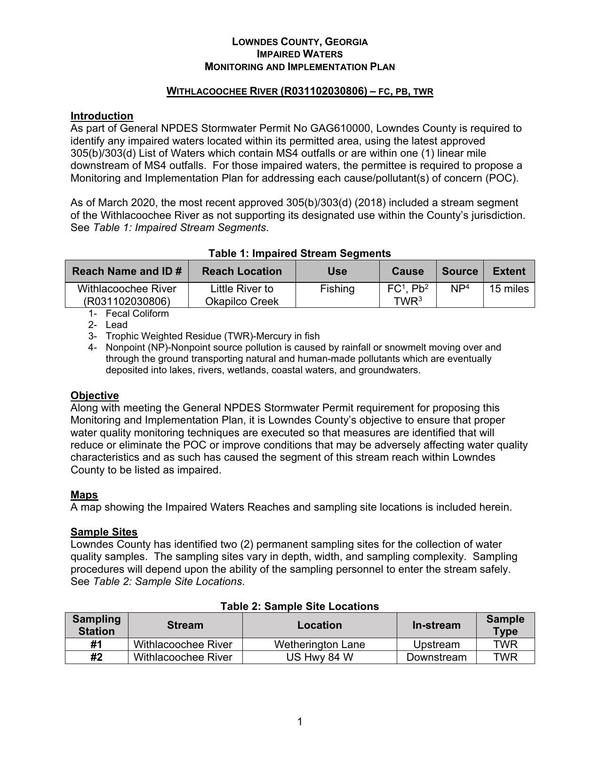 Withlacoochee River (R031102030806) Little River 15 miles Okapilco Creek
PDF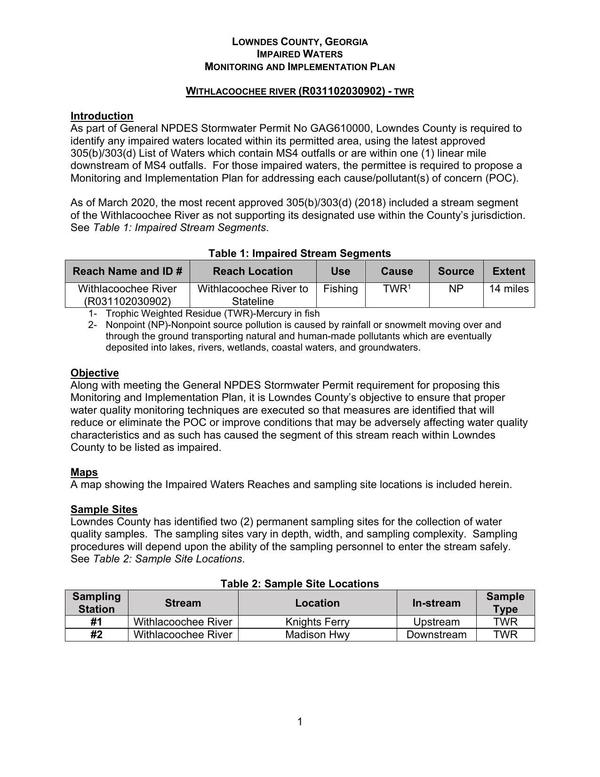 Withlacoochee River (R0O31102030902) Withlacoochee River 14 miles to Stateline
PDF