Update 2020-06-05: Lowndes County video has appeared, revealing several things not in the minutes.
Update 2020-05-23: Packet: Juvenile Justice, TIA Old US 41, Two Oaks at Bemiss, Hazard Mitigation @ LCC 2020-05-12. There are no videos.
The lightest agenda for Tuesday's Lowndes County Commission Regular Session that I've seen in a while will be voted on Tuesday in the Commission Chambers with masks. No teleconference. Presumably the County will be videoing and putting that on YouTube, as they usually do with Regular Sessions. There is no Work Session.
Also less expensive than most Commission meetings:
Cost
What
$330,854
CJCC Funding
FY 2021 Juvenile Justice Incentive Grant Application Regular Session DATE OF MEETING: May 12, 2020
$20,000.00
FEMA
Lowndes County Hazard Mitigation Request for Proposal Regular Session DATE OF MEETING: May 12, 2020
$350,854
Total
Even on the least expensive item this time, Lowndes County Hazard Mitigation Request for Proposal, "Lowndes County recently requested pricing proposals from qualified contractors…" The RFP is on the county's website.
Unlike the more expensive stream monitoring project of last month's meeting, for which there was no RFP and no bids.
This item has no cost cited, but will cost the taxpayers for road maintenance in the future: Adopt Resolution accepting Infrastructure for Two Oaks at Bemiss.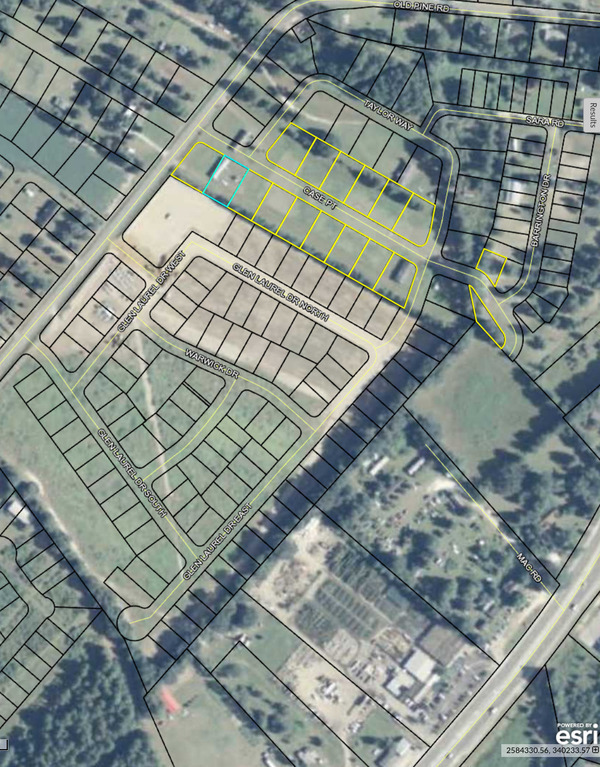 Case Point (Two Oaks at Bemiss)
Map: Lowndes County Tax Assessors
All the agenda sheet says for where is "located on Case Point, off Old Pine Road." I'm guessing that includes the connected roads Taylor Way, Barrington Drive, and Sara Road. The same developer previously owned the lots to the south, on Glen Laurel Drive (and west, east, north, and south), plus Warwick Drive. How much of that will we the taxpayers be paying to keep up?
This item also has no cost cited, but is ominous nonetheless, considering the fraught history of attempt to widen Old US 41 North through Hahira: Georgia Department of Transportation – Transportation Investment Act of 2010 Project Agreement (TIA) for Old US 41 Widening,
HISTORY, FACTS AND ISSUES: The Georgia Department of Transportation has reviewed and approved the TIA Local Government Application for the Lowndes County Old US 41 Widening project. This agenda item is to authorize the Chairman through the resolution to execute the Local Agreement between the Georgia Department of Transportation and Lowndes County.
That's all it says in the agenda sheet: no location from or to, no how many lanes, no timeframe.
FY 2021 Juvenile Justice Incentive Grant Application The Criminal Justice Coordinating Council (CJCC) and the Juvenile Justice Incentive Funding Committee want requests for proposals for local juvenile justice projects "that aim to reduce the number of youth served out of home." Translation:
Since July 2013, Lowndes County has been awarded funding to implement evidence based diversion programs through the Juvenile Court System which provide the Judge alternatives to confinement for offending youth which appear before the court. Since their implementation beginning in October 2013, the Juvenile Court has utilized these programs to refer hundreds of offending youth to either family therapy or group counseling programs as opposed to sending them off to a youth detention center. This has resulted in a costs savings to taxpayers but more importantly has hopefully been beneficial to the youths and their families by providing them with the guidance and direction they need to steer them back on a positive track and keep them from a lifetime in and out of the judicial system.
So that's ankle bracelets instead of jail, and now they want more ideas like that. That's a good thing.
Another good thing would be stop locking people up for nonviolent drug offenses.
LOWNDES COUNTY BOARD OF COMMISSIONERS
PROPOSED AGENDA
REGULAR SESSION, TUESDAY, May 12, 2020, 5:30 p.m.
327 N. Ashley Street – 2nd Floor
*To comply with the guidelines of the Center for Disease Control (CDC) in regard to the Coronavirus (COVID19) pandemic and social distancing, face coverings (masks) are required for all meeting participants.
-jsq
Investigative reporting costs money, for open records requests, copying, web hosting, gasoline, and cameras, and with sufficient funds we can pay students to do further research. You can donate to LAKE today!
Short Link: