Just as four years ago I projected solar growth ten years ahead, a quarter century ago I projected Internet growth ten years into the future: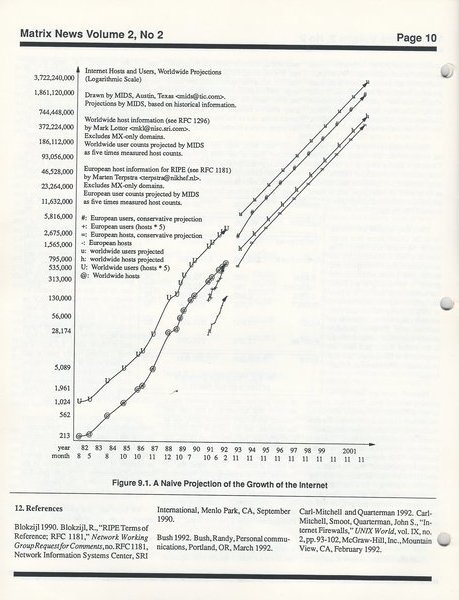 Graph: A Naive Projection of the Growth of the Internet, John S. Quarterman, Matrix News 2.2, MIDS, February 1992.
From 7.7 million Internet users in 1992, I projected the exponential growth of the previous few years ahead a decade, to about 3.8 billion people in 2002.
How close was that estimate? According to Internet World Stats, in April 2002 there were about 0.558 billion Internet users worldwide. So by that number I was off by a factor of about 6.8, and the same source says it took until 2017 to reach 3.8 billion. For the year 2000 I projected about 1 billion and the same source says there were about 0.3 billion, so I was off then only by a factor of about 3.3. For 1999 I projected about 0.5 billion, and the same source says I was off by only a factor of about 2, which ain't bad for seven years out. Why the sudden slump in Internet growth after 1999?
Well, in 2000 the dot-com bubble burst, and Internet growth . greatly slowed for a while. As I wrote in 1992, it was a naive projection. It didn't attempt to forecast economic downturns; I never pretended to be Hari Seldon.
Pew Research, 22 December 2003, The growth of the Internet population has slowed, but Internet users are doing more online,
Online activity has consistently grown over the course of our research. Internet users discover more things to do online as they gain experience and as new applications become available. This momentum often fuels increasing reliance on the Internet in everyday life and higher expectations about the things people can do online.

Despite this growth in activity, the growth of the online population itself has slowed. There was almost no growth over the course of 2002 and there has been only a small uptick in recent months to leave the size of the online U.S. adult population at 63% of all those 18 and over.

Different people use the Internet in different ways. The report is full of examples of how people in different demographic groups use the Internet for different purposes.

Experience and the quality of online connections matter. Those with more experience online and those who have high-speed connections at home generally do more online more often than those with lower levels of experience and those with dial-up connections. The growth of the cohort of veteran users, those with at least three years of online experience, has been striking. Nearly three-quarters of Internet users have at least three years of experience.
And it turns out a later issue of Matrix News led to one of the things Internet users started using the most: Amazon; but that's another story.
The basis of this Internet user projection twenty five years ago was when I estimated (How Big is the Matrix?, Matrix News 2.2, February 1992) somewhere between 3.6 and 7.2 million people using the Internet proper, and between 7.7 and 14.2 million people using the Internet and all the other networks that would soon be subsumed into the Internet.
It is clear that by the next presidential election, in 1996, if not by the one this year, network users will be a force to be reckoned with. There are probably already more people on the networks in the United States than there are people in New Hampshire. In a few years, there will be moe than in California.

Network users are used to expressing their opinions. They think, to some extent, differently than people who do not use networks, because they are used to communicating with many people across boundaries of time, space, and politics. They have a powerful organizational medium at their fingertips. Will they use that medium for political organizaitonn? Will the social organization the medium naturally promotes affect politics anyway? To some extent these things are already happening. How much the effects on society and politics will increase as the networked population increases, we will see.
I didn't predict that the Internet would be blamed for pretty much everything, whether or not it had anything to do with causing it. But for sure it does have political effects.
Bill Clinton and Al Gore did have an election website in 1996, with a press release featuring extensive comments by Gore, in which he notes that the sitting Clinton-Gore administration was the first to have email addresses and the first to get all cabinet officers online. He also noted:
…the assault weapons ban.

Incidently on that point, it's important to have home pages like these so that people can read for themselves the exact words that the candidates use and the exact words describing the accomplishments that are under discussion. Yesterday Senator Dole made a statement that is really hard to interpret. It was apparently about the assault weapons ban — those three words were contiguous to one another in the Dole statement — but various people have scratched their heads and tried with great difficulty to decipher what he was trying to say.

And I was interested to read in the morning news that the chief lobbyist for the National Rifle Association, when asked for her interpretation of Senator Dole's statement on the assault weapons ban, just smiled and said she knew for an absolute fact that he was not changing his position on the assault weapons ban, that he would not veto a repeal of the assault weapons ban, and she seemed to have no difficulty whatsoever in interpreting what Senator Dole was saying. It's important to have direct access — see for yourself — but Senator Dole is wrong on the assault weapons ban, he was wrong when he filibustered the ban, he was wrong when he sponsored an amendment that blocked the assault weapons ban, he was wrong when he worked so hard to repeal the assault weapons ban, and made it a priority to repeal it, and he is just as wrong — dead wrong — today, when he says that the ban is irrelevant. Senator Dole thinks it's enough just to keep these deadly weapons away from felons. President Clinton thinks we should keep them off our streets, period. There's no room for weapons that are only meant to kill and maim people in America.
In addition to the deja vu of the same discussion still going on two decades later, note Gore's point: "it's important to have home pages like these so that people can read for themselves the exact words that the candidates use and the exact words describing the accomplishments that are under discussion."
Experienced Internet users were also active in the elections that brought us George W. Bush in 2000 and 2004. But the first presidential candidate to consciously and effectively use the Internet as a key tool to help win through fundraising and organization was Barack Obama in 2008. See The Political Impact of the Internet on US Presidential Elections, Valentino Larcinese and Luke Miner, 2017, STICERD – Economic Organisation and Public Policy Discussion Papers Series 63, Suntory and Toyota International Centres for Economics and Related Disciplines, LSE.
All this is to say that I was pretty close when I projected Internet growth a quarter century ago, and so far Jon Wellinghoff and I are even closer in our Internet growth projections. 21st century renewable sun and wind energy are the only power sources growing exponentially, with solar power growing faster.
This is what happened to one of the most prominent networks as the Internet took off: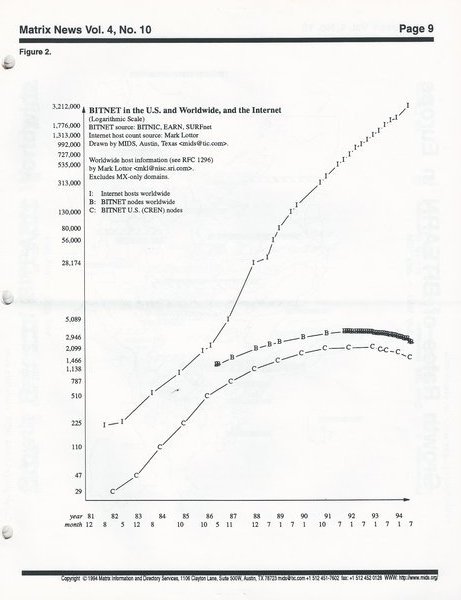 BITNET in the U.S. and Worldwide, and the Internet, John S. Quarterman, Matrix News 4.10, MIDS, October 2014.
All the other networks fell the same way, so that you've probably never even heard of them: FidoNet, UUCP, USENET, etc. (You can actually still see and use USENET, but it is completely carried on the Internet now.)
20th century fossil fuels including coal, oil, and the plutocrats' failed hope of natural gas, plus nuclear power, are all going down, just like those old networks did.
Solar power will win like the Internet did.
-jsq
Investigative reporting costs money, for open records requests, copying, web hosting, gasoline, and cameras, and with sufficient funds we can pay students to do further research. You can donate to LAKE today!
Short Link: