Next to ERCO Worldwide, one of the few tenants in VLCIA's "eight industrial parks", SolAmerica is buying land for a solar farm that will take up most of the rest of the Perimeter East Business Park.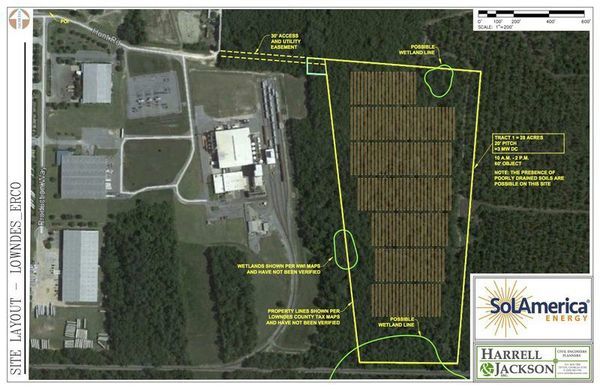 Site Layout submitted by SolAmerica to VLCIA in 14 November 2017 meeting.
Jason A. Smith, VDT, 15 November 2017, Solar arrays planned for land,
The Valdosta-Lowndes County Development Authority voted Tuesday to approve the sale of 27.42 acres for $137,100 to be used for solar arrays.


Parcel 0186 074, Lowndes County Tax Assessors.

The property is located behind the Erco World Wide on 700 Hunt Road and the Perimeter East Business Park.


VLCIA map of Perimeter East Business Park.

The company looking to purchase the property, SolAmerica, reached out to the VLDA's staff a couple of months ago with interest in the property, said Andrea Schruijer, Development Authority executive director.

The company is wanting to put a solar array on the property that would generate three megawatts of power, she said. The project currently represents more than $1 million in capital investments.

The property has been on the authority's books for more than 20 years but has not been accessible due to land owners on all sides of the property, she said.

Although the authority approved to sell the property for $137,100, or $5,000 per acre, it was appraised for $120,000, or $4,300 per acre. So, the authority would be selling the property slightly above fair-market value.
The story notes SolAmerica is still bidding with Georgia Power to sell the electricity generated, and the deal includes 24 months after that during which VLCIA can repurchase the property if the solar panels have not been installed.
The story also quotes its board member Mary Gooding:
"…we can take a piece of property that was of very little use or promise and put it to good — very green, good use."
What a sea change from six years ago when I asked VLCIA about solar power and the same Mary Gooding said:
"That really would be the city… we're industrial development."
Congratulations on turning to the sun, Valdosta-Lowndes Development Authority!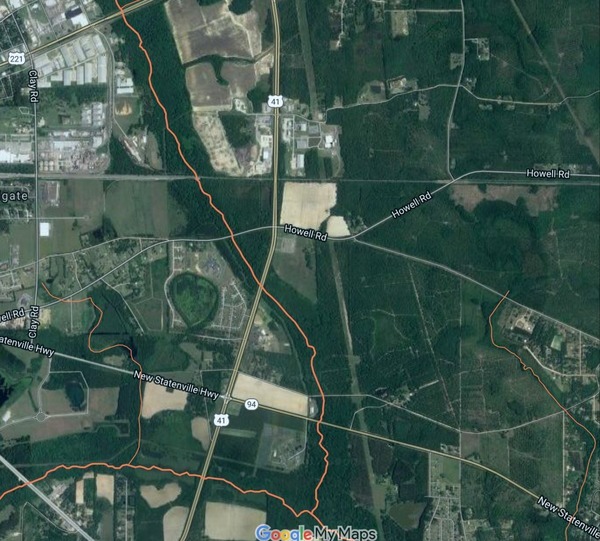 Google map of new solar site top center, Mud Creek WTP bottom center.
Those solar panels in the industrial park will be about two miles north of Valdosta's megawatt-plus array at its Mud Creek Wastewater Treatment Plant.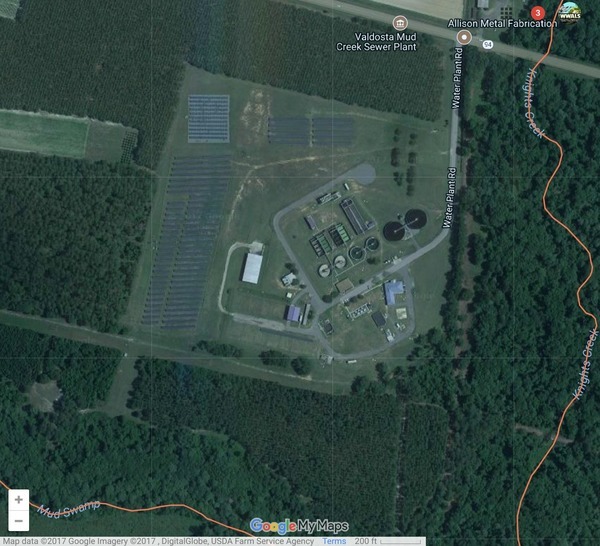 Google map of Valdosta's Mud Creek Wastewater Treatment Plant, with solar panels visible.
Valdosta has since installed solar panels at its new Withlacoochee WTP (pictures to come), at its old, closed, WWTP (pictures to come), at its old closed landfill on Val Tech Road, and at its police firing range, apparently off of US 133 (pictures to come if can get police escort).
Back in 2015 I asked VLCIA about solar panels at the airport, and this year the Airport Authority did that.

Photo: Gretchen Quarterman for LAKE, 16 August 2017.
SolAmerica this year installed 769 KW of solar panels at Langboard, just across the Withlacoochee River in Brooks County. On Burnt Church Road in Lanier County, near the Alapaha River, four years ago Invenergy installed two megawatts of solar panels.
Just across the state line, Duke Energy is building a 75 megawatt solar farm on 550 acres in Hamilton County, a bit east of the Withlacoochee River and right next to the Sabal Trail fracked methane pipeline, of which Duke is a 7.5% owner. Next county south across the Suwannee River, Duke already installed 8.8 megawatts of solar panels on 62 acres just east of its Suwannee Power Plant. Two solar plants the size of that one in Hamilton County would produce more power than the natural gas units at Duke's Suwannee Power Plant, and Duke plans to build "nine or more" of them.
I could go on, but I think the picture is clear: solar panels all around. Everybody else is profiting. The Valdosta-Lowndes County Development Authority can do more to promote solar power.
Since two years ago the state of Georgia passed a law enabling third-party financing of solar panels, the Development Authority could use its bond-issuing authority to finance rooftop solar power for local businesses. Or sell off more idle industrial park land to finance it. Or use some of their 1 mil of property tax money to do that. It's a thought.
-jsq
Investigative reporting costs money, for open records requests, copying, web hosting, gasoline, and cameras, and with sufficient funds we can pay students to do further research. You can donate to LAKE today!
Short Link: