Easy to see from Burnt Church Road, two solar farms near Lakeland, GA in Lanier County: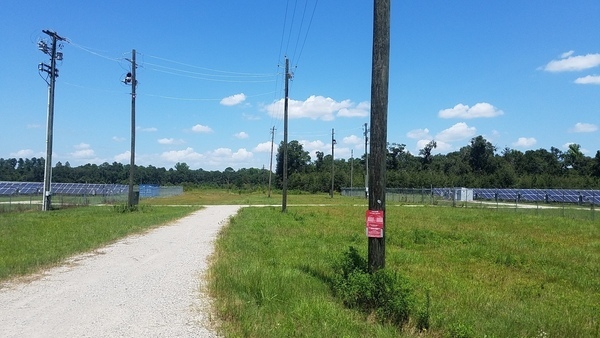 Here's contact information: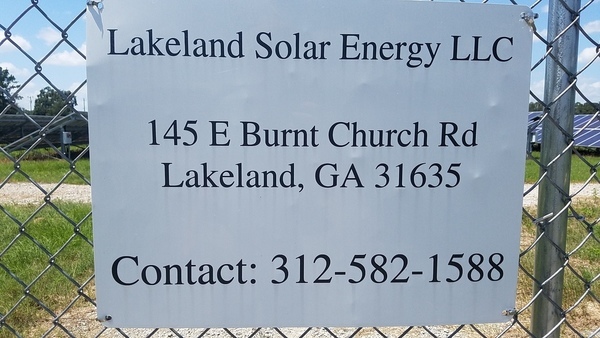 Lakeland Solar Energy LLC, 154 E Burnt Church Road, Lakeland, GA 31635, 312-582-1588
Area code 312 is Chicago. Which is explained by this Invenergy press release, 22 December 2013, Invenergy Announces Commercial Operations at Lakeland Solar Farms,
CHICAGO, Illinois—(December 23, 2013) — Today, Invenergy Clean Power LLC ("Invenergy") announced the recent completion of construction and the start of commercial operations of its Lakeland Solar Farms ("Lakeland"), located approximately 20 miles northeast of Valdosta, Georgia.

Lakeland consists of two 1 MW solar photovoltaic facilities in Lanier County. Output from the plants is sold to Georgia Power under long-term power purchase agreements, awarded to Invenergy under the utility's Medium-Scale Advanced Solar Initiative.

"Lakeland is our first power generation facility in Georgia, and we're really pleased to create a new source of clean, homegrown energy in Lanier County," said Jim Shield, Chief Development Officer at Invenergy. "We greatly appreciate the support we've received, and are proud to invest in the local area. Invenergy looks forward to a long- term, successful relationship with our host community."

Construction on Lakeland began in October of 2013 and created 50 temporary jobs. Evergreen Solar Services served as the general contractor, and Blue Oak Energy Inc. performed engineering duties. The solar farms bring further economic benefit through annual property tax payments.

Lakeland, which features more than 6,800 photovoltaic (PV) solar modules, is operated and maintained by Invenergy Services, an affiliate of Invenergy.

About Invenergy

Invenergy and its affiliated companies develop, own and operate large-scale renewable and other clean energy generation facilities in North America and Europe. North America's largest independent wind power generation company, Invenergy is committed to clean power alternatives and continued innovation in electricity generation. The company's home office is located in Chicago and it has regional development offices throughout the United States and in Canada and Europe.

Invenergy has developed approximately 8,000 MW of clean energy projects that are in operation, in construction, or under contract, including 63 wind, solar, and natural gas power facilities. For more information, please visit www.invenergyllc.com.

Contact: Alissa Krinsky Director of Communications 312-582-1554 or akrinsky@invenergyllc.com
OK, but who's the local landowner? Patten Seed Company, We produce Green Energy at our Solar Farms,
In our commitment to green technology and sustainable development, we've partnered with energy firms to bring 15 acres of photovoltaic panels on-line harnessing power from the sun and feeding it into the grid.
These solar farms are at 145 Burnt Church Road, Lakeland, GA 31635, 31.026621, -83.054073:
-jsq
PS: I actually posted about these back in 2014.
Investigative reporting costs money, for open records requests, copying, web hosting, gasoline, and cameras, and with sufficient funds we can pay students to do further research. You can donate to LAKE today!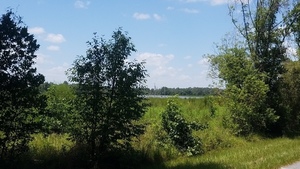 From Burnt Church

From Burnt Church Road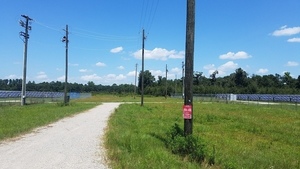 Both arrays at 145 Burnt Church Road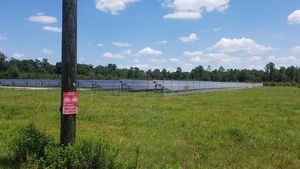 East array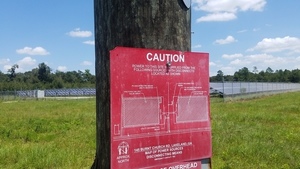 Power disconnect sign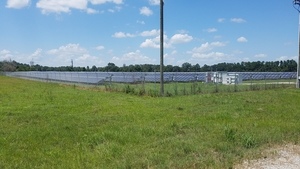 West array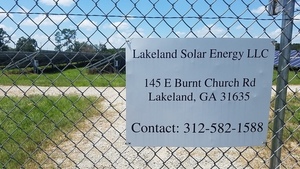 Sign and panels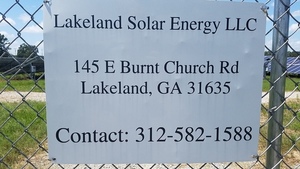 Lakeland Solar Energy LLC, 154 E Burnt Church Road, Lakeland, GA 31635, 312-582-1588
Short Link: