Potential fracking in north Georgia was too close, but what about right here in south Georgia? Florida has a snowballing anti-fracking movement. Looks like Georgia needs one, too.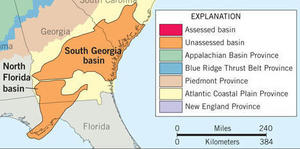 Dan Chapman, AJC Online Athens, 10 March 2013, Gas drillers turn to Georgia,
Jim Kennedy, the state's geologist, says another company is considering the shale gas fields of the Mesozoic Basin that covers 60 percent of the Coastal Plain in South Georgia.
Most of the story is about proposed fracking in north Georgia that we noted back in 2013, plus fossil fuel industry propaganda about how great they say that would be for the local economy, with very little about the immense destruction, environmental hazards, and invasions of private property that would ensue. The AJC version of that Dan Chapman story didn't seem to have this south Georgia fracking information in this Athens version that came out a few days later.
Environmental groups, including the Southern Environmental Law Center (SELC), were unaware of the renewed interest in northwest Georgia's natural gas field. The SELC is challenging new fracking rules in Tennessee and proposals to drill on public land in Alabama.
And nothing about SELC being aware at all of any potential fracking in south Georgia.
Where is this Mesozoic basin? Paula Dittrick, Oil & Gas Journal, 6 August 2012, FOCUS: UNCONVENTIONAL OIL & GAS—USGS assesses East Coast Mesozoic basins,
Industry has contemplated the Mesozoic basins of the East Coast since the 1980s. The USGS report was released in June coming while lawmakers in North Carolina and elsewhere considered regulations for hydraulic fracturing and horizontal drilling.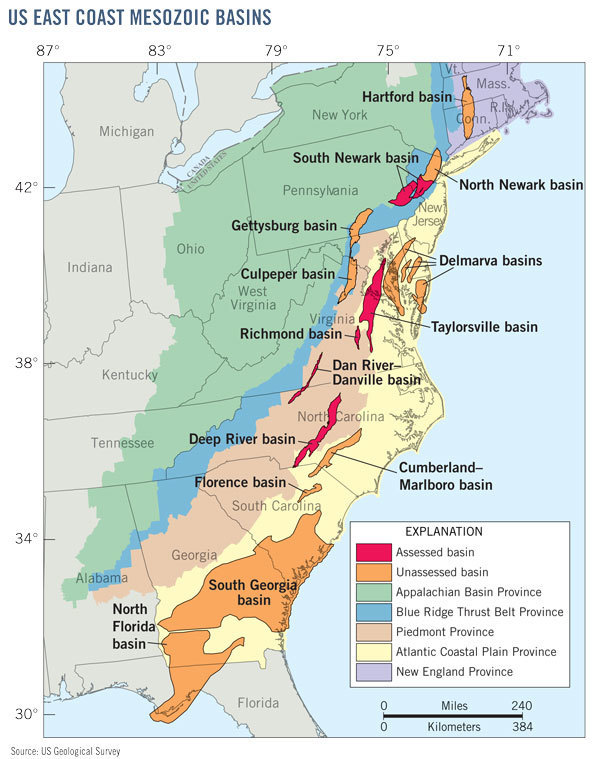 USGS Fact Sheet 2012-3075, 4 June 2012, Assessment of Undiscovered Oil and Gas Resources of the East Coast Mesozoic Basins of the Piedmont, Blue Ridge Thrust Belt, Atlantic Coastal Plain, and New England Provinces, 2011, By Robert C. Milici, James L. Coleman, Elisabeth L. Rowan, Troy A. Cook, Ronald R. Charpentier, Mark A. Kirschbaum, Timothy R. Klett, Richard M. Pollastro, and Christopher J. Schenk
Yep, that map shows a South Georgia Basin covering much of south Georgia, including Augusta, Savannah, Brunswick, and apparently aas far inland as Macon, then across almost to the Alabama line.
Plus a North Florida Basin covering more of south Georgia (including it looks like Dougherty, Colquitt, Brooks, Lowndes, Lanier, Atkinson, and Ware Counties) and a big chunk of north Florida.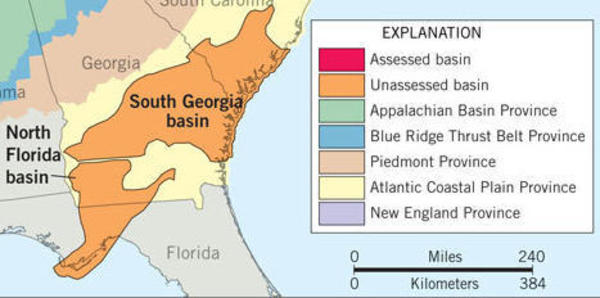 Hamilton County, Florida has joined the movement to ban fracking in Florida even though it's not in these basins. Maybe Georgia counties and cities should start a movement to ban fracking in Georgia.
-jsq
Short Link: