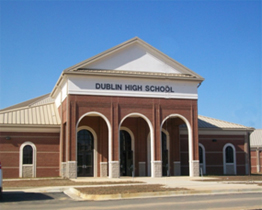 Dublin gets the jump on the rest of Georgia again: Dublin High School will get a megawatt of solar electricity through a lease agreement with a private company using local government bonds to get around Georgia's special financing problem.
Kenny Burgamy reported for for 13wmaz.com Thursday, Solar Plant To Be Located at Dublin High,
Dublin High School of Dublin City Schools will soon implement 1 megawatt of solar energy.

The 4,000 panel solar power plant will be the largest in Central Georgia and is expected to save the school 40 percent in energy costs.

Dublin City Schools Superintendent Chuck Ledbetter told 13WMAZ, "The facility will be built and owned by private business and the school system will lease the solar power plant, saving us money in energy costs."

The original plan was developed more than 15-months ago by German based MAGE SOLAR, which has a plant located in Laurens County.
The story has been carried by GPB by Athens Banner-Herald via AP.
This installation is similar to but slightly different from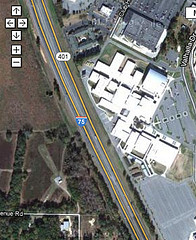 the 6.1 MW solar installation at Lawrenceville School in New Jersey. It's also similar to and different in the same way from what Dr. Sidney Smith has been doing near Savannah. Same similarities to and differences from what I've been recommending for Solar Lowndes High, where you can see plenty of rooftop and parking lot room for solar panels.
The difference is the financing: instead of private financing, like in New Jersey, Liz Buckthorpe of WRBL.com identified the source:
Dublin City Schools announced Tuesday that bonds from the Dublin-Laurens Development Authority will finance the plan to make Dublin High School middle Georgia's largest solar power provider.
And Dublin-Laurens County has a press release: Groundbreaking for Dublin High School Solar Project,
Please join Dublin Schools Superintendent Dr. Chuck Ledbetter, Public Service Commissioners: Laurens "Bubba" McDonald, Doug Everett, and Tim Echols for a groundbreaking ceremony for the new Solar PV-Project at Dublin City High School on Monday, March 11th from 3pm to 4:15pm at the Dublin High School Auditorium located at 1127 Hillcrest Parkway, Dublin, Georgia.
So who is the "private business" that will build and own the solar installation? In muddled marketing typical of Georgia Solar Utilities (GaSU), there's a facebook event by GaSU, yet I'm told (by Ted Terry) that the company involved with the Dublin high school project is actually GaSU CEO Robert Green's other company, Greenavations Power, Inc., and neither company website appears to have anything about this event. However, the flyer from Dublin does name Greenavations.
I'm all for GaSU's blows-against-the-empire efforts to go around Georgia Power in deploying solar power (unless they end up interfering with distributed rooftop solar), but I wonder if secrecy and confusion are really helping, considering actually none of this seems to be a secret.
Dr. Smith last year already set up a Georgia Energy Trust Fund with bonds whose interest goes to a county, so as to decrease expenses. Sure, those are Georgia bonds, bought by Dr. Smith's company. This Dublin deal uses bonds floated by the local governments.
But there's nothing new in that idea, either. As readers of this blog know, bonds have financed the local county palace here, an expansion of the hospital, and numerous other things. I have explicitly pointed out in the context of financing regional Internet service,
"Any or all of the local city governments, the Lowndes County Commission, or the Industrial Authority can float bonds."
Regarding solar power, I remarked,
Valdosta or Lowndes County could do a loan program for real clean renewable energy! or the Valdosta-Lowndes County Industrial Authority (VLCIA) could do that using some of its $15 million in bonds and other debt, assuming it hasn't already spent all of it on locking up land.

Or Georgia Power or Colquitt Electric could do that, given that dozens of other electric utilities around the state already do.
Regarding that VLCIA land, I even pointed out in the local newspaper that VLCIA could raise money without issuing more bonds:
Maybe some of the 577 acres of mostly unused land VLCIA bought with $15 million in bonds could be sold, since many of the lots are too small to trade to incoming industries….

You could help lead the region in the fastest growing industry in the world. With two solar PV manufacturers in Georgia plus south Georgia sun, rooftop solar can bring jobs from delivery, to installation, to architects, to professors to study renewable energy throughout the region.
Now I didn't write those things about bonds because I'm a financial expert: I'm not. I wrote them because they're so obvious anybody familiar with local governments already knows them.

Sure, GaSU has very sophisticated models of how to raise and use bonds for financing solar projects, as Robert Green described at length in Savannah in December. But it's not as if Georgia Power and Southern Company don't already know a thing or two about bonds.
I hear GaSU's bill to simplify this sort of thing is expected to appear in both houses of the Georgia legislature this week, possibly also tomorrow. I guess we'll see what's in it.
However, I still get the same answer to the question I asked back in November: GaSU wins at GA PSC, but will GaSU help all of us win in the legislature? Specifically, would GaSU help pass SB 51

to do what Dr. Smith and others have been trying to do: enable a commodity market in solar power where you or I could get private financing (from SolarCity or local banks or wherever) to put up solar panels and sell the excess through the grid to Atlanta or points north, with our local utility taking a cut? The answer appears to remain no, GaSU is not interested in that. And SB 51 never made it to a floor vote.
Now once again I admire Robert Green's demonstrated ability to get around that antique 1973 Georgia Territorial Electric Service Act that is the source of all this trouble with solar financing. And yes, he seems quite good with financial projection spreadsheets. But there's nothing special about the general idea of local governments floating bonds to support local services.
And I must once again applaud Dublin and Laurens County for doing what Valdosta and Lowndes County hadn't even thought of.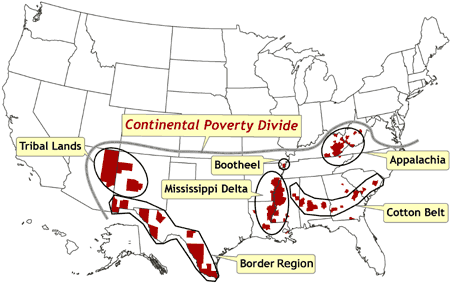 But I still don't see how GaSU's plan to form a solar monopoly for Georgia or even this Greenavations plan for high schools addresses the need for jobs in rural Georgia and the need for electrical bills reduced at houses and businesses. Sure, reducing how much revenue a school district needs to raise will eventually maybe lower local taxes. But there are much more direct paths like what Houston is doing with weatherizing, insulating, and solarizing all houses in a neighborhood that agree to get it done. How does the GaSU approach help with that? And if GaSU actually succeeds in establishing a solar utility monopoly for Georgia, won't that impede rooftop solar?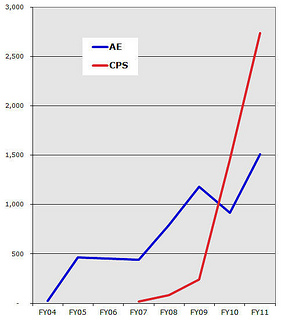 Hint: bonds could be used to raise the money for such services, perhaps delivered through energy efficiency rebates and loans like Austin, Texas is doing. As San Antonio, Texas has realized, Rooftop solar is the most direct route to clean energy industries. It would be nice to hear GaSu or Greenavations address these issues instead of shrugging them off as somebody else's problem.
Meanwhile, congratulations to Greenavations, MAGE Solar, Dublin, and Laurens County for getting this one done!
-jsq
Short Link: