At yesterday morning's Lowndes County Commission Work Session, there was no discussion by the Commissioners about 5.k. Property Purchase – Building Valdosta, LLC, but new wrinkles did come to some small light.
County Manager Paige Dukes said "This is a follow up on the Building Valdosta purchase of property we have discussed with you several times…" In what public meeting did those discussion take place? She also said the county attorney had worked out an agreement with Building Valdosta, yet that agreement was not in the board packet. And she remarked, "Any other claims related to this will continue through, um, any process with ACCG that they may have for lost profits." She immediately called for an Executive Session for "Client-privileged communication regarding potential or pending litigation and for the purchase of property."
Sounds like the county got sued by a developer, or was threatened with a lawsuit, and is resolving that by bailing out the developer with half a million of our tax dollars.
How can any developer who did the slightest due diligence not know that the subject property on GA 122 east of Bemiss Road is in the Moody Activity Zone (MAZ)? If that's not their beef, what is?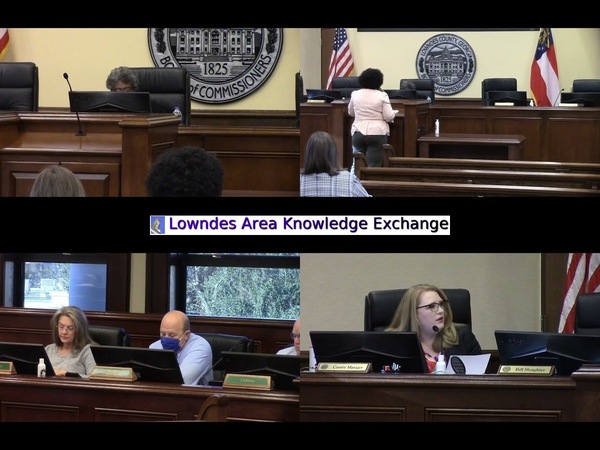 Joyce Evans presiding, VOCA/CESF grant, Loch Laurel Road project, Property Purchase — Building Valdosta, LLC
Below are links to each LAKE video of each agenda item with a few notes by Gretchen, followed by a LAKE video playlist. See also Continue reading →