Update 2023-09-16: by WWALS, Videos: Quarterman Road rezoning unanimously denied @ LCC 2023-09-12.
After five local residents spoke against and nobody for, the Lowndes County Commission unanimously denied the inappropriate 2.5-acre rezoning REZ-2023-04 on Quarterman Road.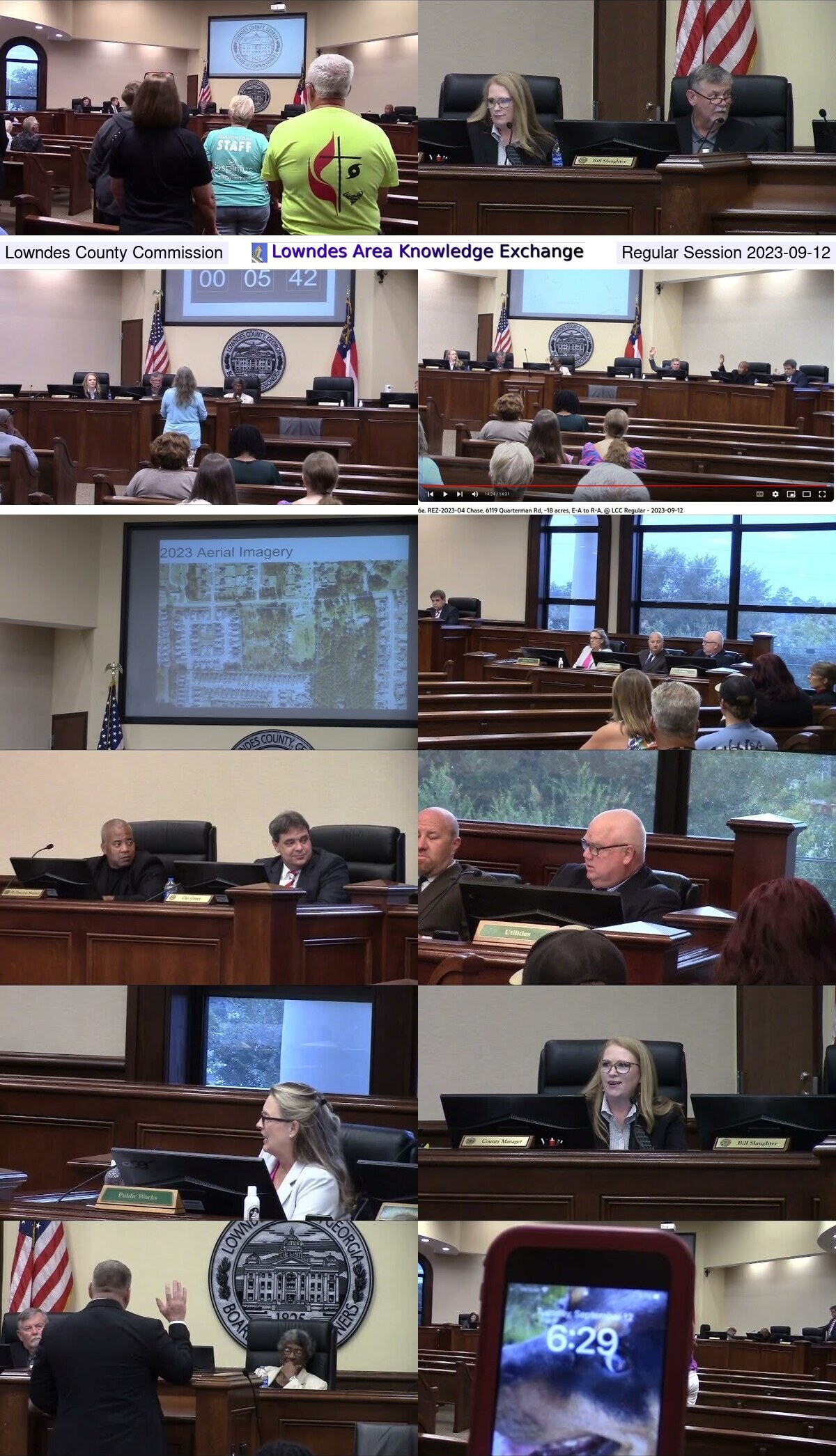 Collage @ LCC 12 September 2023
Then after Roy Copeland spoke for the R-21 rezoning REZ-2023-10 on Mt. Zion Church Road and nobody spoke against, the Commissioners unanimously approved that one.
They unanimously approved almost everything else, including appointing Dr. Anthony Johnson to the Lowndes County Board of Health. The Family Medicine Dr. Johnson; not the eye doctor, although we only know that because LAKE filed an open records request for the board packet and published the results.
The exception was 7.b. Hamilton Green Acceptance of Water – Sewer Infrastructure. Commissioner Clay Griner asked why the lift station would still be private (because it does not meet county specifications), and if it fails, will the county have to take it over (yes).
Then Griner moved to deny the acceptance, and Commissioner Demarcus Marshall seconded. They voted for, and the other two against. Chairman Bill Slaughter broke the tie by voting against denial.
Then Commissioner Mark Wisenbaker moved to accept, Commissioner Joyce Evans seconded, they voted for, and the other two against. The Chairman again broke the tie by voting for acceptance.
See also Gretchen's longer writeup below the LAKE video of the Hamilton Green item.
County Manager Paige Dukes revealed that the county is working on plans for a wastewater treatment plant to replace the Land Application Site, but she did not say where or near what creek or river.
Early in the meeting, EMA Director Ashley Tye recognized numerous volunteer groups supporting hurricane recovery. At the end, he reported on recovery from Hurricane Idalia.
Below are links to each LAKE video of each agenda item, with a few notes by Gretchen Quarterman, followed by a LAKE video playlist.
See also the agenda and board packet and the LAKE videos of the previous morning's Work Session.
For REZ-2023-04 on Quarterman Road, see also the Valdosta Daily Times story, the LAKE letter with petition signatures and summary table, the rezoning application and a few more petition signatures against with an updated petition summary, and the WWALS letter.
For the preceding GLPC meeting, where the Planning Commissioners recommended 7:1 to deny the Quarterman Road rezoning, see also the GLPC agenda and board packet and the LAKE videos of that August 28, 2023 GLPC meeting.
Thanks to the County Planner for changing his recommendation. For the Planning Commission he wrote Approve with a condition, but for the County Commission he gave no recommendation.
Here's a LAKE video playlist:

Videos: Quarterman Quarterman Road rezoning unanimously denied; Mt. Zion Church Road rezoning unanimously approved @ LCC Regular 2023-09-12
Regular Session, Lowndes County Commission, Valdosta, Lowndes County, Georgia, Tusday, September 12, 2023.
Videos by Gretchen Quarterman for Lowndes Area Knowledge Exchange (LAKE).
-jsq
Investigative reporting costs money, for open records requests, copying, web hosting, gasoline, and cameras, and with sufficient funds we can pay students to do further research. You can donate to LAKE today!
http://www.l-a-k-e.org/blog/donate
Short Link: