A million dollar loan wasn't worth scheduling on the regular agenda for the May 9, 2023, Lowndes County Commission Regular Session?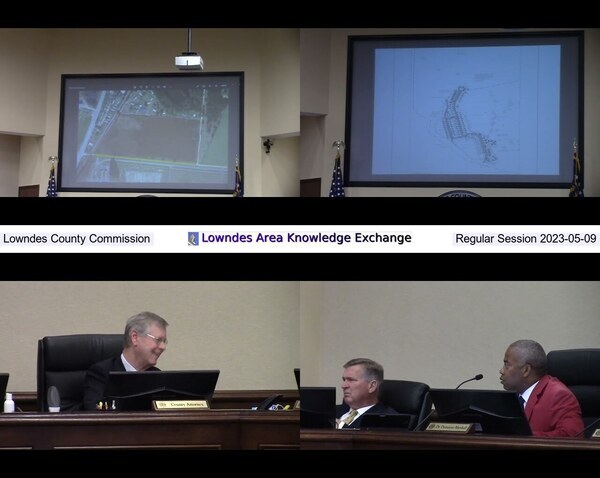 Hightower Road, Wild Adventures, Briggston Road, $1 million housing loan, @ LCC Regular Session, 9 May 2023
Apparently not, since Chairman Bill Slaughter added it after the previous morning's Work Session. Commissioner Demarcus Marshall wanted to know the timeframe. Answer was apparently the loan would be amortized over thirty years but paid over twenty years. Commissioner Joyce Evans abstained from the vote because she is on the Housing Authority. This item has never turned up on the online agenda, even after the meeting. At the meeting, it was the second longest item at more than three minutes.
Longest was the Wild Adventures glamping rezoning. Commissioner Scottie Orenstein wanted to know if they were approving Phase 3. Answer: applicant will not have to come back for that, since it will be part of the approved plan. Commissioner Demarcus Marshall wanted to know a timeline. Answer: "I believe they want to break ground July 1." In the Public Hearing, nobody spoke for or against.
The Commissioners passed everything unanimously.
Below are links to each LAKE video of each agenda item, with a few notes by Gretchen Quarterman, followed by a LAKE video playlist.
See also the LAKE videos of the previous morning's Work Session, the agenda and board packet, as well as the LAKE videos of the preceding Planning Commission meeting.
Here's a LAKE video playlist:

Videos: $1 million loawn to Housing Authority, Wild Adventures glamping, AB Motorsports withdrawn, a road abandonment and RoW purchase, Clyattville Community Center, plus alcohol @ LCC Regular 2023-05-09
Regular Session, Lowndes County Commission, Valdosta, Lowndes County, Georgia, May 9, 2023
Videos by Gretchen Quarterman for Lowndes Area Knowledge Exchange (LAKE).
-jsq
Investigative reporting costs money, for open records requests, copying, web hosting, gasoline, and cameras, and with sufficient funds we can pay students to do further research. You can donate to LAKE today!
http://www.l-a-k-e.org/blog/donate
Short Link: