With the new 2.5 mil fire millage on unincorporated Lowndes County, property taxes in unincorporated Lowndes County will still be lower than in Valdosta.
The slides, presented by Finance Director Stephanie Black, were informative, although somewhat hard to read on the screen behind the Commissioners. They are not on the county's website, and also not in the board packet.
Commissioner Mark Wisenbaker asked one question, wanting to know what the total millage would be for residents in the unincorpated parts of the county. Answer: 13.1.
Nobody spoke for or against at the Millage Rate Hearing, so it took less than eleven minutes.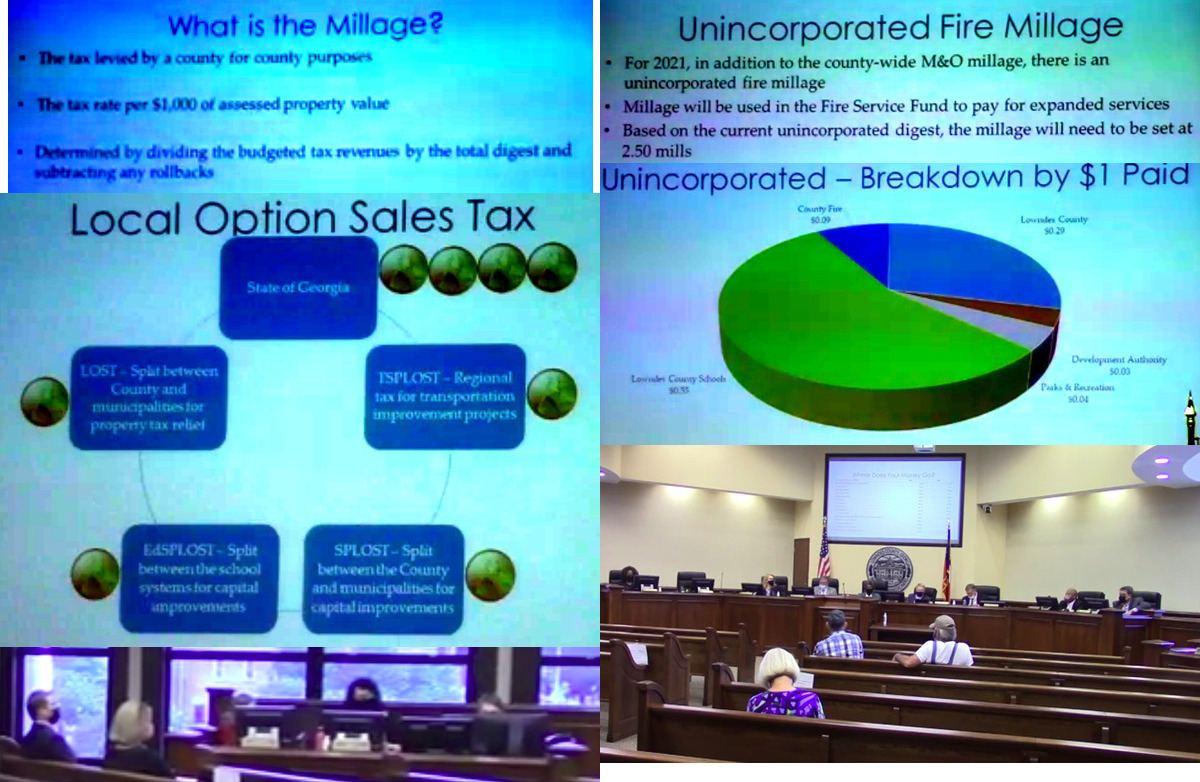 Slides, Finance, Fire millage, Commission
The Lowndes County Commission voted in its Regular Session 20 minutes later.
Here is the LAKE video of the Millage Public Hearing. See also the agenda, the board packet, and LAKE videos of the previous morning's Work Session.
The rest of the images are stills from the LAKE video. Click on any small image for a larger one.
Yes, we know they're hard to read. We did the best we could.
The county could put the original slides on the county website.


actual-calculation
The property tax digest (all the real estate in the county minus various exempt properties and other fiddles) is worth $3.3 billion.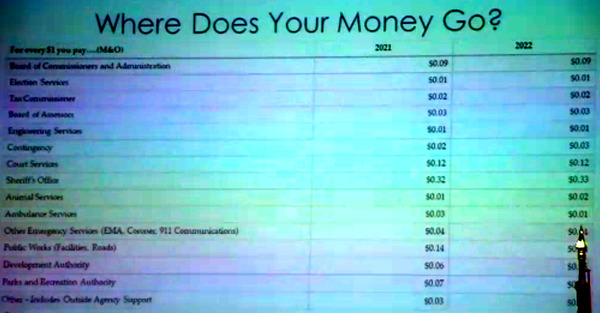 where-does-your-money-go
A third of the property tax millage goes to the Sheriff's Department: 33 cents of each dollar. Add in 12 cents for Court Services, 4 cents for EMA, Coroner, and 911, plus 1 cent for Ambulance Services, and that's 50%. Of the rest, 14 cents goes to Public Works, 9 cents to the Commissioners and Administration, 7 to Parks and Rec., 6 to the Development Authority, 3 to the Tax Assessors office, 2 to the Tax Commissioner's office, etc.
Here's a LAKE video playlist:

Millage Rate Hearing w. new fire millage @ LCC 2021-08-24
Valdosta, Lowndes County, Georgia.
Video by Gretchen Quarterman for Lowndes Area Knowledge Exchange (LAKE).
-jsq
Investigative reporting costs money, for open records requests, copying, web hosting, gasoline, and cameras, and with sufficient funds we can pay students to do further research. You can donate to LAKE today!
Short Link: