Another LAKE open records request yielded the missing Exhibits for Approval of Easement Documents for Hightower Road in the agenda for the August 23 and 24 Lowndes County Commission meetings:
Exhibit A – Description of Premises
Exhibit B – Map of Premises
Exhibit C – Physical Condition Report
Exhibit D – Environmental Baseline Survey
The entire document with the Exhibits is now on the LAKE website: Instrument Number: USAF-ACC-QSEU-21-2-0318: DEPARTMENT OF THE AIR FORCE GRANT OF EASEMENT FOR LOWNDES COUNTY, GEORGIA ON MOODY AIR FORCE BASE, GEORGIA, SAF/GCN 7 July 2021 Approved B. Hood.
There's good news at the end of Exhibit D:
E-6. Findings and Recommendations

No significant concerns were noted during the site visit on 10 and 11 November 2018. Findings and conclusions discussed in this Phase I EBS are based on a site reconnaissance, an offsite reconnaissance of nearby properties, a regulatory records review, and a review of ownership/land use history. Based on findings of this Phase I EBS, it is concluded that no Recognized Environmental Conditions are identified on the Air Force-owned portion of the Subject Site, Based on the data reviewed, the Subject Site is considered Category 1, an area where no release or disposal of hazardous substances or petroleum products has occurred (including no migration of these substances from adjacent areas).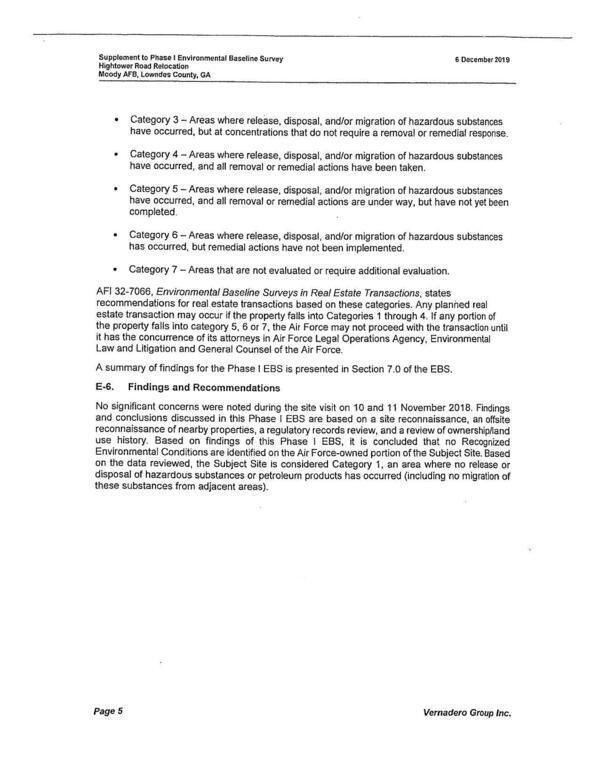 E-6. Findings and Recommendations
I don't know why the Exhibits were not included in the board packet, but here they are.
-jsq
Investigative reporting costs money, for open records requests, copying, web hosting, gasoline, and cameras, and with sufficient funds we can pay students to do further research. You can donate to LAKE today!
Short Link: