The Lowndes County Regular Session is also Monday (tomorrow), at 5:30 PM after the 8:30 AM Work Session.
The agenda is only a page long, but the agenda packet is 109 pages. Most of that is 66 pages for a $99,700 jail software change order, of which about half the pages are duplicated. Makes you wonder if anybody reads this stuff.
The Lake Park Annexation and Rezoning of Register Property, Parcel 0221C 001, 126.198 acres, also goes on for many pages.
The Beer License – Robert Stier of H & I Food Stop, Inc. DBA H & I Food Stop – 8235 Hwy. 122 W., Hahira, GA, gets eleven pages.
The annual Public Defender Contracts get five packet pages.
The Abandonment of Unopened Right of Way – Hart Road gets two pages, one of which is a location map!
The $789,567.21 Paving – Arglass Road gets only two packet pages: cover sheet and bids. Scruggs is the low bidder.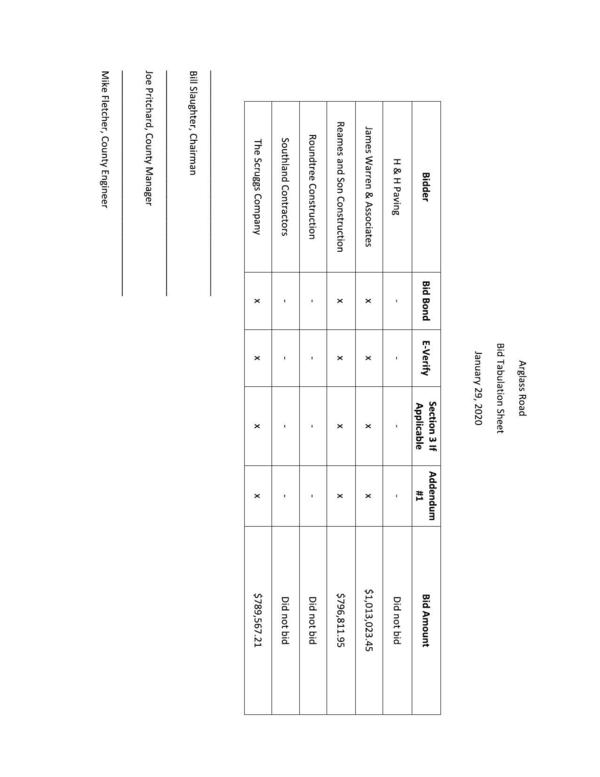 Bidder Bid Bond | E-Verify Section 3 If Addendum Bid Amount
Here is the agenda. The board packet is on the WWALS website, received towards the end of the business day, Friday, February 7, 2020, in response to an open records request by LAKE.
LOWNDES COUNTY BOARD OF COMMISSIONERS
PROPOSED AGENDA
WORK SESSION, MONDAY, FEBRUARY 10, 2020, 8:30 a.m.
REGULAR SESSION, MONDAY, FEBRUARY 10, 2020, 5:30 p.m.
327 N. Ashley Street – 2nd Floor
-jsq
Investigative reporting costs money, for open records requests, copying, web hosting, gasoline, and cameras, and with sufficient funds we can pay students to do further research. You can donate to LAKE today!
Short Link: