Nancy Hobby recused herself before the lengthy discussion of the one ZBOA case for August 2019, which was actually in Lowndes County, VAR-2019-09 — Tycor Farms (6734 Georgia Highway 376, Lake Park) Request for a variance…. or 6530 GA 376, according to a followup letter from the applicant's representative.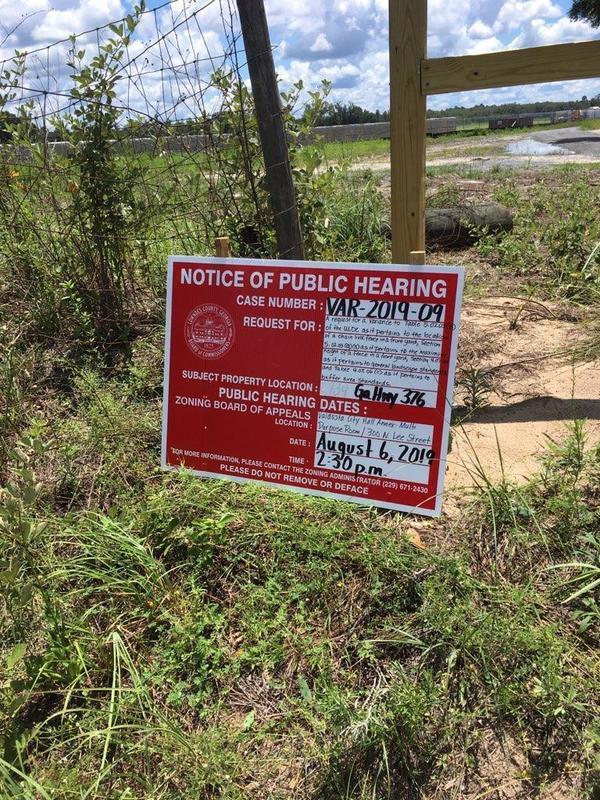 Photo: Gretchen Quarterman, Notice Sign
There was still nothing about the wetlands around the place, leading to Enoch Creek, then into the Alapahoochee River, into the Alapaha, the Suwannee, and on to the Gulf.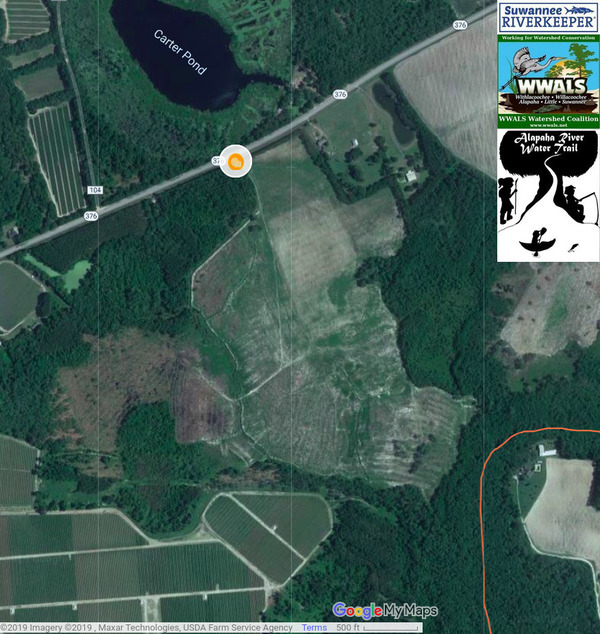 Map: John S. Quarterman, from WWALS Alapaha River Water Trail Map.
However, the likely wetlands seem to be along the eastern edge of the cleared area, so one can guess the solar panels are not going there.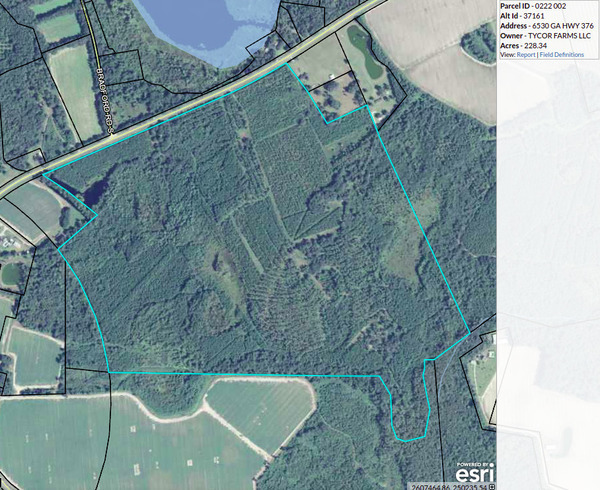 Map: Lowndes County Tax Assessor, Parcel 0222 002, Tycor Farms LLC, 6530 GA HWY 376, Lake Park, GA 31636.
Nobody from the audience spoke for or against the application. The result was:
Vice-Chairman Strickland made a motion to approve the variance requests as presented for the duration of the lease, and that if the lease was not renewed, the variances would become null and void. Mrs. Quarterman seconded the motion. The motion was called and carried with a vote of 5-0-1, with Mrs. Hobby abstaining.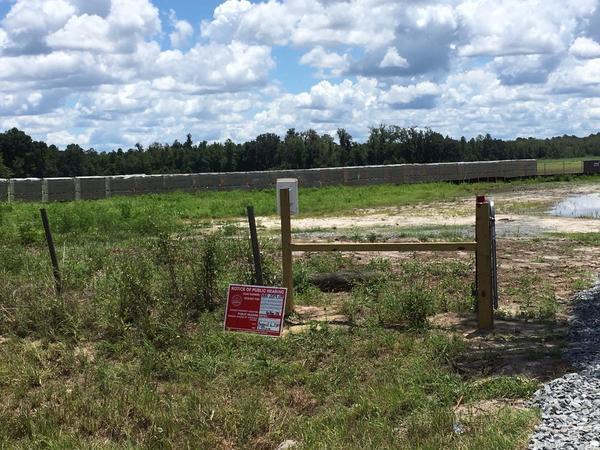 Photo: Gretchen Quarterman, Sign in Context
In this still from the LAKE video, Nancy Hobby's seat is vacant, but John Hogan has rejoined ZBOA. They welcomed him back at that meeting. He had been on ZBOA earlier, and gone for a while. The Lowndes County Commission reappointed him on July 9, 2019, in a split vote that required the County Commission Chairman to break a tie between him and the incumbent, Paul Alvarado.
The minutes are on the LAKE website, courtesy of ZBOA member Gretchen Quarterman, and the Valdostat City website has finally caught up. In the minutes is this interesting addendum after welcoming John Hogan:
Chairman McCall asked if anyone had anything else they need to discuss. Ms. Tolley stated that Mr. Brantley had applied for reappointment and Valdosta City Council would consider the appointment at that night's Council meeting.

Chairman McCall stated he had talked to City and County staff about keeping track of attendance through a spreadsheet or some other method. Mr. Hogan mentioned that an attendance policy may need to be adopted. Mrs. Quarterman stated that the Board has an attendance policy in the By-Laws, and that she could look through her information to see if she had a copy. Ms. Tolley stated she thought she had seen a copy of the By-Laws, but did not know when or if they had officially been adopted, but the Board could further discuss after staff located what was existing in terms of By-Laws.
It would seem useful to know whether ZBOA has bylaws and what's in them.
Here's a LAKE video playlist. See also the agenda and the ZBOA board packet, on the LAKE website courtesy of ZBOA member Gretchen Quarterman.

Videos: One Lowndes County case, solar fence, Lake Park, GA
Regular Session, Valdosta-Lowndes County Zoning Board of Appeals (ZBOA),
Video by Gretchen Quarterman for Lowndes Area Knowledge Exchange (LAKE),
Valdosta, Lowndes County, Georgia, 2019-08-06.
-jsq
Investigative reporting costs money, for open records requests, copying, web hosting, gasoline, and cameras, and with sufficient funds we can pay students to do further research. You can donate to LAKE today!
Short Link: