Maybe ask the company that adopted Clay Road? Response yesterday from the EMA Lowndes facebook page:
Hi, as a point of clarification emergency personnel responded to reports of an odor; however, after thorough investigation no evidence of a chemical leak or release could be identified or confirmed. As a precaution, the Board of Education property was accessed by responders. No evidence of contamination was present. A follow up visit to the area later this morning reports the odor was no longer present.
Thank you, EMA Lowndes, for responding, and on a weekend, too.
However, people couldn't get home that night.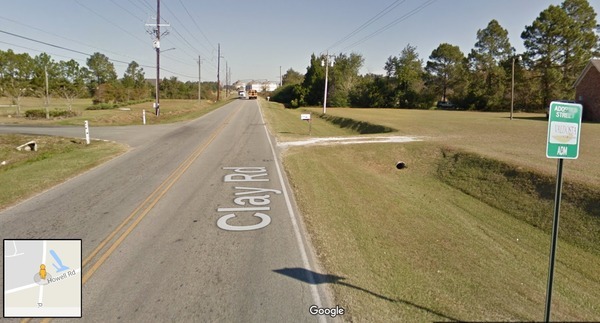 Adopt-A-Street ADM, Clay Road north from Howell Road google street view.
I still think it would be good to check with nearby industry. Maybe start with Archer Daniels Midland (ADM), which is just past the school bus in the above google street view, north up Clay Road from Howell Road, past the Adopt-A-Street sign saying ADM. Perhaps the Industrial Authority could help with that.
What did Valdosta Utilities have to say? Their sewer lines drain the heavy industry up Clay Road, including ADM. Did anybody test Knights Creek for contamination?
The VDT story promised, "The Valdosta Daily Times will provide updates as additional information is gathered." But that story has not been updated.
Meanwhile, elsewhere a story has appeared and has been updated. Desiree Carver, Valdosta Today, 4 November 2017, REPORTS OF STRANGE ODOR CLOSE PARTS OF CLAY ROAD FRIDAY NIGHT,
From Ashley Tye last night:

"At 7:10 pm a citizen called 911 to report an unidentifiable odor in the area of Clay and Howell Roads. According to Lowndes County Emergency Management Director, Ashley Tye, multiple public safety agencies are currently conducting an investigation to determine the origin of the odor. As a precaution, citizens in the area are being asked to remain inside with doors and windows closed."

Lowndes County Clerk Paige Dukes said "They rode the area again this morning & the odor had dissipated. Still no word on where it might have originated."

As the area was right at the city limits, multiple agencies responded including a GSP helicopter.
There is still nothing on the Lowndes County website or EMA Lowndes facebook page, nor on the Sheriff's website or facebook page, nor on Lowndes County Schools website or facebook page. Nor, considering the Valdosta City Limits run right up Clay Road, on the Valdosta Police Department website or facebook page.
-jsq
Investigative reporting costs money, for open records requests, copying, web hosting, gasoline, and cameras, and with sufficient funds we can pay students to do further research. You can donate to LAKE today!
Short Link: