Appointments to the board that floated bonds for the county palace, REZ-2017-10 Laurel Run Homes, and two road abandonments, to be considered this morning at 8:30 AM and voted on Tuesday evening.
What is the Lowndes County Georgia Public Facilities Authority, which issued the bonds 548757BE2 and 548757BG7 "Refunding Judicial Administration Complex"?
According to the county's website it's a five member board, with two vacant seats, one expiring May 31, 2018 (Clay Griner) and two already expired May 31, 2017 (Crawford Powell and Steve Gupton). You may recall Crawford Powell as a former County Commissioner and Steve Gupton as the attorney for the Development Authority. That web page says:
Created via Resolution 05-1130, the general purpose of the authority is declared to be that of providing through the acquisition, construction, installation, renovation, expansion, modification or rehabilitation, any buildings, structure, facilities, improvements, furnishings, fixtures, machinery, equipment and services for the citizens in the county. Members are appointed to three year terms and meet as needed. For more information, contact the Office of the County Clerk, 229-671-2400, or sdenson@lowndescounty.com.
Looking on the county's website under County Ordinances finds nothing remotely resembling that resolution.
Searching for "05-1130" on the county's website does turn up the Commission Regular Session Minutes of from May 24, 2005, which include:
Appointment of the Public Facilities Authority Members (Resolution #05-1130) — Chairman Casey stated that the five proposed members to serve on this Authority had indicated a willingness to serve and were well qualified to serve on the Authority.

| NAME | EXPIRATION DATE |
| --- | --- |
| J. Stephen Gupton, Jr. | 5/31/08 |
| Rodney N. Casey | 5/31/08 |
| Antonio C. Henderson | 5/31/07 |
| Harry B. Sullivan | 5/31/07 |
| Joseph G. Stevens | 5/31//06 |

Motion by Commissioner Lee to appoint the recommended members to the Lowndes County Public Facility as presented and for the terms as presented, second by Commissioner Carter. Motion carried.
The Work Session Minutes for May 23, 2005 merely say under Appointment that Chairman Casey proposed those names.
But there's another item:
Resolution# 05-1131 — Water-Sewer Bond Issue Reimbursement
Harrison Tillman, Financial Consultant, reminded the Commissioners that, as had been discussed at the Commissioners Retreat, bond funding would be needed to provide for water/sewer projects. Continuing Mr. Tillman stated that originally, the bonds were to be issued through the Utilities Department, but it had been determined that to reduce costs, avoid tying up funds in the Utilities Department and avoid sinking funds, etc. the bonds should be issued utilizing the Public Facilities Authority. According to Mr. Tillman, $12.5 million would cover most of the projects discussed at the Retreat and would repay some of the old revenue bonds. Mr. Tillman explained that by approving the Reimbursement Resolution, County General Funds could be used fund water/sewer projects before the bond proceeds became available; once the then bond proceeds were available, those funds would reimburse the County for those funds expended.

Mr. Tillman spoke briefly about the possibility of using the Public Facilities Authority for short-term financing for jail construction and use SPLOST V to repay those loans.
The Regular Session Minutes have more:
Resolution# 05-1131 — Water-Sewer Bond Issue Reimbursement
Joe Pritchard introduced Harrison Tillman, Financial Consultant, and Glen Thomson, Alston & Bird, Bond Counsel. Mr. Tillman explained the proposed $12.5 million bond issue would finance improvements and expansion of the water-sewer infrastructure as identified in the Water-Sewer Master Plan and to pay off $585,000.00 of old revenue bonds.

Mr. Thomson informed the Commissioners that Resolution #05-1311 would authorize Lowndes County to utilize General Funds to begin projects and to repay the County from the bond proceeds once they become available. Mr. Thomson noted that the County would enter into an Intergovernmental agreement with the Public Facilities Authority who would actually issue the bonds and eliminate the need for the County to tie up Utility Department funds and avoid sinking funds, etc. that would be necessary if the bonds were issued by the Utilities Department.

Motion by Commissioner Lee to approve Resolution #05-1311, second by Commissioner Carter. Motion carried.
Where is this Water-Sewer Master Plan? It's not on the Utilities web page. The Work Session Minutes for November 11, 2002 say "Mr. Clark stated that the Water/Sewer Master Plan would be available by the end of this year." It's also mentioned in 2010, 2015, and 2017 fiscal year operating budget documents. Maybe it's buried somewhere on the Finance page.
Anyway, apparently this Public Facilities Authority was supposed to be about financing drinking water and sewers. Yet it quickly morphed into funding Chairman Casey's pet project of the new county palace.
Tanya B. O'Berry, VDT, 6 December 2005, Finance resolution passes; Proposal would create public facilities authority,
VALDOSTA — Lowndes County Commissioners approved a resolution Friday that will offer Lowndes and its cities an alternative form of financing public facility projects.

In the called meeting, County Attorney Walter Elliott reviewed the legislation drafted from the one recently adopted for Troup County by the Georgia General Assembly that will form a public facilities authority in Lowndes.

"The proposed authority for Lowndes County is essentially the same as an authority created by the General Assembly last year for Troup County, the county seat of which is LaGrange," Elliott said. "The authority proposed will provide a method of financing public facility projects that will be less expensive than other available methods."

The proposed legislation approved by the board sets specific responsibilities of the Authority and outlines the board members and their responsibilities. It also outlines the terms under which bonds may be issued.

"This Act shall not and does not in any way affect the right, power, or authority of any local government unit or any other political subdivision for municipality of the state to own, operate, or maintain public facilities or to issue revenue bonds as provided by the Revenue Bond Law."

The Commissioners discussed the feasibility of revenue bonds, which are at an all-time low, according to Chairman Rod Casey.

"This is a way to pay for projects that we have coming in the future," Casey said. "The bonds will be issued for the project, and now they are at a 40-year low. That is the main reason to use them."

Commissioners recently financed the Judicial Complex project with revenue bonds through the Central Valdosta Development Authority. The bonds were available through the CVDA because the property is located within the district.

Elliott said the Public Facility Authority will be available to issue tax-free bonds for public facilities in Lowndes County, including city as well as county projects. "Some of the projects for which the proposed authority could issue tax-free bonds are administrative office buildings, arts facilities, libraries, law enforcement facilities, fire stations and public works facilities."

The proposed local legislation will be sent to the General Assembly for review and possible establishment of the authority.

For information, citizens may contact Paige Dukes, Lowndes County's public information officer, at 292-6142.
The Friday before that article was December 2, 2005. No minutes for that Commission meeting appear to be on the county's website. Did the legislature ever pass anything? Why do we have to ferret out this information?
The agenda sheet for 5.a. Lowndes County Public Facilities Authority says with the two previously vacant seats and the two expired four are vacant, and only Crawford Powell wants to be reappointed, plus "Mr. Scott Purvis is also interested in serving on the authority."
Gupton, Powell, and Joseph Stevens were appointed 12 June 2012 (Powell replaced Richard Lee), and the Authority proceeded that same year to issue bonds for the county palace.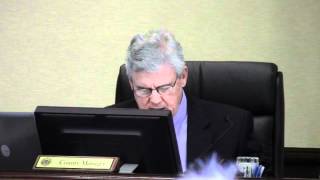 As I asked in 2012, why didn't they use a GEFA loan, which charges zero percent interest? I also asked in 2012, if the county bragged it owed $0 (zero dollars) on the county palace in 2010 because SPLOST supposedly paid it off, why was there money still owed in 2012, requiring refinancing? Chairman Bill Slaughter send me a letter in response to some of my questions in Citizens Wishing to Be Heard, which didn't explain the zero dollar claim on county flyers from 2010. County Manager Joe Pritchard later sent me email saying the newspaper did the graphic with the $0 claim, not the county. I don't believe he ever did produce any correspondence with the VDT to substantiate that. However, he did in response to an open records request make available the bond documents.
Gupton and Powell were reappointed May 27, 2014. They did not speak in the preceding Regular Session. On 11 May 2015 they discovered Stevens id not want to be reappointed. Looks like they never found anybody to replace him.
Here's the agenda for this morning and tomorrow evening. For REZ-2017-10 Laurel Run (Tuscany Palms) see also last month's Planning Commission meeting.
LOWNDES COUNTY BOARD OF COMMISSIONERS
PROPOSED AGENDA
WORK SESSION, MONDAY, OCTOBER 9, 2017, 8:30 a.m.
REGULAR SESSION, TUESDAY, OCTOBER 10, 2017, 5:30 p.m.
327 N. Ashley Street – 2nd Floor
-jsq
Investigative reporting costs money, for open records requests, copying, web hosting, gasoline, and cameras, and with sufficient funds we can pay students to do further research. You can donate to LAKE today!
Short Link: