A reminder of why to stop pipeline companies from burying investors' money in the ground and get on with solar power: the pipeline that exploded in Texas last week was half owned by Spectra Energy,
the pipeline company behind Sabal Trail, AIM, Penneast, and numerous other fracked methane invasions and behind thirty years of undetected corrosion resulting in leaks, explosions, property damage, and deaths. The pipeline company didn't detect it and couldn't even turn it off quickly. Want to bet that it, like Spectra's Pennsylvania explosion last spring, was corrosion?
A very Texas report said "no people or cattle were injured" and also notice: "The fire is under control and will burn itself out." WLOX ABC, 17 January 2017, Natural gas pipeline explosion outside of Spearman,
WLOX.com – The News for South Mississippi
In far-away Massachusetts, Bradford Randall, Wicked Local Weymouth, Texas pipeline explosion cause for local concern,
"More bad news for our friends at Spectra," a post about the explosion by Fore River Residents Against the Compressor Station read.

DCP Midstream, the owner of the Spearman pipeline, is a 50/50 joint venture between Spectra Energy and Phillips 66.
That's the same DCP Midstream that in April 2015 leaked oil from a natural gas pipeline. I don't mean they re-permitted it to carry oil, they just put oil in it and said "It is unintentional by both parties but it happens from time to time."
Here's an update on the April 2016 Spectra Texas Eastern pipeline explosion that incinerated a house and trees and sent the owner to the hospital with third-degree burns. Debra Erdley, TribLive, 13 September 2016, Spectra Energy says rapid corrosion, other factors led to Salem pipeline explosion,
An interstate natural gas pipeline that exploded in Salem Township in April had lost about 30 percent of its steel wall to corrosion four years earlier, Spectra Energy officials said Tuesday.

But officials said what was then considered a minor anomaly — a small area flagged for reinspection five years later — corroded at an unprecedented rate that caused the explosion and spurred the company to re-evaluate longstanding industry standards.
How many other pipes are corroded and undetected or "flagged for reinspection"?
Federal officials have yet to issue a determination on the cause of the blast that sent a fireball hundreds of feet into the air, scorched about 40 acres of farmland and severely burned a Salem man whose home was destroyed.

However, Spectra officials said they believe a combination of issues affecting weld joints on 40-foot sections of pipe caused the rupture of the line.

A preliminary investigation by the U.S. Pipeline and Hazardous Materials Safety Administration this year suggested corrosion at weld joints contributed to the explosion.
Huh, I wonder if weld joints left out in massive thunderstorms and tornadoes such as last night, some wallowing in ditches full of water, might be prone to corrode soon? Maybe we'd better photograph and send in reports of such location on Sabal Trail's massive destruction path in Florida, Georgia, and Alabama.
Spectra's "fix":
Spectra officials said they have shortened the length of time between inspections of similar transmission lines from every seven years to every three to four years. They will lower the threshold for flagging anomalies for action and will add an additional measurement to the industry standard, officials said.
This is the same Spectra Energy that in December 2013 was issued a Final Order by the U.S. Pipeline and Hazardous Materials Safety Administration (PHMSA) on five counts with fines for failing to follow federal law or its own corporate procedures.
This is the same Spectra Energy that in July 2015 was ordered by the Canadian National Energy Board (NEB) to clean up its safety practices, including its "management system failures," because "Based on recent violations described below, the Board is not confident safety concerns are being addressed in this manner."
Here's a better idea than Spectra once again pretending to fix its problems: let's stop building pipelines and get on with solar power! The solar industry already provides more jobs than coal, oil, and gas combined.

Image: Electric power generation employment by technology, U.S. Department of Energy
Investors know this; solar power is getting twice as much investment as coal, oil, and gas. Solar deployed Almost as much new U.S. electrical power in 2016 came from solar as from natural gas, and next year solar will deploy more. By 2023 more U.S. electrical energy will come from solar power than anything else. Solar power will win like the Internet did.
I and former FERC Chair Jon Wellinghoff separately said that in 2013, and FERC's own figures and those from U.S. Energy Information Agency show U.S. solar power deployment more than doubling every two years, better than we predicted.
Let's get on with it and stop all the pipeline boondoogles. We don't need one blowing up under the Suwannee River like Spectra's "unused" pipeline blew up under the Arkansas River in 2015, blowing water a hundred feet into the air, bombing a towboat with concrete, and losing 400 feet of pipe. That was undetected corrosion, too.
Despite all those and many more leaks and explosions caused by undetected corrosion over thirty years, with massive property damage and even fatalities, Spectra Energy's Director of Engineering Design Alan K. Lambeth testified in WWALS vs. Sabal Trail & FDEP (Oct. 2015) that because of Spectra's pipeline coatings and cathodic ionization:
And so if there is any little scratch or something in that coating anywhere along the pipeline, this will protect the pipeline for, you know, 10 miles in either direction, 10, 15 miles.
Would you buy a used or even new pipeline from this company?
Lambeth also testified:
The Sabal Trail pipeline job, I was involved in the early stages of the project two and a half years ago as we were starting to talk about the project and looking at what would be involved and starting the investigations of looking at details in Florida, which we had not built a pipeline in before.
So apparently Lambeth was Spectra's Director of Engineering Design back in December 2015 when PHMSA ordered it to pay up for not following federal law or its own corporate procedures.
Meanwhile, Sabal Trail violations FDEP assured us would not happen are happening.
Stanford Professor Mark Z. Jacobson's research team has laid out plans to convert each and every U.S. state (and most countries) to 100% wind, water, and to sun power by 2050. That's 100% as in no coal, oil, natural gas, nuclear, or biomass, just clean solar, wind, and water power: 90% by 2035, 80% by 2030, and 25% by 2025. No new technology required: just existing solar, wind, and water power production with batteries and hydrogen fuel cells for transportation, plus huge efficiency savings both from using electricity directly and through other well-known techniques.
We're right on track for that 90% by 2035 as wind and solar power are deploying right along my graph and Jacobson's graph.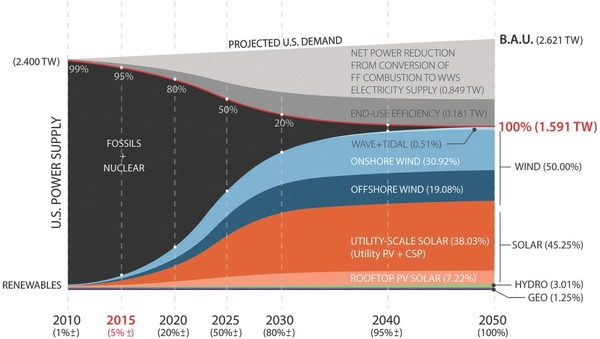 Why, then, are pipeline companies driving hell-for-leather pedal-to-the-metal to gouge pipelines into the ground? Waterkeeper Alliance President Robert F. Kennedy Jr. explained it at Standing Rock:
Kennedy said the strategy of Energy Transfer Partners is to get pipe in the ground so investors have an interest in keeping the oil flowing for another 30 years.

"The end of their industry is in sight and their strategy is to maintain the market. It's easy to build pipeline, but not transmission lines because transmission lines support wind and solar energy. They cannot beat us in the market, but they'll saddle our children … and anchor us in this dirty, addictive toxic fuel," Kennedy said.

He called the camp the front line in the battle for clean energy.

"If people care about the future of humanity, they need to come here and stand with Standing Rock," he said.

Michael Bruin, executive director of the Sierra Club, appeared with Kennedy and said the group's 2 million members are inspired by Standing Rock.

"When we replace fossil fuels, we will never go back. Who would go back to mountain top removal (for coal), or pipelines crossing our watersheds? Nobody," said Bruin, adding he thinks president-elect Donald Trump will reject the pipeline if he's in favor of growing the economy with clean energy jobs.
I don't know what he will say, but I know what we all say:
Revoke Sabal Trail Permits
-jsq
Investigative reporting costs money, for open records requests, copying, web hosting, gasoline, and cameras, and with sufficient funds we can pay students to do further research. You can donate to LAKE today!
Short Link: