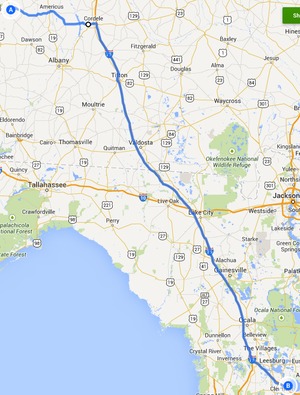 Richland in Stewart County, Preston in Webster County, Americus in Sumter County, Cordele in Crisp County, Ashburn in Turner County, if you thought you were off the Sabal Trail path, think again! You're in FERC's eye for a 36-inch fracked methane pipeline just like Tifton, Adel, Hahira, and Valdosta in Tift, Cook, and Lowndes Counties Georgia, and in Florida Jennings in Hamilton County, Lake City in Columbia County, Alachua and Gainesville in Alachua County, Ocala in Marion County, Wildwood in Sumter County, and Ferndale in Lake County, and probably some other cities and counties you can find on the map. And Alternative 4 would cross the Withlacoochee River in Lowndes County just before passing right next to Lowndes High School and an exploding pipeline segment's throw from Valdosta Mall.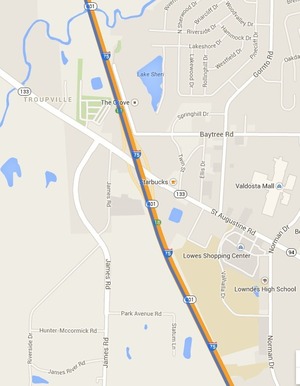 Alternative 4 in FERC's recent instructions for Sabal Trail to "include analyses" would start even farther north on I-75 than Alternative 1.
Alternative 4 beginning from Alternate 2 near Richland, Georgia and following Highway 280 to near Americus, Georgia; then following a high voltage transmission line (along Sabal Trail's Hillabee Alternative route); then following Alternate 1 starting near Tifton, Georgia and extending to the proposed endpoint.
Here's a very rough map of Alternative 4: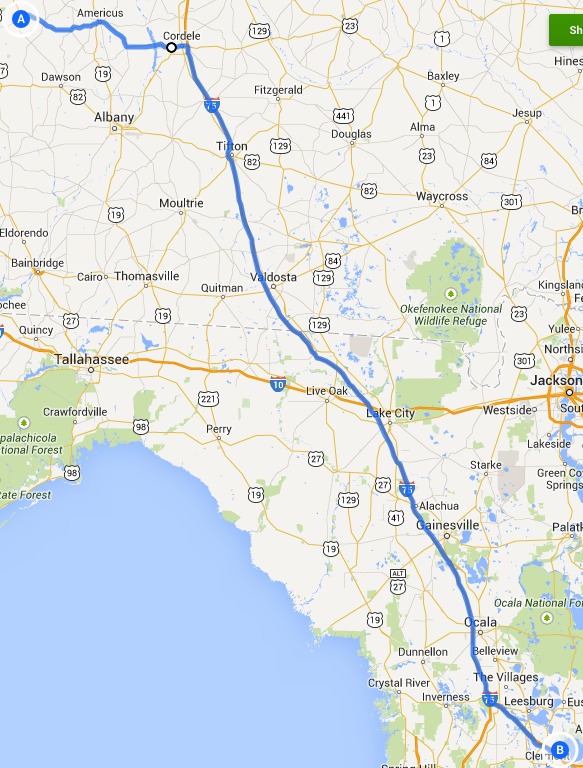 You can see the pipeline would also cross the Flint River in Georgia and the Suwannee and Santa Fe Rivers in Florida.
What say we call off the pipeline and deploy clean, safe, affordable solar power instead, for jobs, power, and lower electric bills right here where we need them? After all, Sabal Trail's own figures show it would take half the land of that pipeline to produce just as much solar power.
Any county or city along any of these routes can take action like Jefferson County, Florida did to prevent bottling companies from taking their water: pass a land-use ordinance.
Short Link: