If China implements a carbon tax, will Georgia Power CEO Paul Bowers change his recent answer to a question about a carbon tax, which was "why would anyone want that?"
In February the Chinese Ministry of Finance (MoF) said China would soon tax carbon dioxide (CO2) emissions, and that's getting closer in the country whose capital Beijing has smog bad it's literally off the charts. Katie Valentine wrote for ThinkProgress 22 May 2013, Bombshell: China May Be Close To Implementing A Cap On Carbon Pollution,
China is taking steps to tackle its huge carbon output. Today, the country announced the details of its first carbon trading program, which will begin in the city of Shenzhen next month. The southern city is one of seven cities and provinces, including Beijing, which will take part in the pilot program, set to be completely implemented by 2014.

And according to one local news source, China could implement an absolute, nation-wide cap on its carbon emissions by 2016. China's 21st Century Business Herald reported this week that the country's State Council still needs to approve the carbon cap proposal submitted by the National Development and Reform Commission, a government entity that controls much of the Chinese economy. The proposal, which the State Council is reportedly likely to support, would ensure China's emissions would not increase past the country's target cap, regardless of economic growth — though it's still unclear what that cap would be. The paper reported that the NDRC also predicts China's greenhouse gas emissions will peak in 2025, rather than 2030, as earlier predictions stated.

If the cap is adopted,
it would be a major step for the world's top CO2 emitter, which desperately needs to slow its carbon production. China is experiencing the world's fastest growth in energy production and CO2 emissions, while production and emissions in the U.S. and Europe are flat-lining or decreasing. China uses 47 percent of the world's coal, a number that's only going up: in 2011, China's coal consumption grew by 9 percent, accounting for 87 percent of the world's 374 million ton increase in coal consumption that year.
Steve Levine reported for Quartz 24 May 2013, Reports of a Chinese cap on carbon emissions are inaccurate—or perhaps just premature,
The reports are inaccurate: Seven Chinese cities are enacting experimental carbon-trading programs as of 2014, and Beijing is fast reducing how much carbon is burned per unit of GDP (known as "carbon intensity"). But China hands in Beijing and the US tell me it has made no firm decision on capping absolute emissions. (The rumor began with a May 20 report by the reputable Chinese newspaper 21st Century Business Herald.)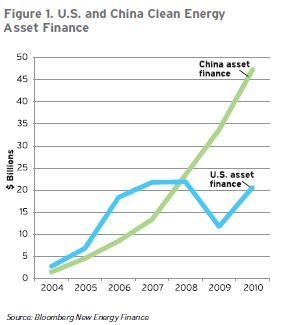 Not yet; but remember back in February China MoF said it would happen. And also memember China has regained the lead in solar and wind investment. Will Georgia Power keep leading sunny Georgia farther behind smoggy China?
Or will Paul Bowers turn the great ship Georgia Power towards the sun? Will he get what Quartz does not: there is no "tradeoff between economic growth and cutting emissions". Instead, there is a huge market demand and business opportunity in leading Georgia, the southeast, the U.S., and the world into distributed solar energy
with wind off the Georgia coast for power at night and less natural gas than we have now, with no need for any coal or nuclear plants. Or at least Paul Bowers may realize, like China's leadership is realizing, that there is disruption ahead for the big baseload utility model and huge political demand for getting on with distributed solar power.
-jsq
Short Link: