VDT editorial yesterday, Violating public trust,
Georgia Attorney General Sam Olens successfully fought for and implemented changes to the state's Open Records law, believing that transparency in government is essential to the public trust. The law passed in 2012 states, "The General Assembly finds and declares that the strong public policy of this state is in favor of open government; that open government is essential to a free, open, and democratic society; and that public access to public records should be encouraged to foster confidence in government and so that the public can evaluate the expenditure of public funds and the efficient and proper functioning of its institutions."
The VDT asked for records from the Lowndes County school system and didn't get them. Their experience sounds quite similar to many LAKE has had with the county government in particular, with records not being provided in the statutory three days, and sometimes not even an excuse or a list of what might eventually be available.
That plus failure to make even agendas for the Planning Commission available in a timely fashion so citizens can see whether they need to attend (somebody explain to me the expense of agendas; clearly I don't understand this Internet suff), and even in response to open records requests returning paper when the documents are obviously composed in electronic formats, agendas for County Commission meetings that are just plain incorrect, resulting in people taking time off from work to show up unnecessarily for a Sabal Trail pipeline item that didn't happen, a public hearing that wasn't listed as such on the agenda, a secretive retreat "work session", and not even being clear about what tax dollars for SPLOST would go for. That's not even all; just a sample of county government lack of transparency.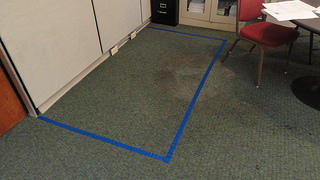 And it's not just the County Commission. Look at George Rhynes' experience at the Library Board, being required to stay within an 8 x 4 foot blue square next to a loud fan? That blue square did disappear not long afterwards, so there's some small improvement.
It's not even the actual local governments; it's also the
VSU Foundation, which in addition to being led by a climate change denier, doesn't even list its members on its web page, even though that web page is on the website of the tax-funded Valdosta State University.
The public has a right to know. The press has a right to request. These rights are protected by state law. Public officials have the responsibility to be open in their actions and abide by not only the letter of the law but also the spirit and intent. When they fail to do so, it erodes the public's trust.
I hate to agree with the VDT, but I do also often quote the VDT editorial of 3 March 2012:
When the media requests records, it is doing so on behalf of the public. Taxpayers have the right to know how their money is being spent by officials elected to represent them. When officials are reluctant to comply with requests, it raises legitimate concerns.

There should be no transaction or record that an official should be concerned about being made public….

When officials act like they have something to hide, they often do, and when they begin to consider the government's business as their personal business, it's time for the public to become concerned.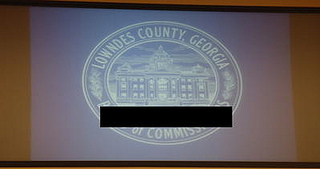 If Effingham County, half the size, can do put its entire County Commission agenda packet online, why not Lowndes?
Do our local governments have something to hide?
Do we want to be a metropolitan area attractive to both new businesses and local people? Or do we want to be a secretive backwater that ejects its students as soon as they graduate?
It's 2014. Maybe the powers that be should start to make up their minds about that.
-jsq
Short Link: