The political appointee was replaced by a librarian, and the marketing guy by a marketing guy, at the 25 June Regular Session of the Lowndes County Commission.
5.a. Lowndes County Library Board
Back on June 10th Library Director Kelly Lenz brought candidates Jack Hartley, Linda Most, and Matt Lawrence, who spoke, and at the June 24th Work Session
Commissioner Joyce Evans submitted the name of Mr. Robert Jefferson, who did not speak.
This time County Manager Joe Pritchard mumbled behind his monitor and did not deign to name any of the candidates, referring to "a list" that Commissioners could see but the public could not. He did say that the openings were for the board slots previously occupied by Kay Harris and Ray Devery.

Previous political appointee Kay Harris failed to get the new library at Five Points approved in last year's failed SPLOST VII vote and resigned as Library Board Chair and from that board 15 March 2013. Here are some related points she never seemed to discuss. And while she and the County Commission and the Valdosta City Council and Mayor pointed fingers about who lost SPLOST, Houston County already passed their SPLOST the previous Spring, maybe by paying some attention to what the voters and sales tax payers wanted. Maybe the county has finally changed its tune on listening, considering
Commissioner Joyce Evans' recent announcement that the county would hold two town hall meetings before finalizing its SPLOST list. She didn't call them public hearings, but that's some improvement.
Ray Devery, who didn't like Gretchen videoing and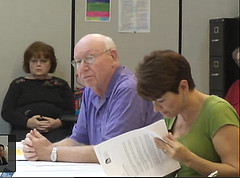 didn't seem to like Southside Library Boosters much is also off the Library Board. He at least used to be VSU Vice President for Institutional Advancement and Director of Development, which is edu-speak for he sought investment for VSU.
Commissioner Demarcus Marshall nominated Linda Most and Jack Hartley, saying they were the top two recommended by the Library Board.
Seconded by Commissioner Powell. Unanimously approved.
So they appointed a librarian and a sales and marketing guy to the Library Board.
Here's the video:

A librarian on the library board!
Regular Session, Lowndes County Commission (LCC),
Video by Gretchen Quarterman for Lowndes Area Knowledge Exchange (LAKE),
Valdosta, Lowndes County, Georgia, 25 June 2013.
-jsq
Short Link: