The NRC "upheld" license denial for the Calvert Cliffs nuke with its fingers crossed, the very same day directing staff to look into changing the requirement by which it just ruled. A requirement against majority ownership by a foreign firm, in this case Électricité de France (EDF), whose flagship Cattenom reactor caught on fire a week ago with smoke seen from miles away; two people died at Cattenom in February. You can comment on NRC's proposed changes to let EDF fire up Calvert Cliffs online or in person June 19th in Maryland.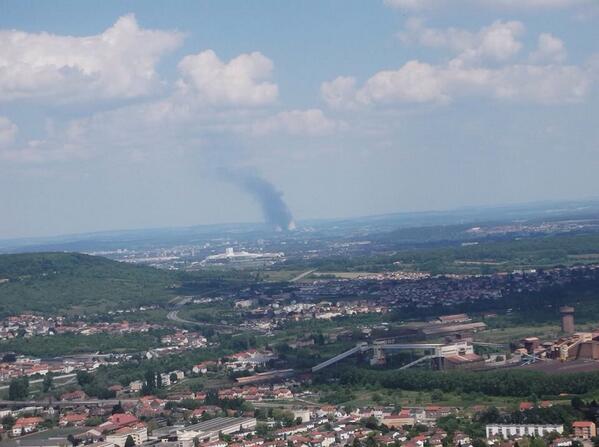 The same day the NRC upheld denial of a license, 11 March 2013, the same Commission
"directed the staff to provide a fresh assessment on issues relating to FOCD including recommendations on any proposed modifications to guidance or practice on FOCD that may be warranted."
And the issue with Calvert Cliffs was that very same "foreign ownership, control, or domination (FOCD) of commercial nuclear power plants."
This explains why Calvert Cliffs is marked as "Under Review" instead of "Suspended" in the NRC's list of Combined License Applications for New Reactors. Even before the NRC's Atomic Safety and Licensing Board terminated the Calvert Cliffs licensing decision 1 November 2012 and Unistar asked the same day for NRC review;

even before that, back on the same day the NRC denied a permit for EDF, 5 September 2012, a nuke proponent floated the idea of changing regulations derived from the Atomic Energy Act of 1954 to permit majority foreign ownership of nuclear reactors. And that's exactly what the NRC directed staff in March to examine and what the current public comment period is about. So the nuclear industry got the NRC to cross its fingers and say it was denying Calvert Cliffs while the very same day starting a process to change the rules to permit Calvert Cliffs. Does that seem right to you?
I'm not guessing the rule changing is about Calvert Cliffs; Federal Register 3 June 2013 says so:
NUCLEAR REGULATORY COMMISSION

[NRC—2013—0107; Docket No. 52—016—COL]

Staff Requirements—SECY—12—0168— Calvert Cliffs 3 Nuclear Project, LLC & UniStar Nuclear Operating Services, LLC (Calvert Cliffs Nuclear Power Plant, Unit 3), Petition for Review of LBP—12—19

AGENCY: Nuclear Regulatory Commission.

ACTION: Request for written comment on requirements related to foreign ownership, control, or domination of commercial nuclear power plants….
The NRC's PR about this comment period doesn't mention Calvert Cliffs by name; you have to follow the link in it to the above Federal Register entry. PR in NRC News 10 June 2013, NRC Seeks Public Comment on Foreign Ownership of Nuclear Power Plants; Public Meeting June 19 in Rockville, Md,
The Nuclear Regulatory Commission is seeking public comment on issues related to foreign ownership, control and domination of commercial nuclear power plants, and will hold a public meeting June 19 at agency headquarters in Rockville, Md., to discuss the topic.

The Atomic Energy Act and NRC regulations disqualify any applicant for a nuclear power plant operating license if the applicant is owned, controlled or dominated by a foreign national, a foreign corporation or a foreign government. In recent years, a number of licensing actions before the NRC have involved complex issues of foreign ownership, control and domination. This is likely due to the increased globalization of the electric power industry and complexity of corporate structures generally.

The Commission directed the staff in March to prepare a fresh assessment of foreign ownership issues and propose any changes to guidance or practice that may be warranted. The staff's assessment and proposals are due to the Commission by Dec. 31. At this time, no specific changes to guidance or regulation are under consideration. The staff requested public comment, with specific questions about the extent of indirect foreign ownership that should be allowed, in a notice published June 3 in the Federal Register.

The June 19 public meeting will be held in the Commission Hearing Room, One White Flint North, 11555 Rockville Pike, from 9 a.m. to noon. For more information, see the public meeting notice.

Written comments will be accepted through Aug. 2. They may be submitted over the federal government's Rulemaking website at www.regulations.gov using Docket ID NRC-2013-0107, or by mail to Cindy Bladey, Chief, Rules, Announcements, and Directives Branch, Office of Administration, Mail Stop: TWB-05-B01M, U.S. Nuclear Regulatory Commission, Washington, DC, 20555-0001.
So, what are these questions? According to the Federal Register entry:
Specifically, the Commission is looking for comments on the limitation on FOCD as contained in Section 103d. of the AEA and the potential to satisfy statutory objectives through an integrated review of foreign ownership, control, or domination issues involving up to and including 100 percent indirect foreign ownership; criteria for assessing proposed plans or actions to negate direct or indirect foreign ownership or foreign financing of more than 50 percent but less than 100 percent, and the adequacy of guidance on these criteria; the availability of alternative methods such as license conditions for resolving—following issuance of a combined license—FOCD; and the agency's interpretation of the statutory meaning of ''ownership," and how that definition applies in various contexts, such as total or partial foreign ownership of a licensee's parent, co- owners, or owners who are licensed to own but not to possess or operate a facility.
Meanwhile, according to regulations.gov, the Public Meeting Notice on Foreign Ownership, Control, or Domination posted Jun 7, 2013, says NRC wants your input, either as part of a group, or as yourself:
This is a Category 3 meeting. This meeting is intended to include representatives from the industry, licensees, and interested groups to focus discussion on FOCD requirements. The public is invited to observe the meeting and will have the opportunity to communicate with the U.S. Nuclear Regulatory Commission (NRC) after the business portion, but before the meeting is adjourned.
You can also comment online now until 2 August 2013 on Docket ID NRC – 2013 – 0107, Staff Requirements – SECY-12-0168 at regulations.gov. Three comments have been received as of this posting.
The only two U.S. utilities with the size and resources to pull off Calvert Cliffs are the two largest: #2 Southern Company and #1 Duke Energy,
both already dug deep into the nuclear money pit building two reactors each, at Plant Vogtle in Georgia and Plant Summer in South Carolina respectively, the only four reactors actually licensed to build by NRC, all four supplied by document-forging Doosan. And Southern Company already got itself a black eye in the investment community with its unrecoverable cost overruns at Kemper Coal in Mississippi. So without EDF, Calvert Cliffs will be finally truly dead. But with the rule changes NRC proposes, Cattenom-smoking EDF or even Fukushima-meltdown TEPCO could build nukes stateside. Does that seem like a good idea to you?
-jsq
Short Link: