At a recent Lowndes County Commission meeting, I said:
I was interested to learn two weeks ago that my neighbor Timothy Nessmith was interested in getting DSL on Hambrick Road.
He said you can get it as close to him as Quarterman Road. I can attest to that because I have 3 megabit per second DSL, due to being just close enough to Bellsouth's DSL box on Cat Creek Road, but most of Quarterman Road can't get DSL due to distance. There are some other land-line possibilties, involving cables in the ground or wires on poles.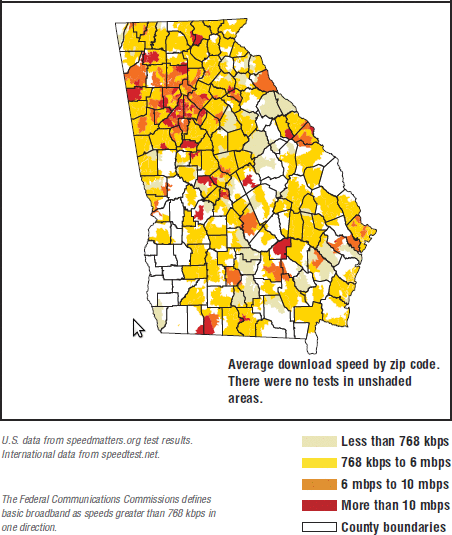 Then there are wireless possibilities, including EVDO, available from Verizon, with 750 kilobit per second (0.75 Mbps) wide area access from cell phone towers.
Verizon's towers could also be used for WIFI antennas, for up to 8 Mbps Internet access, over a wide scale.
Then there's metropolitan-area Internet. Chattanooga has the fastest such network, with 1 Gbps (1,000 Mbps). But hundreds of communities around the country have such networks, including (continued after the video)…
Internet speed and access —John S. Quarterman
Regular Session, Lowndes County Commission (LCC),
Valdosta, Lowndes County, Georgia, 8 May 2012.
Video by Gretchen Quarterman for Lowndes Area Knowledge Exchange (LAKE).
…Lafayette, Louisiana, Bowling Green, Kentucky, Lagrange, Georgia, and Thomasville, Georgia. They use it for public safety, education (Wiregrass Tech, VSU), and
It attracts new industry. If you want knowledge-based industry, they're going to be expecting Internet access not just at work, but at home, whereever they live.
Other uses include Continue reading →