The two rezonings on the Lowndes County Commission agenda for this week seem to cancel each other out, since one wants to go "back" to Estate Agriculture (E-A), while the other wants to rezone from E-A to R-A, both on about ten acres.
Because by an open records request we got the agenda packet, we know how much the agenda items costs, even though dollar amounts are not listed in the agenda.
The Request to Accept Hamm Estates Dr. into the County Road Inventory for Maintenance is listed as "BUDGET IMPACT: N/A". What if those subdivision roads need repairs, like Knights Academy Road?
The unusual Deannexation of Ganas Property by Lake Park apparently costs the county nothing. Not even legal fees?
The high-dollar item is $290,000.00 for health insurance administration. Employees pay their premiums: this is just to administer the program.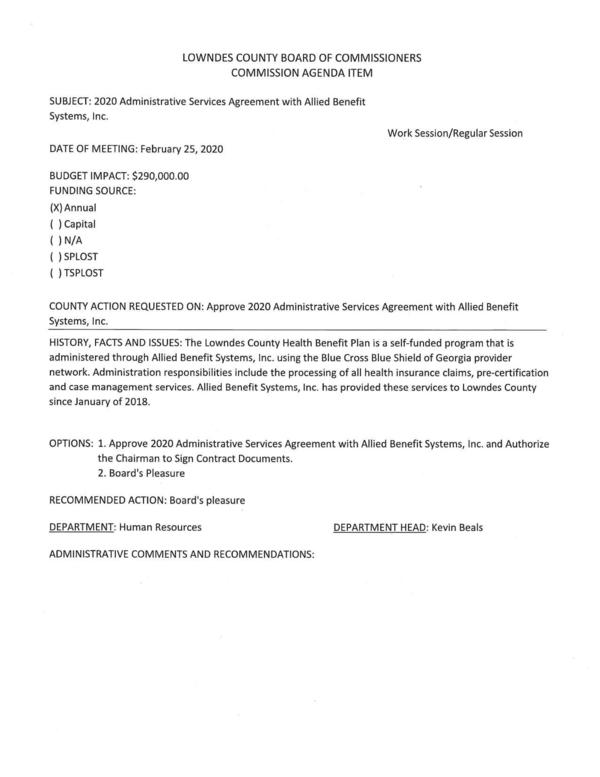 BUDGET IMPACT: $290,000.00
PDF
Next is $50,433.00 for emergency repairs for Culvert Aprons for Knights Academy Road. Why exactly is that an emergency? At least there are multiple (three) bids.
Third most expensive is $43,245.50 for Clyattstone Rd.-Simpson Ln. ROW Purchases. And another $11,535.00 for Clyattstone Rd.-Simpson Ln. ROW Acquisition. That's a total of $54,780.50 for that one road project, so actually it's Second most expensive, not Third. Hm, doesn't the Chairman live on Simpson Lane?
That's $105,213.50 for road projects.
Then there's $24,613.44 for a Microsoft Server 2019 Data Center License.
Here is the agenda. See also the LAKE videos of the preceding Planning Commission meeting.
LOWNDES COUNTY BOARD OF COMMISSIONERS
PROPOSED AGENDA
WORK SESSION, MONDAY, FEBRUARY 24, 2020, 8:30 a.m.
REGULAR SESSION, TUESDAY, FEBRUARY 25, 2020, 5:30 p.m.
327 N. Ashley Street – 2nd Floor
-jsq
Investigative reporting costs money, for open records requests, copying, web hosting, gasoline, and cameras, and with sufficient funds we can pay students to do further research. You can donate to LAKE today!
Short Link: