The resolution to reimpose the SPLOST tax as SPLOST VIII, was not included with the agenda for the tax-paying public to see. LAKE has filed an open records request for the entire board packet. Perhaps the county will supply it before they vote tomorrow.
Four bids were received for LAS and Pump Station Improvements with the high bid at $3.3 million, and the low at $2.5 million, but apparently the county negotiated the low bidder, Doyle Hancock & Sons, down to $1,520,858.00. This is "for improvements to the LAS [Land Application Site, aka wastewater spray field], Bevel Creek, Francis Lake, and Coleman Road lift stations." The LAS is between Grassy Pond and Pike Pond, a few thousand feet from the GA-FL line, in the Withlacoochee River watershed.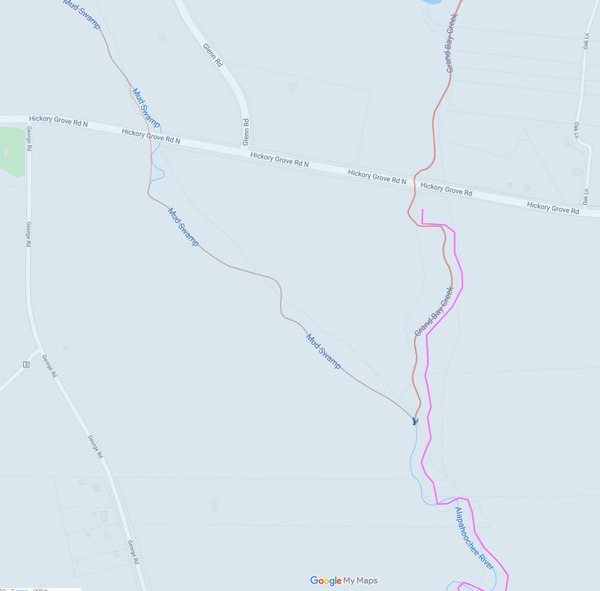 Hickory Grove Road, Mud Swamp Creek, Grand Bay Creek
One bid of $2,613,684.00 from Southern Concrete Construction Co. Albany, Georgia was received for Replacement of Hickory Grove Road Bridges over Mud Swamp Creek and Grand Bay Creek, just above where they meet to form the Alapahoochee River (which flows into the Alapaha River, then the Suwannee River, to the Gulf).
The Hazard Mitigation Grant Program Applications are for "nursing homes for the purpose of installing transfer switches and/or emergency backup generators on their facilities…. Because all five of the long term care facilities in Lowndes County are for profit businesses, operated by Pruitt Health Corporation, in order for them to receive funding to install generators at each of their facilities to power the entire facility in the event of a power failure, Lowndes County must serve as the applicant agent." So that's a $1,176,015.51 GEMA grant with a 25% or $392,005.17 match from Pruitt Health Care Corp.
After previously saying the county did not pay for road rights of way any more, the county is paying $1,489 to a property owner on Howell Lane. Presumably that's related to the Paving on Howell Lane and a Portion of Lester Road, for which Scruggs had the low bid of $849,354.00, only 35,154.95 or 4% lower than Reames, and much lower than Southland Contractors. GDOT will provide $750,000.00 in LMIG, with the rest from SPLOST.
Also, they're going to reappoint Randall Crews to the Lowndes County Construction Board of Adjustments and Appeals.
LOWNDES COUNTY BOARD OF COMMISSIONERS
PROPOSED AGENDA
WORK SESSION, MONDAY, August 12, 2019, 8:30 a.m.
REGULAR SESSION, TUESDAY, August 13, 2019, 5:30 p.m.
327 N. Ashley Street – 2nd Floor
-jsq
Investigative reporting costs money, for open records requests, copying, web hosting, gasoline, and cameras, and with sufficient funds we can pay students to do further research. You can donate to LAKE today!
Short Link: