The interesting part was not that ZBOA approved everything unanimously in its September 11, 2018 meeting, including setbacks for the same Stovall property at 6002 N. Oak Street Ext., Valdosta, for which later that same day the Lowndes County Commission approved removal of the prohibition on personal care homes. The news is that Lowndes County Commissioner Scottie Orenstein stood up in a public meeting and spelled out at 30 minutes 47 seconds that "there was some behind-the-scenes conversation":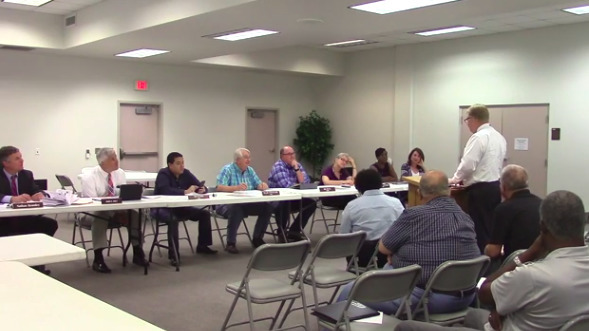 Scottie Orenstein, Lowndes County Commissioner. In March 2015, there was a condition put on this. But after speaking with Chairman Slaughter this afternoon, after some of y'all reached out to me, um, we bantered back and forth, there was some speculation that this property was going to be developed speculatively. There was no real plan for the property during the rezoning request that came for us in March 2015.

However, there was some behind-the-scenes conversation about the possibility of a youth-type detention facility. Several words were used to describe what possibly may go there. So I think this was simply a result of a non-objection from property owners on the rezoning request, and the condition was applied there that how you, no, no, detention facility, no, and that became, well, let's just say, you know, no, uh, what's the term that we're using, [personal care homes], yes, um. So I think, I really think it was as simple as that.

I've spoken with several other Commissioners and they remember it basically the same way. So, uh, I mean, I feel like for the Commissioners, I can speak for them, they don't have any issues.

And as far as the road improvements, we don't know when that is gonna happen. We know that some engineering work is being done; some property tax being sold, and so forth. We're a few years away from that. I don't feel like it would be fair to tell you to take that under consideration for these folks.
A Lowndes County Commissioner, in response to a question from an appointed county body, answered in his capacity as County Commissioner, not just for himself, but for all the Lowndes County Commissioners, that "there was some behind-the-scenes conversation" that led to a zoning condition that said it was about personal care homes, but was really about a possible youth detention facility. None of that discussion is recorded in the County Commission's own minutes, nor in the LAKE videos of that March 9, 2015, Work Session or March 10, 2015, Regular Session, which were the March 2015 meetings in which was heard REZ-2015-04 Stovall Property, N Oak St Ext., R-21 to C-G, Well & Other, ~5.84 acres.
Instead, this Lowndes County Commissioner said he had determined that these back-room dealings happened by consulting other County Commissioners, also not in any open meeting, and he said he was speaking for them in saying that these back-room dealings had occured.
That same evening of September 11, 2018, Lowndes County Commissioner Demarcus Marshall confirmed in the Lowndes County Commission Regular Session that "detention centers or boy homes or what have you" had been "the concern earlier". Lowndes County Chairman Bill Slaughter, responding directly to Commissioner Marshall, did not deny that there had been such discussion earlier, nor did any other Commissioner.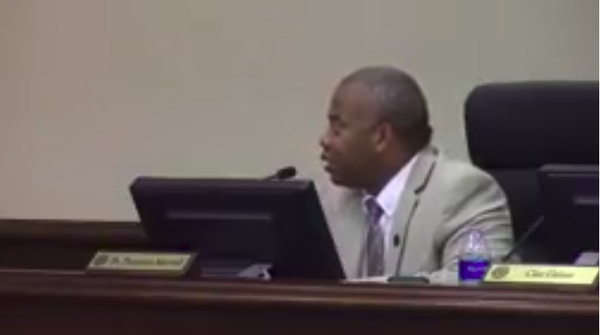 Commissioner Demarcus Marshall:
In regards to detention centers or boy homes or what have you, is this the correct language in a sense, or what would be the proper language to use? Should we put any language in there that would prevent detention centers or anything that might be of concern in that area?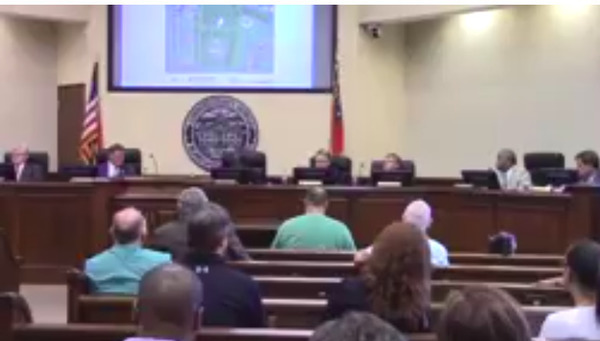 Chairman Slaughter:
Well, I think at this point just removing that restriction that was put on it earlier is what the actual request is. I really wouldn't see a need in modifying that actual request when we actually have a plan here that is going to be an assisted living facility.
Given that all we learned in the LAKE video of the September 10, 2018 Work Session is that the proposed rezoning was to remove the condition on personal care homes, and not why that restriction was put there in the first place, it would appear that County Commissioners also revealed that "there was some behind-the-scenes conversation" at which County Commissioners arrived at their decision to remove that condition when they voted the evening of September 11, 2018, as well as back in March 2015 when they put that condition on there.
Does this seem right to you?
See also the ZBOA agenda.
Valdosta – Lowndes County Zoning Board of Appeals

Matt Martin,
Valdosta Planning and Zoning Administrator
300 North Lee Street, Valdosta, Georgia
(229) 259-3563

Carmella Braswell,
Lowndes County Zoning Administrator
327 North Ashley Street, Valdosta, Georgia
(229) 671-2430

MEETING RESULTS SUMMARY
September 11, 2018
2:30 p.m.

ZBOA Members Present: Paul Alvarado, Nathan Brantley, Victoria Copeland, Nancy Hobby, John Holt, Mac McCall, Gretchen Quarterman, Allan Strickland

ZBOA Members Absent: None

Call to Order

LOWNDES COUNTY CASES:

VAR-2018-15 — Sylvia Shaw & Deloris Oliver (3768 Crum Road, Valdosta)
Request for a
variance to ULDC Chapter 4.04.04 (c)(b)(i) as it pertains to the provisions for Family Ties Land Divisions. (Approved 7-0)
VAR-2018-16 — Tanika Christopher on behalf of Shelby Stovall (6002 N. Oak Street Ext., Valdosta)
Request for a
variance to ULDC Section 4.03.13 as it pertains to the Supplemental Standards for Congregate Personal Care Homes (Assisted Living Facility) that mandates the minimum side yard setbacks (Approved 7-0)

CITY OF VALDOSTA CASES:

APP-2018-06 — New Hope Missionary Baptist Church (709 W. Gordon Street)
Request for a
variance to LDR Section 214-1 Table 1 as it pertains to the minimum front yard building setback requirements in an R-6 zoning district (Approved 7-0)

OTHER BUSINESS:

Approval of Minutes: July 10, 2018 (Approved 6-0-1)
Adjournment 3:09 PM
Here's a LAKE video playlist:

Videos: Backroom setbacks and family ties
Regular Session, Valdosta-Lowndes County Zoning Board of Appeals (ZBOA),
Video by Gretchen Quarterman for Lowndes Area Knowledge Exchange (LAKE),
Valdosta, Lowndes County, Georgia, 2018-09-11.
-jsq
Investigative reporting costs money, for open records requests, copying, web hosting, gasoline, and cameras, and with sufficient funds we can pay students to do further research. You can donate to LAKE today!
Short Link: