A pipeline much smaller than Sabal Trail destroyed a business in Homerville, Georgia yesterday.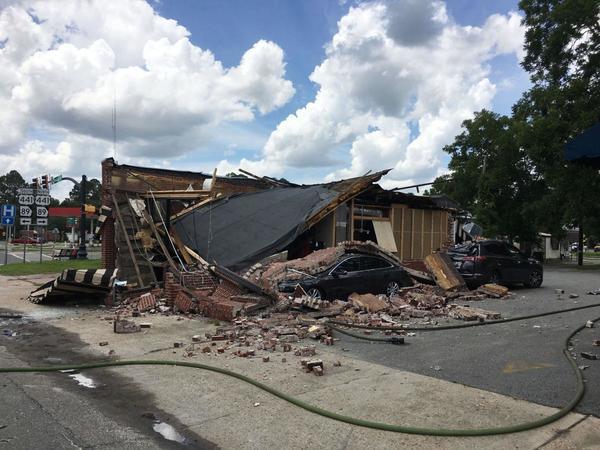 Photo: GA Insurance and Fire Commissioner, of Coffee Corner demolished, Homerville, GA.
So small the U.S. agency supposedly responsible for safety doesn't even show it in its maps. A pipeline is owned by Southern Company, and apparently originates on my property, starting from another pipeline half-owned by Southern Company.
That SONAT pipeline in 2014 was snagged by a dirt road ditch puller, sending a plume of dust 300 feet into the air. If there had been a spark, people I've known all my life might not have had homes to go back to.
So why does Sabal Trail claim its 500-mile-long IED is safe? And why is Southern Company wasting our resources and risking our safety by buying into pipelines while ramping down its new investments in solar power?
Brunswick Daily News, 17 August 2018, The Latest: Leaking gas blamed for coffee shop explosion,
11:30 p.m.

Authorities say natural gas leaking into a sewer line caused an explosion that destroyed a coffee shop in rural Georgia and seriously injured three people.

Glenn Allen, a spokesman for Georgia Insurance and Safety Fire Commissioner Ralph Hudgens, said late Friday that investigators determined a construction crew installing fiber optic cable in the tiny city of Homerville punctured an underground natural gas line.

Allen says that gas leaked into a sewer line connected to the coffee shop, where the gas built up and was ignited by a spark shortly after noon Friday.

Allen says two employees and a customer suffered serious injuries, including burns. Investigators initially reported all three injured people were coffee shop employees.

The injured people were airlifted to a hospital in Gainesville, Florida.
A couple of other stories say all three injuried parties were women.
The City of Homerville's facebook page about 1:30 PM yesterday reported:
The City of Homerville has closed down due to on going issues within the downtown area. Please stay safe and avoid the downtown area until further notice. First responders and all other crews need the area to be as free of traffic as possible in order to get their jobs done. Prayers for everyone involved!!
About 10:30AM this morning, Homerville reported:
All roads in Homerville are now open. The downtown area is open as well.
Where did the gas come from that sent three women to the hospital, destroyed a business, and shut a city down for a day?
No pipelines at all for Clinch County are shown by the public map viewer of the Pipeline and Hazardous Substances Safety Administration (PHMSA):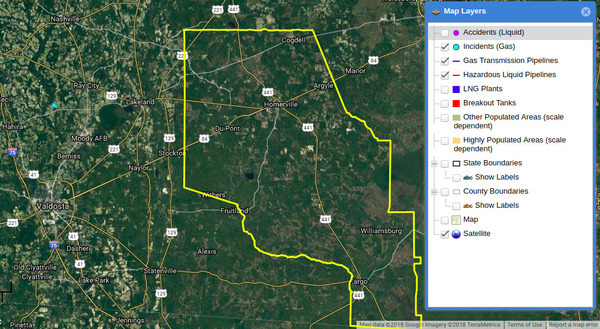 How does the methane get there, then?
As near as I can tell, only WCTV thought to find which gas company and ask them. WCTV Eyewitness News, August 17, 2018, Three seriously injured in explosion at Homerville coffee shop,
We reached out to Atlanta Gas Light for comment on the incident. They said in a statement, "Atlanta Gas Light is committed to ensuring the safety of every family we serve. We are aware of an incident in Homerville, Georgia. We are working with local authorities to determine the nature of the incident and will continue to keep our customers and community informed."
I see that name every time I go by the west part of my property: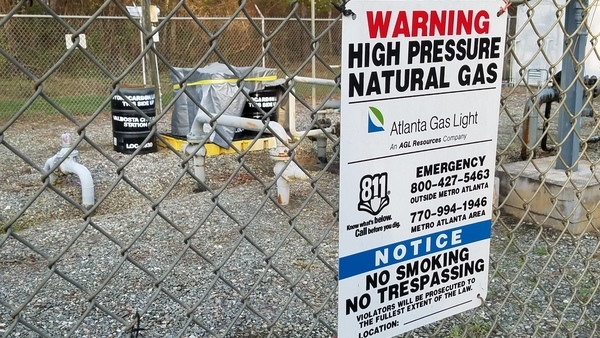 That sign says "Atlanta Gas Light, An AGL Resources Company." It doesn't say, nor did WCTV, that AGL was bought by Southern Company, merger completed 1 July 2016.
PHMSA doesn't show that AGL pipeline in Lowndes County, either: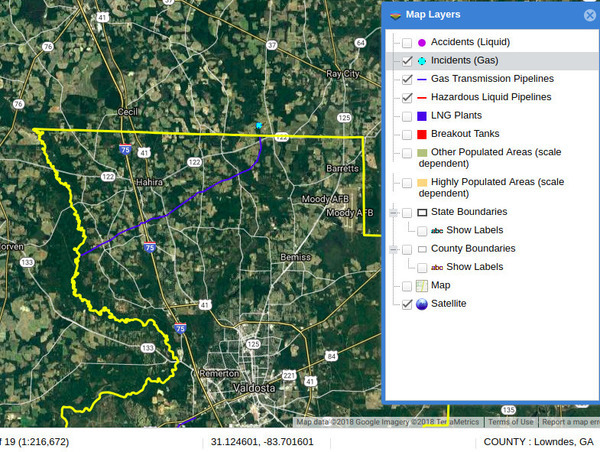 But PHMSA does show the pipeline that AGL pipeline originates from on my property: the Southern Natural Gas (SONAT) pipeline that turns north into Berrien County.
Here is WCTV reporting about the Sabal Trail pipeline from in front of that SONAT pipeline station on my property, with the AGL pipeline station visible in the background.

Picture of John S. Quarterman, president of WWALS Watershed Coalition, Inc. being interviewed by Noelani Mathews of WCTV by Gretchen Quarterman, WWALS Treasurer, for WWALS, 27 January 2016.
In Berrien County, you can see a little blue dot southwest of Ray City that also shows up on the other pipeline maps above, because I checked the box for "Incidents (Gas)":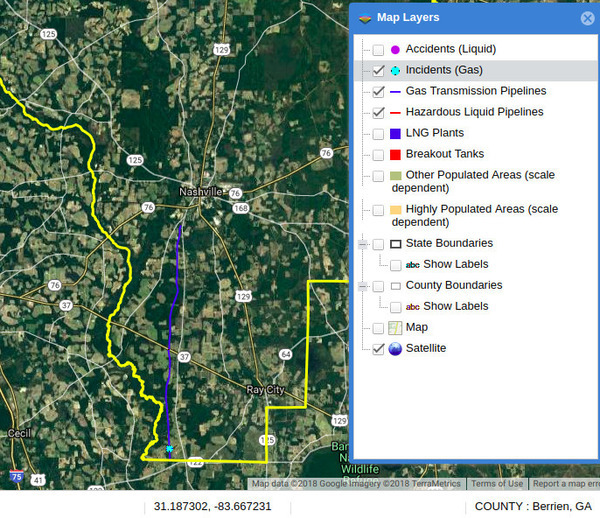 Since then, Southern Company bought half of SONAT from Kinder Morgan, strategic venture finalized by 1 September 2016.
WALB TV of Albany, GA, reported:
The Office of Insurance and Safety Fire Commission said the explosion has been ruled accidental.
You know what doesn't explode, even by accident? Solar panels.
This Homerville explosion has been covered by everybody from the Clinch County News (apparently the first to report the story, on its facebook page about noon yesterday), the Valdosta Daily Times, Valdosta Today, both of Valdosta, GA, WTXL TV, Tallahassee, Florida, the Ledger-Inquirer of Columbus, GA, The Dothan Eagle, Alabama, WXGA Fox 31, Macon, GA, WSB TV, Atlanta, GA, The Herald of Rock Hill, South Carolina, 10WAVY.com of tidewater Virginia, The Roanoke Times, Virginia, The Bradford Era, Pennsylvania, CP24 TV, Toronto, Ontario, Canada, and the Washington Post, mostly carrying the same Associated Press story.
Maybe all this national news about the Homerville pipeline explosion will get people thinking about why do we need pipelines at all anymore, now that solar power is here, employing more people than all of coal, oil, and gas electricity production, and, along with wind, adding more new electricity each year than any other power source?
AGL's own system map does show its pipeline taking off from SONAT on my property, going a few miles southeast to Moody AFB, turning north to Ray City, and then east to Lakeland and Homerville.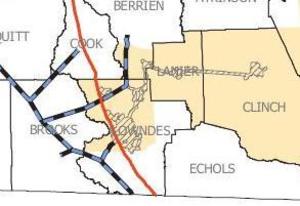 Atlanta Gas Light Company Pipeline System
AGL's map legend marks the SONAT pipeline up to Nashville, GA, as an "Interstate Pipeline." Maybe that's PHMSA's excuse for not showing it on PHMSA's maps.
The three burned women still had to be taken from the demolished Homerville coffee shop to hospital in Gainesville, Florida.

Photo: facebook post by Marissa Smith Phillips, apparently of the three injured women, Baylee Tolle, Emily Tolle, Anna O'Guin.
Who is in charge of pipeline safety, if not PHMSA?
Maybe the sewer department. Clinch County News reported on its facebook page shortly after noon today:
An UPDATE on the explosion in Homerville yesterday:

The Georgia Insurance and Safety Fire Department has concluded their investigation into Friday's explosion at Coffee Corner in Homerville. According to Glenn Allen, spokesman for that department, the explosion was caused by gas that leaked into a sewer line connected to the East Dame Avenue building. Allen said that on Friday, utility crews working nearby struck a gas line and a sewer line.

"They knew they struck a gas line, and AGL (Atlanta Gas & Light) capped the gas line," Allen said Saturday morning. "But it was unknown that they had also hit a sewer line. That ended up resulting in the explosion."

The gas from the leak went into the sewer line, and into Coffee Corner, igniting in a fiery explosion inside the building.

He said the department's probe ruled the incident accidental.

The explosion occured at 12:17 p.m. Friday, and injured three Homerville women who were inside Coffee Corner — customer Emily Tolle and employees Anna O'Guin and Baylee Tolle. Baylee and Emily are sisters.

They were life-flighted to Shands Hospital in Gainesville, Fla. from the Homerville Airport. According to family members, O'Guin has been diagnosed with third-degree burns on her hands, arms and feet. Baylee Tolle has been diagnosed with third-degree burns on her legs, and Emily Tolle has been diagnosed with third-degree burns on her arms and hands. The sisters' father, Shannon Tolle, said Baylee Tolle has 40 percent of her body burned, and Emily around 20 percent.

The explosion destroyed the small, brick building near the intersection of Highways 84 and 441. Tolle said his daughters crawled from the wreckage of the building. A bystander, Shannon Smith of Homerville, helped O'Guin escape the building, which was briefly on fire.

"We want to thank everyone for all the prayers and support they have shown us," said Shannon Tolle Saturday. "It means so much to us to have the community support us and pray for us. We appreciate everyone — from the emergency workers to the people at the hospital — and what they have done to help."

O'Guin's stepfather, Robbie Lee of Fargo, said the girls need the community's prayers in facing recovery.

"We are asking everyone to pray to God for pain relief and guidance for the doctors to do what's right for these girls," Lee said in a Facebook message. "They have a long way to go but we feel fortunate we have a God, family, and community behind us."

Homerville Mayor Tom Kennedy said emergency and utility crews have cleared downtown Homerville of any further danger from the leak. Shortly after the explosion, downtown businesses were shut down as officials looked to see if gas was an issue at any other facilities.

The News will have more on this story in its next edition, coming out Wednesday. We will also update here on further developments.

Story by Len Robbins, The Clinch County News ©
Photo by Laura Nipper, The Clinch County News ©
Apparently not Southern Company. As of May 2018, they still claimed these barrels of "hydrocarbons" were safe, sitting under a tarp beneath hundred-foot-tall pine trees in a fire forest: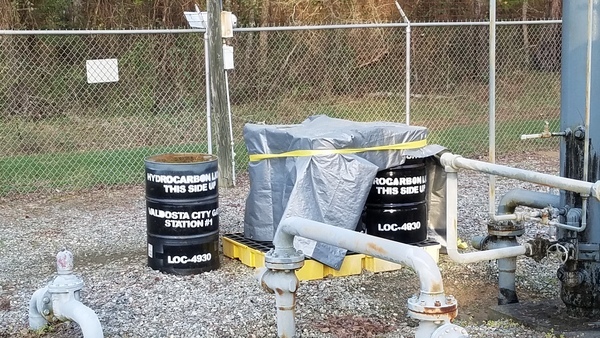 Since then they have reduced the number of barrels to two and made sure they are both partly covered by the tarp, as if that solves the problem.
This is the same Southern Company that with AGL Resources got Pivotal LNG, trucking liquid natural gas down I-75 to Jacksonville, Florida.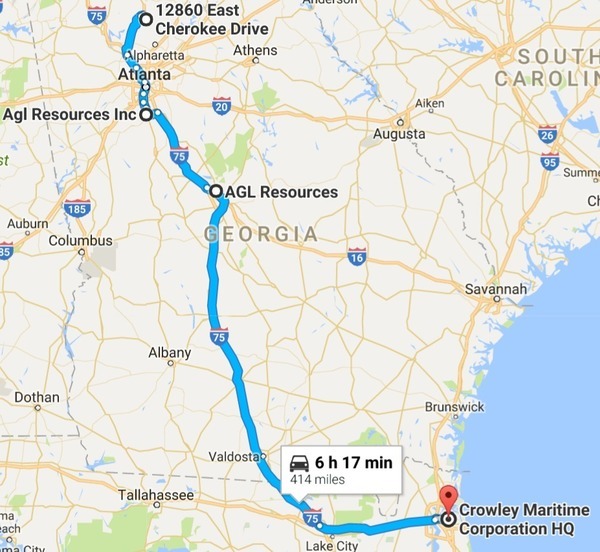 Pivotal LNG down I-75 through Atlanta, Macon, Valdosta, Georgia, and I-10 through Lake City to Jacksonville, Florida.
Do you feel safer?
The Georgia Insurance and Safety Fire Department may have concluded their investigation, but this is an election year, and you can investigate which candidates for all offices support getting off of fossil fuels and getting on with solar power.
-jsq
Thanks to Rachel Gardiner for the heads-up about this pipeline explosion.
Investigative reporting costs money, for open records requests, copying, web hosting, gasoline, and cameras, and with sufficient funds we can pay students to do further research. You can donate to LAKE today!
Short Link: