Back in May 2015, Southern Company CEO Tom Fanning and Georgia Power CEO Paul Bowers both told me "If we can't do coal, we have to do pipelines".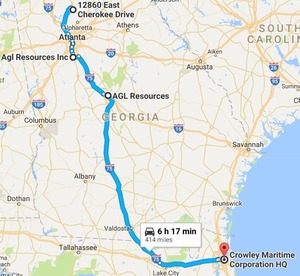 A year in the making, Southern Company bought pipeline company AGL Resources. Turns out AGL Resources is also an LNG export company, exporting through Jacksonville by LNG containers on trucks. And the plot thickens with the pending corporate takeover of CSX Railroad by the former CEO of Canadian Pacific, given that CSX depends a lot on carrying coal, which remember is what Southern Company is rapidly getting away from. Could CSX want to carry LNG? Meanwhile, LNG containers are already rolling down I-75 and I-10 to Jaxport, apparently through Atlanta, Macon, Valdosta, and Lake City.
Southern Company PR, 1 July 2016, Southern Company and AGL Resources complete merger, create a leading U.S. energy company,
Southern Company (NYSE: SO) and AGL Resources today announced the completion of a merger creating one of America's leading energy providers.

"This merger brings together two utilities recognized for outstanding reliability, world-class customer service and a commitment to inventing America's energy future," said Southern Company Chairman, President and CEO Thomas A. Fanning. "The strategic combination of industry leaders with similar business models and values enhances our ability to serve customers and communities as we together deliver tomorrow's energy solutions."

AGL Resources has become a wholly owned subsidiary of Southern Company, which now has 11 electric and natural gas utilities with operations across the U.S. The addition of AGL Resources' network of natural gas assets and businesses provides a broader, more robust platform for long-term success.

"Southern Company is now positioned to deliver even greater customer and shareholder value by playing offense in developing the infrastructure necessary to meet America's growing demand for natural gas," said Fanning.
This AGL Resources acquisition is in addition to Southern Company's September 2016 completed acquisition of half of Kinder Morgan's Southern Natural Gas (SONAT). (Which means SO now owns all or part of both pipelines on my property.)
That July SO PR goes on about the financing for the AGL Resources acquisition, but says nothing about Liquified Natural Gas (LNG).
For that we go to Southern Company's rebranding of AGL Resources' LNG web page,
AGL Resources' LNG facilities

LNG plays an important role in AGL Resources' strategy to meet the growing demand for safe, reliable natural gas in the states served by its utilities. Pivotal LNG, a wholly owned subsidiary of AGL Resources, is at the forefront of bringing an environmentally friendly, cost-effective alternative fuel to companies and industries that today rely primarily on liquid fuels such as diesel and propane. AGL Resources and Pivotal LNG currently own and operate six liquefaction facilities and sell LNG as an alternative fuel for transportation and other high horsepower applications in the wholesale market. AGL Resources also uses each of its LNG facilities for peak-shaving, which supply gas when customer demand is highest.

The largest, the Riverdale LNG plant located in Riverdale, Ga., has storage capacity of 31 million gallons or 2.56 billion cubic feet (Bcf) of natural gas in its two storage tanks. Located south of Atlanta, the plant is supplied by two interstate pipelines. It is connected to Atlanta Gas Light's beltline pipeline system for distribution of gas to the Atlanta market. The plant is able to deliver 400,000 Dth/day of gas during peak send-out.

The Cherokee LNG plant, located north of Atlanta in Ball Ground, Ga., has a single storage tank with a capacity of 24.4 million gallons or 2 Bcf equivalent of natural gas. The 934-acre site was designed to accommodate a second tank of equal capacity if warranted. This plant receives supply from three pipelines and can deliver an equivalent of 625,000 Dth/day of peak send-out to Atlanta Gas Light's Atlanta market.

AGL Resources also owns and operates an LNG plant in Macon, Ga. This plant's single tank storage capacity is 18 million gallons or the equivalent of 1.5 Bcf, although the plant is capable of delivering up to 140,000 Dth/day. The Atlanta Gas Light distribution system has been constructed in a way to allow this plant's send-out to be sent into the Atlanta area of the system if demand requires it.

In Tennessee, AGL Resources subsidiary Chattanooga Gas receives peak day supplies from its Chattanooga plant, which holds the equivalent of 1.2 Bcf. This facility is supplied by two pipelines and can currently deliver up to approximately 62,000 Mcf/day to the Chattanooga Gas market, a load limited amount.

AGL Resources also owns an approximately 60,000 gallon-per-day liquefied natural gas facility located in Trussville, Alabama. The Trussville facility is AGL Resources' first LNG facility dedicated solely to the merchant market.
That web page says there's another AGL LNG plant in Virginia, in addition to the ones listed above that are in the traditional southeast Southern Company territory.
Some of those AGL LNG facilities will be trucking LNG to Jacksonville for export, most likely the ones closest to Jaxport, namely the ones in Macon, Ballground, and Riverdale, Georgia. That's right: bomb trucks rolling down I-75 and I-10.
AGL's Jaxport deals go back several years. Richard Nemec, Natural Gas Intelligencer, 6 January 2015, AGL Unit Signs Pact For LNG Marine Transport in Florida,
A unit of Atlanta-based AGL Resources Inc. and WesPac Midstream LLC have signed a long-term agreement with marine shipper TOTE Inc. to provide liquefied natural gas (LNG) for two new TOTE container ships operating out of Jacksonville, FL.
Crowley Maritime PR, 22 September 2014, Pivotal LNG to Deliver Liquefied Natural Gas to Carib for use in Puerto Rico,
(ATLANTA, Ga.; September 21, 2014) ­­ Pivotal LNG, Inc., a subsidiary of AGL Resources (NYSE: GAS), announced this week a long-term agreement to sell liquefied natural gas (LNG) to Crowley Maritime Corp. subsidiary Carib Energy LLC ("Carib"). The LNG will be delivered to Puerto Rico. This is the first delivery of LNG for industrial customers in that U.S. territory.

"We are pleased to work with Crowley to support industries in Puerto Rico with the delivery of cost-effective, emission-reducing LNG," said Stephen Cittadine, president of Pivotal. "Pivotal continues to expand its LNG portfolio, thereby reducing dependency on other petroleum products used by Puerto Rico as well as other U.S. territories."

Recently the Federal Energy Regulatory Commission (FERC) issued an order to provide clarity around Pivotal's methods of delivery of LNG from the U.S. mainland to U.S. territories. The FERC order confirms that Pivotal can sell LNG designated to be transported by waterborne vessel to all U.S. territories. To make this possible, Pivotal will load LNG onto international shipping organization (ISO) containers. The ISO containers will then be transported via truck to Crowley's waterborne vessels in Jacksonville, Fla., and then delivered to Carib's customers in Puerto Rico.
This is the same Crowley Maritime and Carib Energy that since 27 July 2011 has been authorized by the U.S. Department of Energy Office of Fossile Energy (FE) to export LNG from Martin County, Florida, picking it up that LNG at some of the several FE-authorize LNG export operations in Martin County, right at the end of the Transco → Sabal Trail → FSC pipeline chain.
Back to the Crowley PR:
"Pivotal LNG is a proven leader in supplying LNG to the eastern United States, and we are certainly pleased to have them provide LNG for our markets in Puerto Rico," said Crowley Vice President Greg Buffington. "Our LNG supply agreement with Pivotal, coupled with Crowley's recent success of obtaining a small-scale export license from the Department of Energy, allows us to meet the current and future energy needs of our customers in the regions where we do business."
That's pretty rich mentioning only Puerto Rico, when FE granted Crowley Maritime on 10 September 2014 Final Order No. 3487 Granting Long-Term Multi-Contract Authority to Export LNG in ISO Containers by Vessel to Non-Free Trade Agreement Nations in Central America, South America, or the Caribbean. Crowley already had since 2011 FE authorization to export to Free Trade Agreement Nations. So basically Crowley can export LNG to most any country in the world. Which means so can Pivotal LNG, AGL Resources, and Southern Company, rolling their bomb trucks down I-75 and I-10 to get to Jaxport.
Back again to the Crowley PR:
Pivotal filed a petition with FERC on April 11, 2014 (Docket No. RP14-732-000). The order released by FERC was announced on Sept. 4. For more information about LNG solutions, please visit www.pivotallng.com or follow Pivotal on LinkedIn.
The clarification requested by FERC could be about truck vs. rail.
Unfortunately, FERC then threw up its hands and disclaimed any jurisdiction over Pivotal LNG. LNG World News, 7 Aprll 2015, FERC disclaims jurisdiction over Pivotal LNG facilities,
The U.S. Federal Energy Regulatory Commission has issued an order declaring that Pivotal LNG and its affiliates that produce the chilled gas for export by a third party would not be subject to the Commission's NGA section 3 jurisdiction.
I'm assuming NGA refers to the Natural Gas Act, with Section 3 referring to 15 U.S. Code 15B §717b (e) LNG Terminals (3),
(A) Except as provided in subparagraph (B), the Commission may approve an application described in paragraph (2), in whole or part, with such modifications and upon such terms and conditions as the Commission find necessary or appropriate.
The LNG World News article continues:
In addition to its Trussville, Alabama LNG facility, Pivotal requested the commission declare four other existing liquefaction and storage facilities, operated by its affiliates, will be nonjurisdictional. The affiliated facilities are the Riverdale LNG facility in Riverdale, Georgia; the Cherokee LNG facility in Ball Ground, Georgia; the Macon LNG facility in Macon, Georgia; and the Chattanooga LNG facility in Chattanooga, Tennessee, FERC said in its notice.

Pivotal submitted a petition requesting the commission determine that Pivotal, as well as its affiliates, would not be subject to either NGA section 3 or section 7 jurisdiction if LNG produced at the LNG facilities was transported by waterborne vessel to end users in noncontiguous states and territories (e.g., Hawaii or Puerto Rico).

On September 4, 2014, the commission issued an order determining that the transportation of LNG by nonpipeline means would not subject Pivotal and its affiliates to the commission's jurisdiction and that the LNG facilities owned by Pivotal and its affiliates would not be "LNG Terminals" as defined by NGA section 2. However, the September 2014 Declaratory Order was limited to transactions in which LNG was subsequently transported by waterborne vessel to end users in noncontiguous states and territories.
That story continues saying Pivotal further wants a declaratory order finding "that the LNG facilities it identifies would not be deemed "LNG Terminals" subject to the commission's NGA section 3 jurisdiction when engaging in transactions which ultimately result in any of the LNG they produce being exported." Pivotal wants that further clarification even for third parties.
Such as third parties who could ship LNG onwards from Puerto Rico or Hawaii to any FTA or non-FTA country? Parties such as Crowley Maritime, which already has FE authorization to do that?
After all, as the co-founder of the company building the Jaxport LNG export facility, Texas oil man T. Boone Pickens says,
"The producers have gone out and drilled for the natural gas. They should be entitled to get the best markets in the world, so let them have it.

"Go ahead and move it out and sell it. I'd go ahead and let the gas go into the global market."
After all, they already fracked Pennsylvania to get that methane. Nevermind your life at risk from LNG bomb trucks.
More in a later blog post.
-jsq
Investigative reporting costs money, for open records requests, copying, web hosting, gasoline, and cameras, and with sufficient funds we can pay students to do further research. You can donate to LAKE today!
Short Link: