This year the Southern Company annual report says increased energy revenues were "primarily due to increases in renewable energy sales", yet Southern Power is selling off a third interest in its solar facilities. Why? To pay off debt from its failed Big Bet on Plant Vogtle nukes, and its new Big Bet on stranded assets in natural gas pipelines. I don't think the future lies that way, Tom Fanning, abandoning solar power and getting in bed with Sabal Trail.
When: 10AM Wednesday, May 23, 2018
9AM breakfast
Where: The Lodge Conference Center at Callaway Gardens,
4500 Southern Pine Drive, Pine Mountain, Georgia 31822
What: Southern Company Annual Stockholder Meeting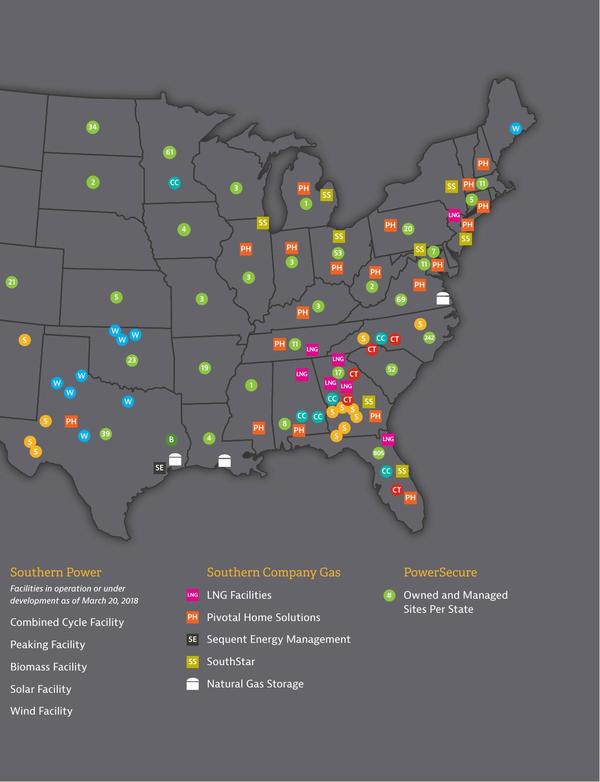 Facilities in Operation or Development as of March 20, 2018, Annual Report
Why would Southern Company sell off the assets that generated the most increase in revenue? On page 46:
In 2017, wholesale revenues increased $500 million, or 26.0%, as compared to the prior year due to a $433 million increase in energy revenues and a $67 million increase in capacity revenues, primarily at Southern Power. The increase in energy revenues was primarily due to increases in renewable energy sales arising from new solar and wind facilities and non-PPA revenues from short-term sales. The increase in capacity revenues was primarily due to a PPA related to new natural gas facilities and additional customer capacity requirements.
On page 8, SO brags about a 1 megawatt solar facility at the new Mercedes-Benz Stadium in Atlanta:
Georgia Power's solar installation at MercedesBenz Stadium helps the facility achieve its goal of 1.6 million kilowatt hours of energy per year from on-site solar generation.
Why aim so low?
And what about this microgrid material on page 17:
Locally-sourced power to supplement the grid

Reynolds Landing is powered both by the traditional electric grid, as well as a community-scale power system called a "microgrid," which is composed of solar panels, battery storage and back-up generation. With the capacity to generate more than 600,000 kilowatt hours of energy annually, the microgrid can potentially power the entire community, if needed.

On Atlanta's Upper West Side, Georgia Power is creating a similar townhome community, Altus at the Quarter, where power from the grid is supplemented by rooftop solar installations and in-home battery storage.

Each of these real-world research and development projects provides insight into the effectiveness of emerging energy technologies and how high-performance homes will be built in the future.
Oh, no, backpedaling: Southern Company is back into "research" about "the future" when solar power is here right now.
Even worse, on page 36:
potential business strategies, including acquisitions or dispositions of assets or businesses, including the proposed disposition by a wholly-owned subsidiary of Southern Company Gas of Elizabethtown Gas and Elkton Gas and the potential sale of a 33% equity interest in substantially all of Southern Power's solar assets, which cannot be assured to be completed or beneficial to The Southern Company or its subsidiaries;
OK, I won't miss that NJ Pivotal LNG natural gas liquefaction facility, but what's this about selling off solar assets? It's unlikely many of them can't be completed, so what's this about not "beneficial"?
On page 45, SO finally gets to its point:
Energy sales from solar and wind PPAs do not have a capacity charge and customers either purchase the energy output of a dedicated renewable facility through an energy charge or through a fixed price related to the energy. As a result, the Company's ability to recover fixed and variable operations and maintenance expenses is dependent upon the level of energy generated from these facilities, which can be impacted by weather conditions, equipment performance, transmission constraints, and other factors.
SO can't charge for fuel for solar power, and hasn't invested in batteries or long-distance load balancing, so it doesn't like the revenue model for solar power. This is the usual utility complaint.
Last year you may recall SO CEO Tom Fanning told me he was decreasing investment in solar power. Beyond that, they are doing this:
In addition, Southern Power is pursuing the sale of a 33% equity interest in a newly-formed holding company that owns substantially all of Southern Power's solar assets, which, if successful, is expected to close in the middle of 2018.
Are there any other reasons? Well, yes. Jim Polson and Brian Eckhouse, Bloomberg, 1 November 2017, Southern to Sell Solar Assets, Nuclear Settlement to Raise Cash,
Southern Co. is shopping a $3.7 billion nuclear settlement and part of its solar-generation business to raise cash after recent acquisitions nearly doubled its debt.

Potential asset sales announced Wednesday follow a earlier decision to offer two natural-gas utilities for $1.4 billion. The Atlanta-based utility owner has held talks with potential buyers over the settlement from Toshiba Corp. for failing to complete the expansion of the Vogtle nuclear plant in Georgia, Chief Executive Officer Tom Fanning said by phone Wednesday.

Southern needs to raise cash as it anticipates about $1.4 billion in added costs to complete Vogtle, a project that has seen costs soar to more than $25 billion. The company is also bailing out its Mississippi Power unit after regulators said they wouldn't allow it to recover costs for a failed coal-gasification power project from ratepayers, and has debt remaining from expanding into the gas pipeline business.
Penny-wise, pound-foolish.
Southern Power owns 27 U.S. solar projects, 19 of which are already co-owned with third parties. The projects span much of the southern part of the country, from California to North Carolina.

"There's a tremendous amount of demand," for the portfolio, Nathan Serota, a New York-based analyst at Bloomberg New Energy Finance, said in an interview.

Institutional investors and pension funds are hungry for renewable-energy projects, emerging this year as leading buyers. Solar farms typically benefit from utility contracts that ensure consistent revenue streams, which dovetail with the long-dated liabilities that insurers and pension fund managers accrue.

For Southern, a sale would come after a major buying spree of solar and wind farms across the U.S., including a 120-megawatt Texas solar project from First Solar Inc. last year. In parts of 2015 and 2016, it was among the most prolific buyers of such assets.
Indeed. But those purchases didn't run up enough debt to demand this kind of triage. What did?
Net debt at Southern has almost doubled since 2015 after a raft of deals including the $8 billion takeover of gas distributor AGL Resources Inc. and the purchase of a 50 percent stake in Kinder Morgan Inc.'s Southern Natural Gas pipeline system for $1.5 billion.

"This is relatively uncommon in the U.S., but it's a common strategy in Europe to monetize their assets to raise money to redeploy into future projects and to continue to build their pipeline," Serota said.
So Southern Company is mortgaging its real future in sun and wind power to double-down on its failed nuclear Big Bet at Plant Vogtle, and its new Big Bet in natural gas pipeline stranded assets.
Well, that explains this map on page 2: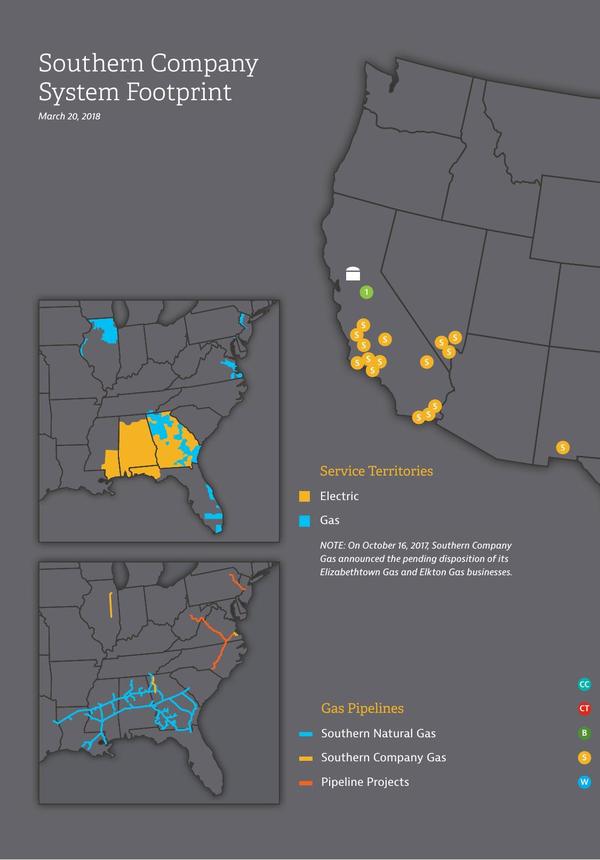 System Footprint, Southern Company Annual Report 2018.
Those yellow dots in California, Nevada, and New Mexico are presumably the solar facilities SO is selling off.
In favor of all those pipelines and pipeline projects in the east. What's that up in Pennsylvania? PennEast Pipeline, Breaking News, apparently from 2014, Spectra Energy Partners Becomes Newest Member in PennEast Pipeline Project,
Spectra Energy Partners becomes the sixth member of the PennEast Pipeline Company, LLC. It joins AGL Resources….
AGL Resources is what Southern Company bought and renamed Southern Company Gas. PennEast is a feeder pipeline for Transco and Sabal Trail. The Federal Energy Regulatory Commission (FERC) rubberstamped PennEast this January just like it (again) rubberstamped Sabal Trail this March, both because hey, they've got customers, nevermind property rights, water, or greenhouse gases.
This is the real answer to my question last year to Tom Fanning, Will you lead to sun and wind power?
Unfortunately the answer is: no, he is leading SO into the past.
-jsq
Investigative reporting costs money, for open records requests, copying, web hosting, gasoline, and cameras, and with sufficient funds we can pay students to do further research. You can donate to LAKE today!
Short Link: