SO is buying 50% of SONAT from KMI, as multiple people have pointed out, including someone from Southern Company.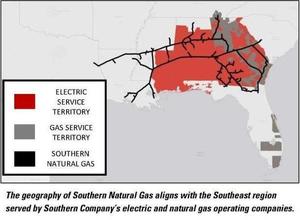 Unfortunately SO is not just investing in existing pipelines: this purchase is about "specific growth opportunities", and yes, it's tied to SO's recent purchase of AGL. Southern Company needs to stop plugging dying 20th century fossil fuels and get on with what it's already started with solar power (and offshore wind).
Southern Company PR 10 July 2016, Southern Company, Kinder Morgan enter Southern Natural Gas pipeline strategic venture,
Southern Company and Kinder Morgan, Inc. today announced a natural gas pipeline venture designed to advance both companies' leadership in energy infrastructure development through Southern Company's acquisition of a 50 percent equity interest in the Southern Natural Gas (SNG) pipeline system. Kinder Morgan will continue to operate the system. In addition, the agreement commits the companies to cooperatively pursue specific growth opportunities to develop natural gas infrastructure for the strategic venture.

SNG is a 7,600-mile pipeline system connecting natural gas supply basins in Texas, Louisiana, Mississippi, Alabama and the Gulf of Mexico to markets in Louisiana, Mississippi, Alabama, Florida, Georgia, South Carolina and Tennessee. SNG is a principal transporter of natural gas to Alabama, Georgia and South Carolina, which are part of one of the fastest-growing natural gas demand regions in the United States.
Yeah, I've got two SONAT pipelines on my property, including the valve KMI used to shut off the next county after a ditch puller broke its pipeline in November 2014. Fortunately there was no spark, or that 300-foot plume of dust would have been a fireball, and neighbors I've known all my life would have had no homes to go back to after they were evacuated, if they could have been evacuated.
I prefer the 15KW of solar panels on my farm workshop roof, which don't leak or explode.

Gretchen Quarterman and John S. Quarterman on the new panels on the roof of the farm workshop at Okra Paradise Farms, Lowndes County, Georgia, 29 January 2012, with the older panels from 2009 visible over the peak of the roof.
Photo CC BY-ND John S. Quarterman
Southern Company, one of the nation's largest natural gas consumers and distributors, and Kinder Morgan, a recognized leader in natural gas pipeline development and operations, will work together to advance both companies' efforts to develop infrastructure important to America's energy future.

"This transaction is consistent with the infrastructure development strategy we have discussed for well over a year. The company's strategic venture with Kinder Morgan, combined with our recent additions, AGL Resources and PowerSecure, underscore Southern Company's leadership position in electricity and natural gas and our commitment to developing America's energy infrastructure," said Southern Company Chairman, President and CEO Thomas A. Fanning. "Our new ownership stake in SNG will position Southern Company for future growth opportunities and enhanced access to natural gas, which are expected to benefit customers and investors alike."

"Southern Company has been a valued customer of SNG for many years and this agreement draws on the strengths of both companies," said Norman G. Holmes, president of Kinder Morgan South Region Pipelines. "We are very pleased to deepen our relationship with them and excited about the growth opportunities this strategic relationship will provide."

Steve Kean, Kinder Morgan president and chief executive officer, added, "We plan to use all of the proceeds from this transaction to reduce debt at KMI. This is another step towards achieving our stated goals of strengthening our balance sheet and positioning the company for long-term value creation."

Inclusive of existing SNG debt, the transaction equates to an SNG total enterprise value of approximately $4.15 billion which implies a value of $1.47 billion for Southern Company's 50 percent share of the equity interest. Southern Company expects to finance the initial purchase, as well as any related future growth opportunities in a credit-supportive manner.

The transaction is subject to the notification and clearance and reporting requirements under the Hart-Scott-Rodino Antitrust Improvements Act of 1976. The companies expect to complete the transaction in the third quarter or early in the fourth quarter of 2016.

Jones Day, Gibson Dunn & Crutcher LLP, Troutman Sanders LLP and Balch & Bingham LLP are serving as legal counsel to Southern Company, and Bracewell LLP and Weil, Gotshal & Manges LLP are serving as legal counsel to Kinder Morgan.
The PR has a link to a Strategic Venture Fact Sheet, which says the same thing plus the map shown above.
That fact sheet has no details about the "specific growth opportunities", but see Dominion PR, 2 September 2014, Dominion, Duke Energy, Piedmont Natural Gas and AGL Resources Form Joint Venture to Own Proposed Atlantic Coast Pipeline,
The joint venture ownership stakes are: Dominion, 45 percent; Duke Energy, 40 percent; Piedmont, 10 percent; and AGL Resources, 5 percent. Subsidiaries and affiliates of all four joint venture partners plan to be customers of the pipeline under 20-year contracts, pending regulatory approvals. PSNC Energy also plans to be a customer of the pipeline under a 20-year contract, pending regulatory approvals.
This is the same Atlantic Coast Pipeline, then known as "the Carolina project", that Spectra Energy planned to bid on, but backed out of in August 2014 after multiple local resolutions against it.
And that's the same Spectra Energy that's still trying to ram its Sabal Trail fracked methane boondoggle under Georgia rivers, including our own Withlacoochee River, after the historic 128 to 34 Georgia House vote against that, then under the Suwannee River and through the Florida springs heartland to connect to multiple liquid natural gas (LNG) export operations, in addition to numerous "natural" gas power plants in Florida.
That same March 23rd 2016, the Georgia House passed an 18-month moratorium on petroleum products pipelines, causing KMI the next week to "suspend" its proposed Palmetto pipeline across the Georgia coast and all coastal rivers to Jacksonville, FL. Some investors rationalized that as a good thing for KMI: "That gives it some extra financial flexibility at a time when it's at a premium," said Motley Fool. It's true KMI had already in January been trying to sell off part of that Palmetto Pipeline and part of its Elba Island LNG export project. Why? Mary Landers, SavannaNow, 28 February 2016,
"The company has struggled over the last year, its stock price plummeting from more than $40 a share this time last year to about $15 a share Thursday. In November it slashed its dividend 75 percent. It's cutting its spending as its cost of capital increases, [KMI CFO Kim] Dang said."
So Southern Company has likely gotten a fire sale price on another KMI subsidiary: Southern Natural Gas. But is buying into a failing industry the kind of big bet SO should be making?
Florida has not changed its laws to legalize third party power purchase agreements for solar power, unlike the law Georgia passed last year with the assistance of SO subsidiary Georgia Power. On the one hand SO and Duke Energy are backing solar power in Florida, on the other hand they're both sabotaging solar Florida by pushing fracked gas pipelines: remember in May 2015 Duke bought 7.5% of Sabal Trail.
As I said to SO CEO Tom Fanning at the SO stockholder meeting in May, natural gas is a bridge to nowhere, and Southern Company stockholders will profit more from solar and wind power.
The party line at that May meeting from Fanning and Georgia Power CEO Paul Bowers was "if we can't do coal, we have to have pipelines".

John S. Quarterman, SO CEO Tom Fanning, PowerShare CEO Sidney Hinton
Photo by John S. Quarterman for LAKE at Southern Company Stockholder Meeting, 25 May 2016, CC BY-ND LAKE
Well, no, as Southern Company brags the stockholder meeting every year, SO has the largest private utility R&D operation in the country, and it is very well-positioned to get along with smart grid for solar power. SO's February 2016 purchase of PowerSecure could be leveraged for solar power, as we all discussed at the May meeting.
Tom Fanning and Southern Company: we are all looking to you to lead the southeast, the U.S., and the world into the future of clean, distributed, renewable solar and wind power. Doubling down on dying fossil fuels is not the way forward.
Southern Company is moving along with solar power, with recent purchases of the 102 MW Henrietta Solar Project in Kings County, California, the 102 MW Lamesa Solar Facility in Dawson County, Texas, and the 74 MW Rutherford Farm solar project in North Carolina. That last is apparently different from the 61 MW solar farm the same Cypress Creek Renewables is building for google through Duke's Green Source Rider in Rutherford County, NC.
SO has even bought a 43 MW wind power project in Penobscot County, Maine.
And Georgia Power is building solar power in Georgia, most recently 30 MW each at Fort Gordon near Augusta and Fort Benning near Columbus. Just last month agreed with the GA PSC to add 1,200 MW of renewable power over the next five years. That's a good start, but not enough to catch up with the solar power exponential growth curve that still has New Jersey ahead of Georgia (and Florida). And so far Georgia Power has done nothing but study offshore wind, with proposed leases offshore from Tybee Island, and four wind turbines on Skidaway Island.
Both SO and Duke need to get on with these sorts of 21st century solar and wind projects and stop pushing "all of the above" 20th century failing fossil fuel fracking pipeline projects (and ratepayer-CWIP-gobbling Plant Vogtle nukes and bond-rating-destroying Kemper "Clean" Coal). If SO and Duke won't, somebody else will, and they'll get leapfrogged into oblivion, just like AT&T Longlines got bypassed by the Internet revolution.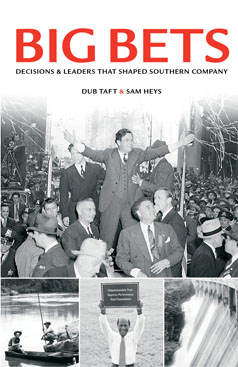 Tom Fanning knows this history, as a former CIO, and as new president of the Edison Electric Institute, which way back in January 2013 spelled out that parallel, and warned that solar power was already eating electric utilities' lunch.
Southern Company's history book is entitled "Big Bets". Are Tom Fanning and SO willing to make the biggest and most profitable bets yet, on solar power onshore and wind offshore?
-jsq
Investigative reporting costs money, for open records requests, copying, web hosting, gaoline, and cameras, and with sufficient funds we can pay students to do further research. You can donate to LAKE today!
Short Link: