The VDT report doesn't say when or where, and doesn't say whether Dexter Sharper (District 177) wasn't invited or chose not to attend.
There's nothing about this meeting in the online agendas or calendar, even though that calendar lists Pictures with Santa at the Historical Courthouse (12/19/2013).
There is this undated public notice with no agenda:
The Lowndes County Board of Commissioners will meet with members of Lowndes County's Legislative Delegation on Friday, December 20, 2013, at 4:00 p.m. in the Commissioner's Conference Room located on the 3rd floor of the Judicial-Administrative Complex, 327 North Ashley Street, Valdosta, Georgia.

K. Paige Dukes, County Clerk

pdukes@lowndescounty.com 229-671-2400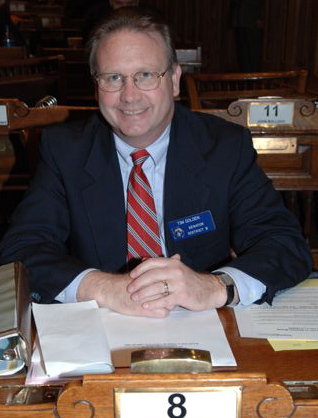 Matthew Woody wrote for the VDT 22 December 2013, Commissioners host local delegation, oddly omitting the when and where and much of the why from the traditional who, what, when, where, and why of journalism.
The Lowndes County Commission hosted Sen. Tim Golden and House Representatives Amy Carter, Ellis Black, and Jason Shaw to discuss the needs of the county in preparation for the next Georgia Legislative session.

The Local Option Sales Tax (LOST) and the earlier qualifying and primary dates for Georgia representatives were among the items discussed.

Commissioners requested that the representatives help to re-enact the original LOST referendum where the revenues would be based upon population and to show the reduction of property taxes on the bill as a credit against the amount of property taxes owed.

"It's a struggle between the Association of County Commissioners of Georgia (ACCG) and the Georgia Municipal Association (GMA)," Ellis Black said. "It should be based on the value of the property, not the population."
That article includes a long list of items "the Lowndes County Commission wants the representatives to look at", including The Motor Fuel Excise Tax Exemption, Bridges and Off-system Bridges, SPLOST VII (buried in the item on bridges), Libraries, Annexation/De-annexation, Alcohol Beverage Tax, taxing online purchases, and no less than four items related to incarceration: Inmate Heath[sic] Care, Juvenile Justice Reform, Magistrate Court Fees, and Assume Full Financial Responsibility for State Prisoners. Yet there's no publicly-visible agenda. And that list does not include anything about the proposed Sabal Trail methane pipeline.
This one is pretty rich:
Libraries
Lowndes County currently pays one million in operating funds and approximately $40,000 in legal fee funding, and they are requesting help from the state level due to the cuts made in recent years.
Yet the county government sees no problem with spending money on legal fees to sue a local business, and losing. Let's see a number on how much that cost.
I do agree with the county about this one, though:
Inmate Heath Care
The ACCG requested assistance to maximize the Medicaid dollars for inmates who are eligible because of the increasing cost of inmate medical needs. Lowndes County pays $1.2 million for inmate medical costs annually.
Maybe the state should stop locking up so many people in the first place. And the state should accept federal Medicare aid.
And I agree with County Chairman Bill Slaughter on this one:
Juvenile Justice Reform
Lowndes County received a $200,000 grant for juvenile rehabilitation. "Juvenile offenders need special attention and need to be handled differently," Slaughter said. ACCG is requesting more state funding to increase the public defenders and prosecutors.
Local citizens might have wanted to see this meeting, or even have a chance to talk to their state legislators. But no worries. Transparency is not a problem. Chairman Bill Slaughter said so.
-jsq
Short Link: