SO CEO Tom Fanning continued to blame slow sales and earnings on mild weather (air conditioners running less), but the big boondoggle going bad is Kemper Coal, which has slipped six months from May 2014 to Q4 2014, and even the Wall Street Journal calls it "possibly the most expensive fossil-fuel power plant ever built in the U.S". How bad will SO's stock tank when SO's even more expensive nuclear Plant Vogtle slips even more? Dividends can't prop up SO's share price forever, not when PSCs are revolting against the rate hikes and guaranteed profit hikes that prop up those dividends. When will Southern Company and Georgia Power get out front and lead in solar and wind power? Before or after the public, state public service commissions, and investors make them do it?
Justin Loiseau wrote for DailyFinance 4 November 2013, Southern Company Earnings: A $5 Billion Blunder?
Southern Company's sales clocked in at $5.0 billion for Q3, 0.6% below last year's Q3 and a full 6.8% below analyst estimates. On the bottom line, Southern's earnings also tapered off. Its $1.08-adjusted EPS clocked in $0.03 below analyst expectations, as well as Q3 2012's profit.
And that is not good for SO's stock price, because EPS is earnings per share, as in (net income minus dividends on preferred stock) divided by average outstanding shares of stock. Investopedia says:
Earnings per share is generally considered to be the single most important variable in determining a share's price.
The article quotes Fanning and SO CFO Art Beattie with their standard weather excuses, then gets to the point:
Unfortunately for the utility, weather isn't the only worry in Kemper County.

Southern announced earlier this month that it no longer expects to fire up its new 582 MW "clean coal" gasification plant by May 2014. It now anticipates powering Kemper up some time in Q4 2014, and a new $243 million in costs puts the plant's total price tag at $5.24 billion. The Wall Street Journal calls it "possibly the most expensive fossil-fuel power plant ever built in the U.S."

And unfortunately for Southern, recently resigned Mississippi Public Service Commissioner Phil Bryant is no longer the decision-maker for any additional cost recovery requests. Long-time Chevron Executive Stephen Renfroe came out of retirement (and off a sailboat) in September to take the reins, and it's unclear whether Renfroe will be as amicable an ally.
Actually, Phil Bryant is the governor of Mississippi who appointed Renfroe to replace "Leonard Bentz, who stepped down to become the executive director of the Southern Mississippi Planning and Development District." On with the story:
The world of utilities has changed rapidly over the last few years, and Southern's attacked its reliance on dirty coal with a vengeance. Capex as a percentage of invested capital base has averaged a substantial 8% as the company plowed ahead with new natural gas plants, nuclear plants, clean coal plants, and environmental compliance spending.

But while Fanning expects expenditures to ease up in the next few years, overextended projects like Kemper have already caused the company considerable trouble. While Exelon has chosen to invest heavily in hedges to keep low power prices and cheap natural gas from killing its nuclear-centric portfolio, Southern is physically reshaping its fleet. Exelon's latest earnings report blew away expectations, and Exelon stock's 20% drop this year may finally be ready for a turnaround.

Southern talked a big talk for the next decade, but 2013 will simply not be its best year. Q4 estimates are set at $0.44 EPS, and the company expects its annual results to clock in at the bottom end of its guidance range.
Fanning talked a big talk back in May at SO's shareholder meeting, too, about that tiger team that was supposed "to develop a business model where Southern Company can now promote, play offense, on distributed generation." Where's the report that tiger team was supopsed to make "sometime later this summer"?
What happened to Fanning's idea of:
to think about a rooftop not as a customer-owned or "we own" kind of resource, but as a potential site. And what we'll pay the home is a site lease.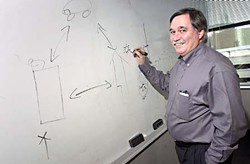 Austin Energy demonstrated back in 2003 that for the same amount of money as a coal plant, a utility can subsidize rooftop solar and get just as much energy, installed faster, generating when it is needed the most, and distributed so it doesn't all fail at once. Solar PV prices are much lower now than then (and keep falling), and that was compared to a traditional coal plant, not that over-expensive boondoggle in Kemper County, Mississippi.
Plus since then there have been studies that show how to power entire states with sun, wind, water, and less natural gas than is already in use. And since then electric utility think tank Edison Electric Institute has reported that rooftop solar is a massively disruptive development. That report alone should have dispelled the illusion of certainty in SO and Georgia Power's decision making, but apparently it hasn't yet.
When will Southern Company do what Austin Energy did in 2003 and Cobb EMC did last year: kick the coal habit entirely and get on with solar power? When will Georgia Power stop reactionary defensive measures like trying to charge a tax for connecting solar generation?
When will SO realize that its relatively high dividend (4.86% yield) can only keep increasing that dividend every year as long as Georgia Power (and Alabama Power and Mississippi Power) can keep hiking its rates and guaranteed profit, and Georgia citizens across the state are opposing those hikes? People and even PSCs are getting tired of as Adam Smith put it two centuries ago,
by raising their profits above what they naturally would be, to levy, for their own benefit, an absurd tax upon the rest of their fellow-citizens.
Southern Company can still do what Google cannot, and what SolarCity cannot: use SO's vaunted biggest private R&D operation to tie rooftop solar and offshore wind into profitable energy generation that can retire more coal plants, with no need for new nuclear or natural gas generation. SO could use existing transmission lines and rights of way, too, with no need for a 100 foot natural gas gash through south Georgia (or through north Georgia). Add efficiency and conservation to sun, wind, and water and we'll have a clean, safe, reliable, Georgia and southeast exporting excess power at a profit to states to the north, all without sucking up massive amounts of water for coal, gas, and nuclear plants.
As Equity Watch on Utilities put it on Seeking Alpha yesterday, Southern Company Fails To Provide Clearer Picture Of Future.
We're already seeing SO's Plant Vogtle nuclear boondoggle cost overruns driving a boom in solar power in Georgia. It's time to get in the lead or get left behind. Come on, SO CEO Tom Fanning and Georgia Power CEO Paul Bowers: the southeast and investors are depending on you to turn that mighty utility ship in a more sunny direction, with the offshore wind in your sails.
-jsq
Short Link: