From Austin to Buffalo, fake science for fracking is increasingly being exposed,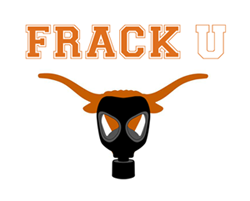 with academic consequences: lead professor resigns, institute head quits, another institute disbanded. The image on the right (Frack U) is not a reputation any university wants to see. At least academia takes conflicts of interest seriously; now if government and the voters would do the same…. Or energy companies. Remember, shale gas (plus nuclear) is what Georgia Power and Southern Company are shifting to from coal, while shading us from the finances that would enable solar power for jobs and energy independence in south Georgia.
Terrence Henry wrote for NPR 6 December 2012, Review of UT Fracking Study Finds Failure to Disclose Conflict of Interest (Updated)
The original report by UT Austin's Energy Institute, 'Fact-Based Regulation for Environmental Protection in the Shale Gas Development,' was released early this year, and claimed that there was no link between fracking and water contamination. But this summer, the Public Accountability Initiative, a watchdog group, reported that the head of the study, UT professor Chip Groat, had been sitting on the board of a drilling company the entire time. His compensation totaled over $1.5 million over the last five years. That prompted the University to announce an independent review of the study a month later, which was released today.

The review finds many problems with the original study, chief among them that Groat did not disclose what it calls a "clear conflict of interest," which "severely diminished" the study. The study was originally commissioned as a way to correct what it called "controversies" over fracking because of media reports, but ironically ended up as a lightning rod itself for failing to disclose conflicts of interest and for lacking scientific rigor.
Unrepentant as recently as July, Professor Groat resigned in November. Plus this:
Raymond Orbach of UT's Energy Institute has resigned after the group became engulfed in controversy over a study of fracking.
And elsewhere even more drastic results have ensued:
Continue reading