On Lowndes County's website there's no agenda for tonight's Planning Commission Work Session,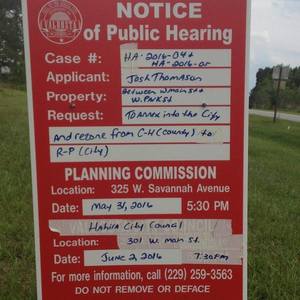 even though the City of Valdosta's calendar lists that Work Session for 5:30 PM Monday May 23rd 2016 at South Health District Administrative Office (former Lowndes County Administration Building), 325 W Savannah Ave, Valdosta, GA 31601. Presumably the Hahira rezonings and annexation will be discussed. And will County Manager Joe Pritchard say this morning at 8:30 AM at the Lowndes County Work Session that he has received an annexation letter from Hahira?
Neither of these Monday meetings are public hearings: the public can attend, but can not speak. See previous post for when the public hearings are.
-jsq